The technology to support inflight voice calls has been around for well over fifteen years. Even though the aircraft cabin environment isn't quite conducive to ensuring crystal clear conversations, Middle Eastern carriers were among the early adopters of inflight GSM systems, flipping the switch on voice functionality to permit passengers to use their mobile phones for voice calls and be billed for the service as part of their monthly wireless plan. Adoption was not widespread, however.
Even now, as the world fleet is being equipped with high-speed Internet solutions capable of supporting Voice over IP (VoIP), many carriers remain reluctant to permit VoIP or have chosen not to broadcast their ability to support it on board. There is a host of reasons why, including bandwidth constraints, but the most obvious is that airlines are concerned that inflight voice calls will prove to be a significant annoyance to other passengers.
In short, passengers don't relish the thought of hearing fellow passengers' loud (and sometimes obnoxious) calls in a confined tube, and airlines don't relish the thought of dealing with potentially unruly behavior or indeed passenger backlash as a result.
Enter Stéphane Hersen, an aviation industry veteran whose new sound-absorbing Skyted mask solution can support virtually silent and confidential conversations and communication via VoIP and video calls. Hersen first saw a need for this type of product while working at Airbus and being exposed to Qantas' plans for Project Sunrise ultra-long-haul flights.
"You are on there for 21 hours, and there are no calls in first class [and] unless you find a way for 300 people to all make calls without killing each other, there will be no calls on board," the Skyted founder and CEO told Runway Girl Network at the Aircraft Interiors Expo (AIX) in Hamburg, whilst touting partnerships with Airbus and the European Space Agency.
Skyted works using a variety of different technological advancements. A speaking mask separates the user's voice from the cabin, channeling the sound into a bone conductor microphone so that only the person on the call with the user can hear their voice. This is married to headphones, creating an equivalent to a video call headset that many office workers will be familiar with. 
Importantly, Skyted uses a built-in moderation process to regulate the volume of the speaker. If the person using Skyted is speaking too loudly for the mask to properly muffle the sound, they will be warned to lower their voice. If they continue to shout over the phone, the system will close the link and end the call. 
On the ground, and indeed in the air, it's common to see downlink traffic outperform uplink speeds when transmitting via satellite-supported inflight connectivity systems. That's why Hersen has worked with Zoom to ensure that first class passengers can seamlessly make video calls whilst using the mask. 
"It may be that first class passengers can use video calls, business class use avatars (reducing bandwidth demand by 90%), and for economy audio-only," suggests Hersen.
Runway Girl Network tried the demonstrator version of the mask at AIX, and found it to be fascinating. Even when a user is speaking at a normal volume, it doesn't create noise for those around him.
The mask fit on your author's face, but was still tight, which I admit brought back memories of Covid-era mask mandates on planes, and the breathing comfort questions that surrounded them.
A finalist for the 2023 Crystal Cabin Awards, Skyted is certainly a novel idea, but who is it actually designed for? One demographic is obviously business travellers who can't afford to be disconnected from Teams or Zoom for long periods of time.
"We have one billion people making a call a day, according to Zoom," noted Hersen, and they are largely excluded from conducting VoIP on board aircraft (though, as mentioned, they can avail of inflight GSM via their mobiles on equipped aircraft if the airline permits voice calls via the system).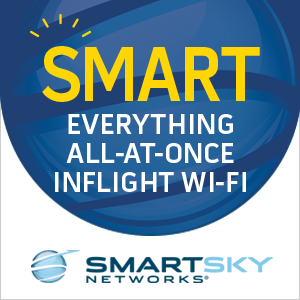 But Skyted might also make a solid ancillary revenue opportunity for airlines. "Duty free revenues represent $40 billion per annum," said Hersen. "How can we use the technology to bring these sales on air?" We have a captive audience on board, we should sell to the passengers." 
Interestingly, Skyted envisages a future where in-air communications with ground-based brand ambassadors would allow passengers to select items from the likes of Gucci or Cartier without being limited to what can be loaded on board, bringing a new twist to duty free and ancillary revenue generation.
For passengers who need to make sensitive calls on board an aircraft, speak to loved ones during a lengthy flight from London to Perth, or who are just ready to drop $50,000 on a bag between meal courses, this device would prove helpful.
"The technology is here to make these calls already," noted Hersen, but now it can be done in a way that is convenient.
Related Articles:
Featured image credited to Skyted