Panasonic Avionics has received a lot of attention for Astrova, the company's impressive new modular inflight entertainment system which enables in-cabin upgrades throughout its life cycle and boasts 4K OLED screens. But the forthcoming debut of Astrova also signals Panasonic's growing prominence in in-seat power, as its own USB-C charging is a key part of Astrova.
The solution, which is capable of providing a guaranteed 67 watts of direct current (DC) charging output and the ability to offer up to 100 watts of power, was developed in-house, confirms Andrew Masson, who serves as VP product management, portfolio management and marketing at Panasonic Avionics. "It's our system. It's our power," he says. and represents a stronger push "more into the DC area".
This push, coupled with Panasonic's decision to add a USB-C port as part of the swappable peripheral bar on Astrova seatback IFE, is timely. Under European Union law, USB-C will become a legally mandated common port for small devices in 2024 and for laptops in 2026.
"It will no longer be necessary to buy a different charger every time you purchase a new mobile phone or similar device: all of them can be recharged using the same charger," the EU announced in fall 2022. "Having a common charger will improve consumer convenience by harmonising charging interfaces and fast charging technology, and will significantly reduce electronic waste."
The so-called common charger law "helps an awful lot because it means all these devices like your cell phone, your tablet, and your laptop are all moving towards USB-C", says Masson. But it also signals a broader shift. If you buy a new home, the socket in the wall might have USB-A and USB-C ports, he notes. "It's becoming more and more prolific throughout everyone's life." And those expectations don't end on the ground.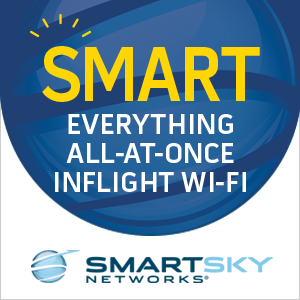 Indeed, in a recent study of 2,000 passengers, Panasonic asked: what are you doing with your devices on the airplane? The inflight entertainment and connectivity giant learned that 92% expect to be able to fully charge their devices in-flight. "So that really helped us drive the decision to push with USB Type C and put it in there," explains Masson.
This in turns tackles passengers' charging anxiety, he says, "because you probably have your ticket on your cell phone and you want to make sure, 'oh if I've connecting flight… I need my phone charged.'" 
But the USB-C charging connections on Astrova are also able to fast charge the latest Apple, Dell, HP, and Lenovo laptops, says Panasonic in a blog post. Additionally, depending on the passenger charging usage on board, Astrova can flex to up to 100 watts of power. "No other seat-end IFE system can fast-charge laptops," it says.
Importantly, if the standard changes down the road, Panasonic can accommodate those changes without having to replace the entire IFE system, given the placement of the USB-C port in the peripheral bar of seatback implementations of Astrova. As Panasonic Avionics CEO Ken Sain notes, the flexibility of Astrova means that: "As USB-C goes to USB-D or USB-E, as Bluetooth goes 5.0 to 6.0 to 7.0, the [airline]  customers will be able to change just the peripheral bar and have an upgraded system right then and there and do it on an overnight without having to do HIC [head injury criterion] tests."
Panasonic has offered other in-seat power solutions as part of its embedded IFE systems for quite some time, and continues to do so. But, says Masson, "we always supplemented it with our own power." And so its push into DC power and USB-C charging is a natural extension of that work.
Related Articles:
Featured image credited to Panasonic