Nobody celebrates when a satellite encounters a problem. Every satellite operator understands that the same fate can just as easily befall them and karmic forces aren't to be trifled with.
Viasat's revelation last month that the massive antenna reflector on its ViaSat-3 Americas satellite is grappling with a deployment anomaly — which "may materially impact the performance of the ViaSat-3 Americas satellite" — is certainly disappointing for the Carlsbad, California-based firm, which tells Runway Girl Network that any corrective actions required for the Americas satellite will be implemented for its Europe, Middle East, Africa (EMEA) satellite.
Shareholders and aviation stakeholders are among those waiting with bated breath for Viasat's earnings conference call on 9 August, when it plans to provide an update on the status of the ViaSat-3 Americas satellite and any necessary contingency plans. The ultra-high-capacity Ka-band satellite, and indeed Viasat's wider planned ViaSat-3 constellation, is expected to enable more homes, businesses, planes and ships to stay connected.
Specific to the 'planes' faction, it remains to be seen if Viasat will need to embrace additional churn of residential users in the United States to accommodate the growth of its inflight connectivity business in the US, including Delta's fleet-wide free Wi-Fi program — if it is unable to remedy the ViaSat-3 Americas problem. Residential churn is, after all, how Viasat has managed the programme's protracted delays whilst continuing to grow its IFC business. (ViaSat-3 Americas' service would enable Viasat to resume growth in fixed broadband in the US, Viasat said in its 17 May shareholder letter covering its Fiscal Q4/full year earnings report.)
Should the ViaSat-3 Americas satellite prove to be unrecoverable, Viasat has some other levers to pull. "Potential options include redeploying satellites from Viasat's extensive fleet to optimize global coverage, and/or reallocating a subsequent ViaSat-3 class satellite to provide additional Americas bandwidth," Viasat said.
To the former approach — and appreciating that fixed broadband was the near-term focus for ViaSat-3 Americas — one wonders if Viasat's work to have a common aero terminal that will roam seamlessly across all assets, including its newly acquired Inmarsat Global Xpress (GX) Ka-band satellites, now assumes fresh urgency. What that end product will look like will be fascinating to watch. From an antenna hardware perspective, Viasat presently powers transmissions via multiple terminals in commercial aviation alone: its own kit as a vertically integrated player, Honeywell's classic JetWave for Inmarsat GX and Safran Passenger Innovations' terminal with ThinKom Solutions' Ka2517 antenna as core.
The latter option being mulled by Viasat — reallocating either the forthcoming EMEA or Asia-Pacific satellites to the Americas — begs questions about a possible ripple effect. How would the likes of new customer Etihad Airways feel about the matter? The airline announced on 1 May that its new 787s will carry Viasat Ka IFC and live television. And, in the months leading up to Viasat's acquisition of Inmarsat, executives from Viasat and Inmarsat assured RGN that each was selling only its own respective kit until the deal was done. So unless a flexible new type of arrangement is in play, Etihad has signed on for Viasat Ka and not, for the purposes of this discussion, Inmarsat GX. The new 787s are being factory-installed with Viasat's Ka-band connectivity system in Charleston, and are scheduled to begin service in the third quarter of this year, Viasat told RGN.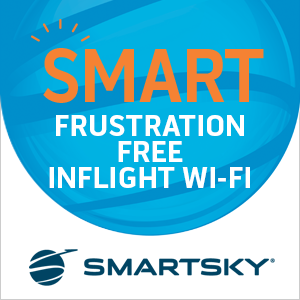 Delta's messaging, meanwhile, positions Viasat as the carrier's fleet-wide Wi-Fi provider of choice, but it still has a relationship with Intelsat including for long-haul aircraft. Would a bounce of ViaSat-3 EMEA to the Americas slot, and further delays to the ViaSat-3 programme, affect any of Delta's considerations?
Inmarsat (now Viasat's) GX service covers Asia-Pacific, with a raft of current GX-specific customers in the region, so it might be argued that Viasat is under less pressure now to have a Viasat high-capacity Ka answer for the region in the form of ViaSat-3 Asia-Pacific. But again, we consider the global coverage aspirations of Viasat-specific customers, including Qantas, which is counting on ViaSat-3 as part of its Project Sunrise ambitions.
We sought additional color from Viasat about its contingency options, and if Viasat has any concerns that the reflector at the heart of the ViaSat-3 Americas anomaly will pose issues for the EMEA and Asia-Pacific satellites? A Viasat spokeswoman told us on 13 July that once the root cause is identified, "corrective actions required would be implemented for the EMEA satellite".
Related Articles:
Featured image credited to Viasat