A recent trip to Delhi, India gave me a chance to sample the passenger experience on board Virgin Atlantic's Boeing 787-9 aircraft.
My trip began at London Heathrow's uninspiring Terminal 3, which is home to several longhaul airlines, including most Oneworld Alliance members.
The departure lounge is a crowded and busy place packed with shopping and eating options. There are three distinct sections of gates; passengers access the more northern and western sections through long, narrow walkways under low ceilings. Gate assignments are announced just minutes before boarding begins, roughly 45 minutes to an hour before departure, so it's common to see passengers incessantly checking the screens around them.
Boarding for the 8-hour flight to Delhi was managed extremely efficiently, however. At least eight different boarding groups created a steady flow of passengers without much confusion at the ticket scanners. I made my way to the rear section of the 787-9, the proverbial back of the bus where seat 58G awaited.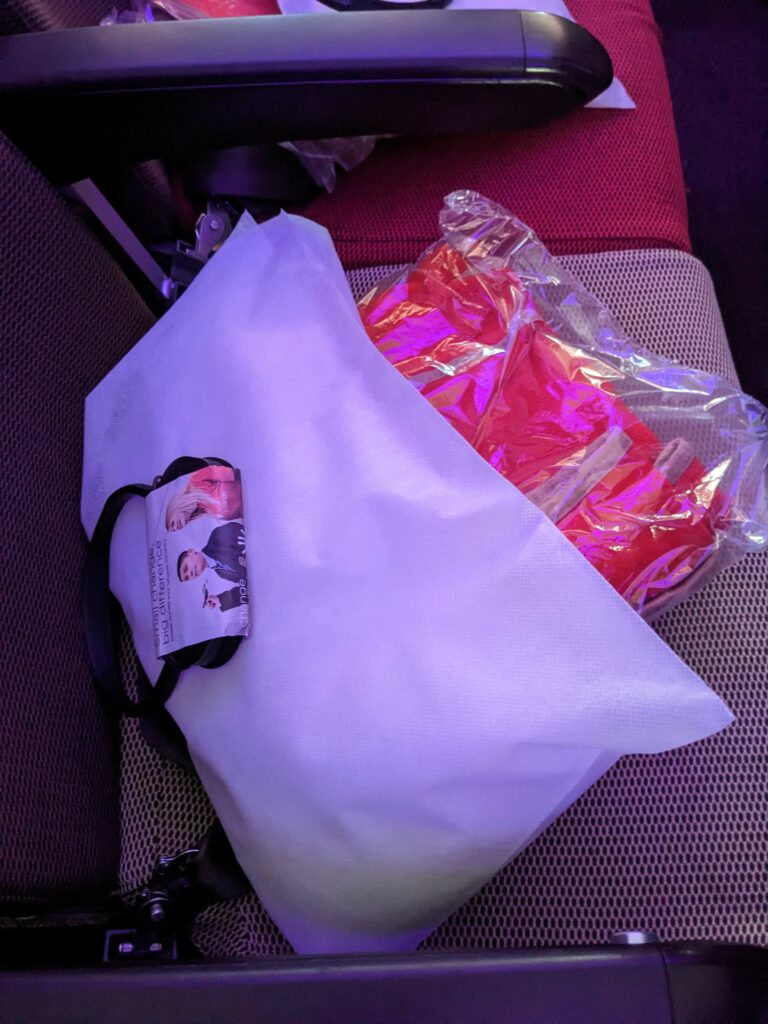 Economy class is laid out in the 787's standard 3-3-3 configuration, and features Recaro 3620 seats with adjustable headrests. A section of the cabin, known as Economy Delight, offers 34" of seat pitch. My regular Economy Classic seat offered 31".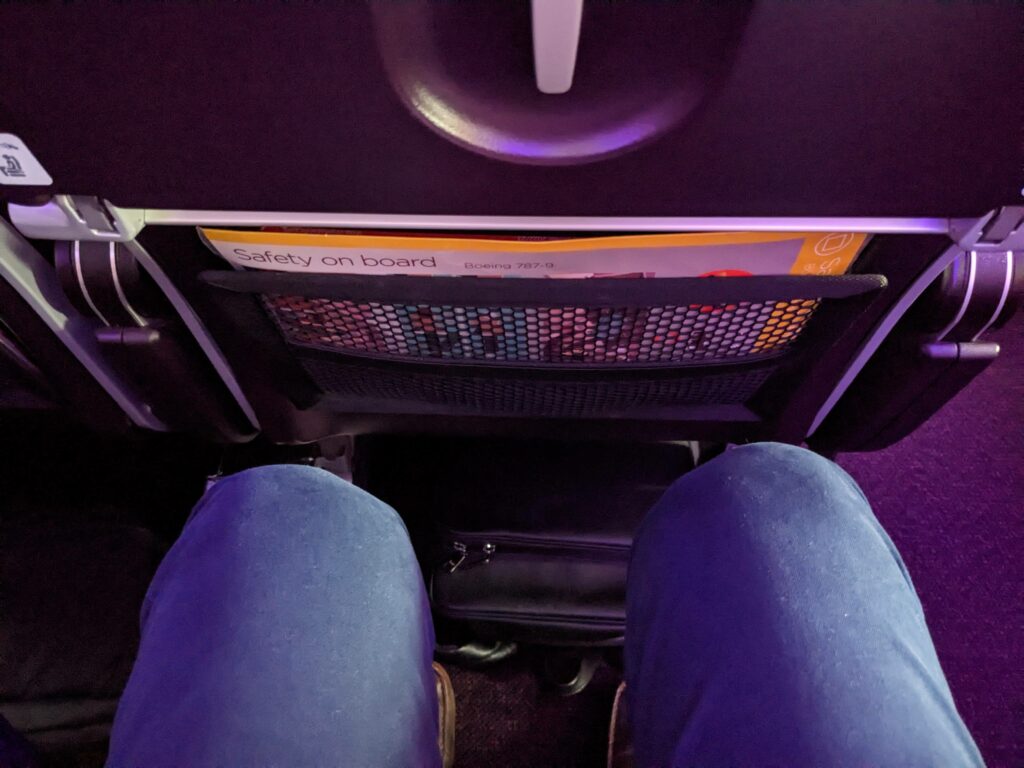 Each seat sports a Panasonic Avionics eX3 IFE system with the customary USB port and headphone jack. Two universal power outlets are available for every three seats. An electronics box for the IFE robs the middle seat passenger of precious foot/leg space.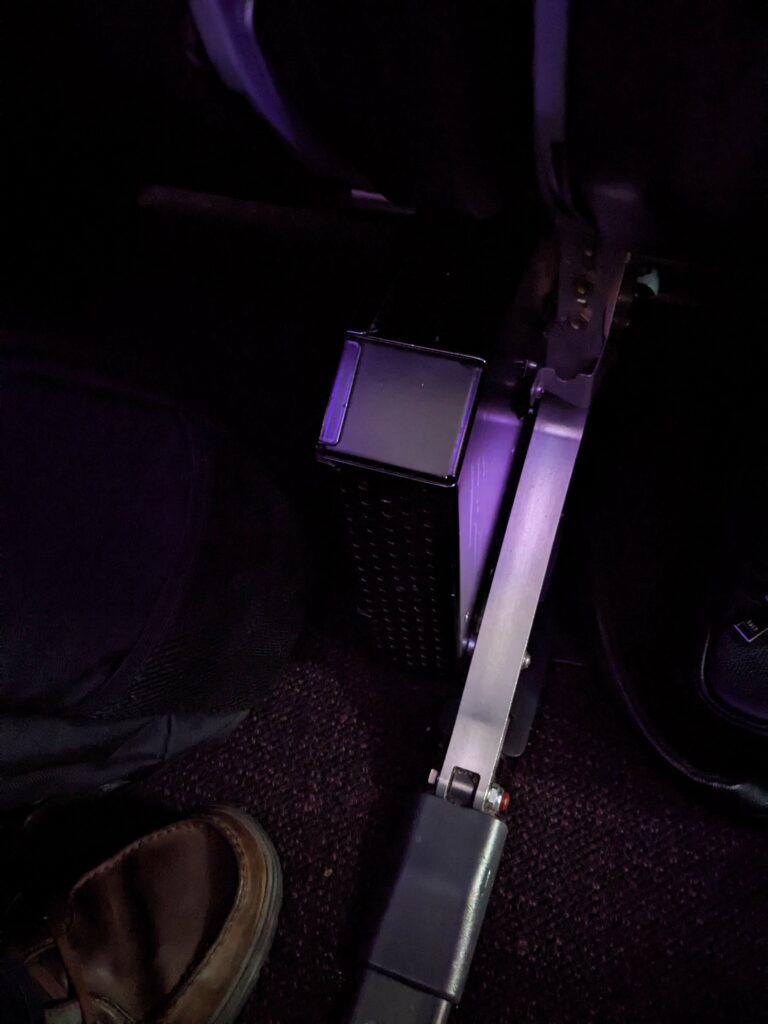 While individuals who are built for comfort, not speed, often celebrate the space provided by Recaro slimlines, the lack of contours or extra padding made this particular seat rather uncomfortable for my lean frame. 
Interestingly, Virgin has chosen a dark purple thermoplastic for its tray tables and surrounds. When combined with light purple mood lighting, bright red blankets and red seats, the cabin is certainly full of color — a departure from the more subdued hues one often finds on European and British carriers.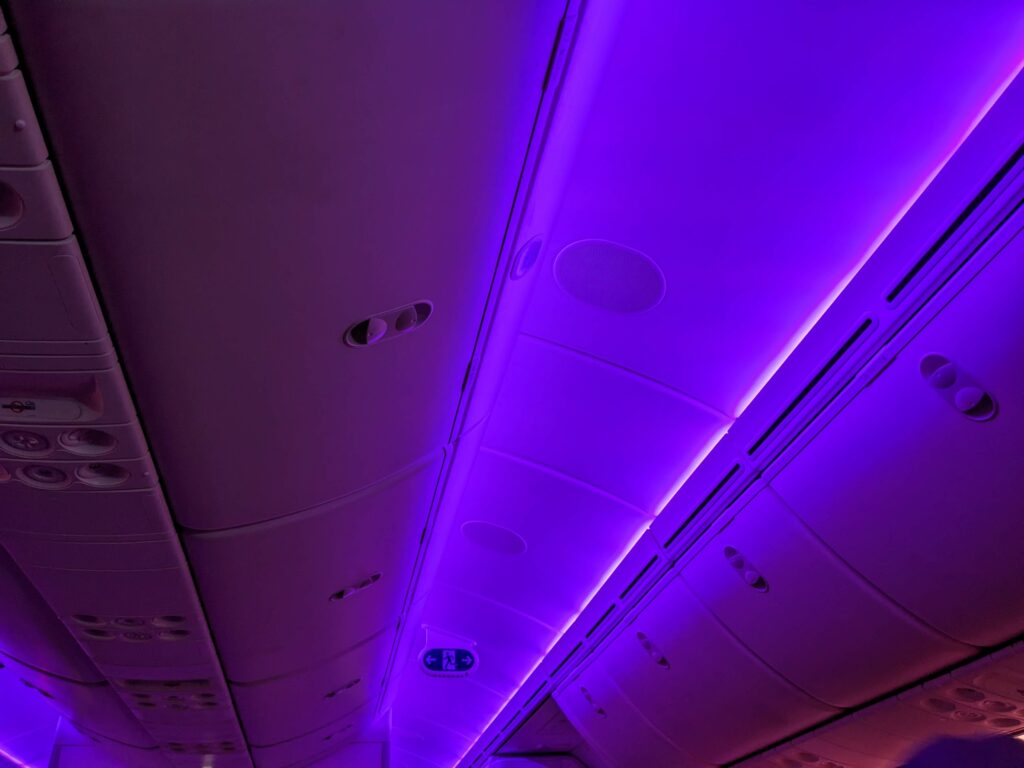 Trolley service began nearly two hours into the flight owing to light turbulence. A drink and snack service was followed by a hot meal where both Indian vegetarian and non-vegetarian options were offered. My chosen meal was tasty and sufficiently filling, and was followed by a second round of drinks.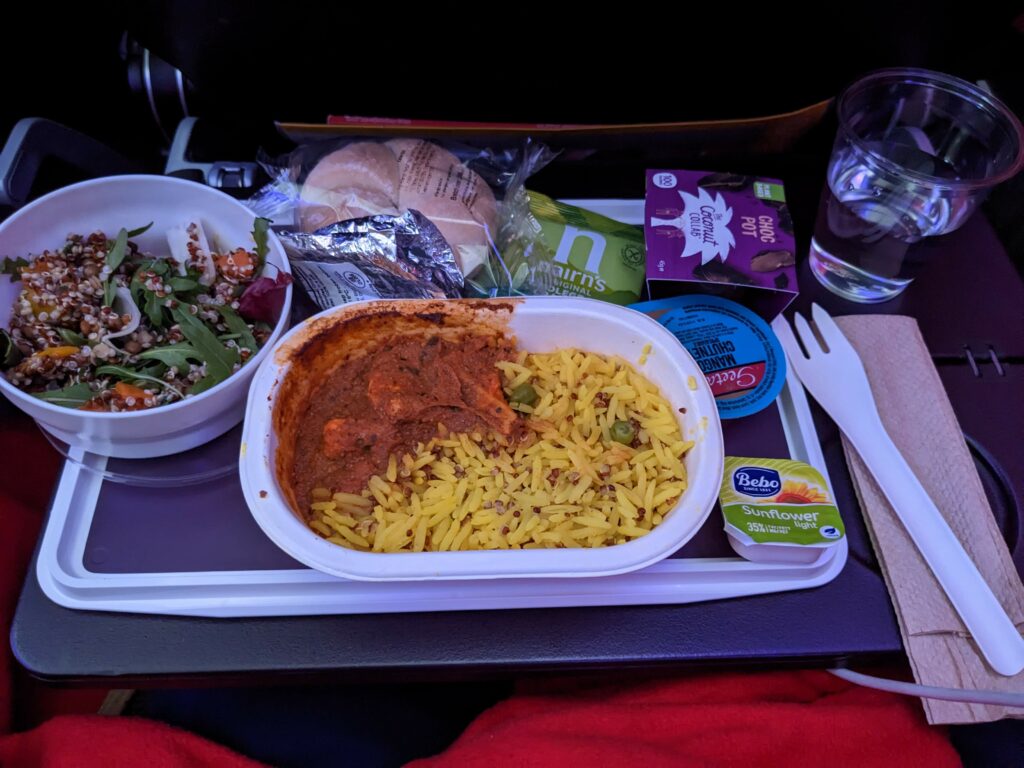 About two hours later, passengers were offered a third round of drinks. And about two hours before landing, cabin crew distributed a snack pack with a warm samosa pastry in economy class. Amazingly, this was followed by a fourth round of drinks! It was a real 'surprise and delight' moment, especially for those of us seated down back.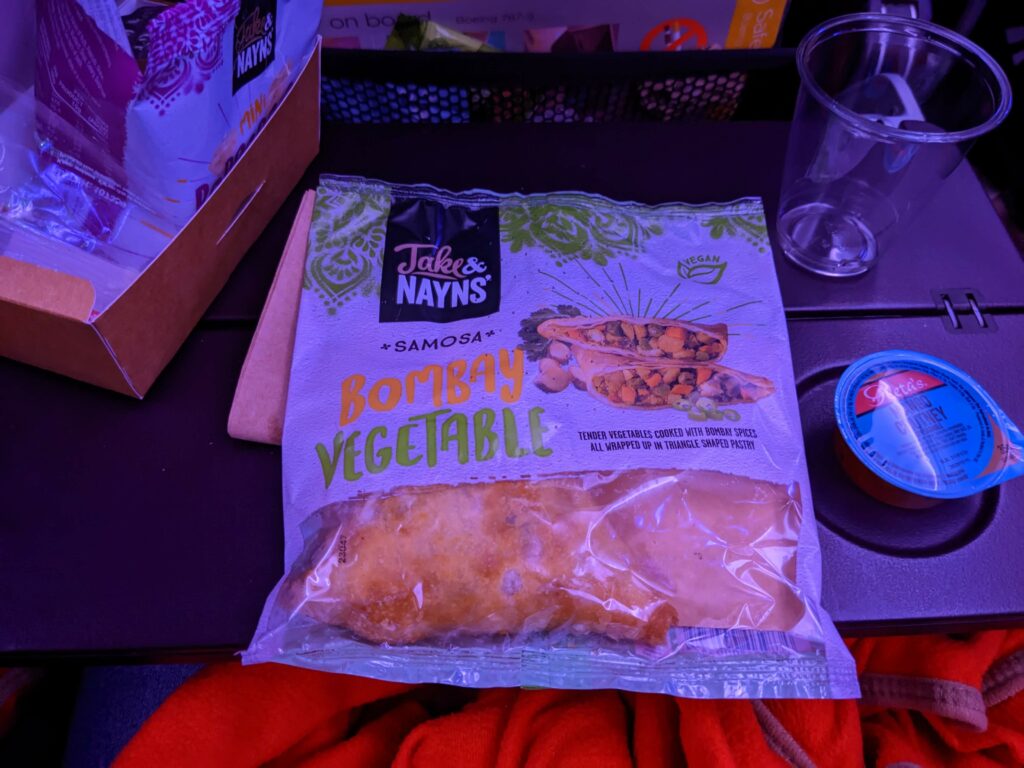 The flight attendants on board this flight were simply superb, delivering clear announcements over the PA, and addressing passengers in a casual and friendly manner.
During the second half of the flight, the calm and professional crew members attended to an ill patient in the rear galley. They appeared to be in control of the situation at all times. The passenger was given a section of three empty seats to recuperate, while one crew member sat with her and engaged in conversation for two hours, until it was clear that she was feeling better. The crew went above and beyond and it was deeply impressive to observe.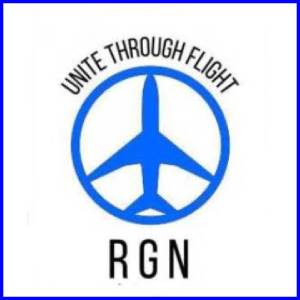 On a lighter note, a self-inflicted coffee spill was attended to by three separate crew members who came to check on me including the cabin leader who asked if I had been burned by the hot drink.
Apart from my own ego, I was unharmed and duly changed clothes in one of the four standard lavatories in economy. With a baby changing table available as a surface on which to place things, I was easily able to change.
I was even supplied with a plastic bag for my coffee-infused chinos. Again, the crew showed real concern and care for my situation, even though it was entirely my fault.
Less stellar was the selection of movies on the IFE system. The 'Vera' branded system featured just 94 movies, far less than the over 500 on my previous connecting Delta flight. Furthermore, the inflight Wi-Fi did not work for the entire flight.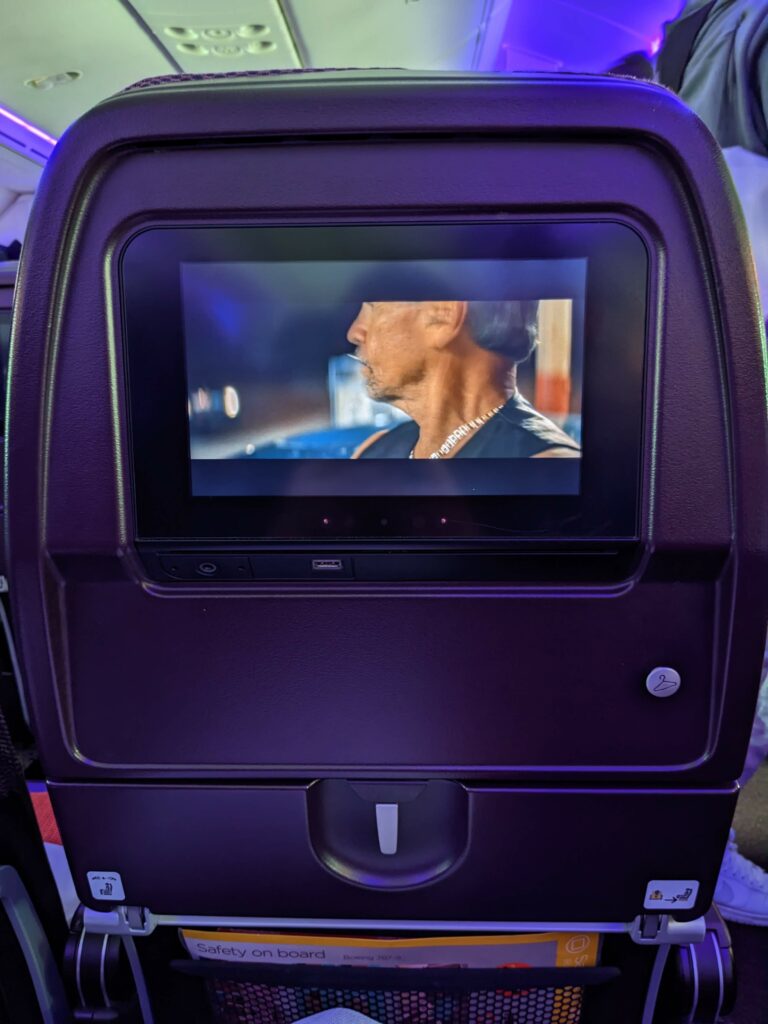 The dimming functionality on a couple of windows was broken, but the crew had window-shaped cutouts ready to stick to the windows — this appears to be a recurring issue. 
This trip truly highlighted the importance of an excellent soft product in papering over what I perceive as a few cracks in the hard product.
Virgin's excellent crew, good food, cabin ambience and multiple drink services just about made up for the meager IFE content offering, non-functioning Wi-Fi and, for this passenger, the uncomfortable seat. 
Related Articles:
All images credited to the author, Karun Mukhi