German leisure carrier Condor Airlines received a lot of attention in February when New York's John F. Kennedy International Airport (JFK) became the first gateway to welcome one of the carrier's new striped Airbus A330-900neo twinjets from Frankfurt. 
Condor is replacing its Boeing 767s and older Airbus A330-200s with a fleet of 18 efficient A330-900neos and plans to serve all its North American destinations with this aircraft type by 2024.
Progress towards that goal is being made. Celebrations were held at San Francisco International Airport (SFO) on 8 May and at Seattle-Tacoma International Airport (SEA) on 11 May to mark Condor's regular — though not yet exclusive — use of its striped 310-passenger A330neos to link these cities with Frankfurt.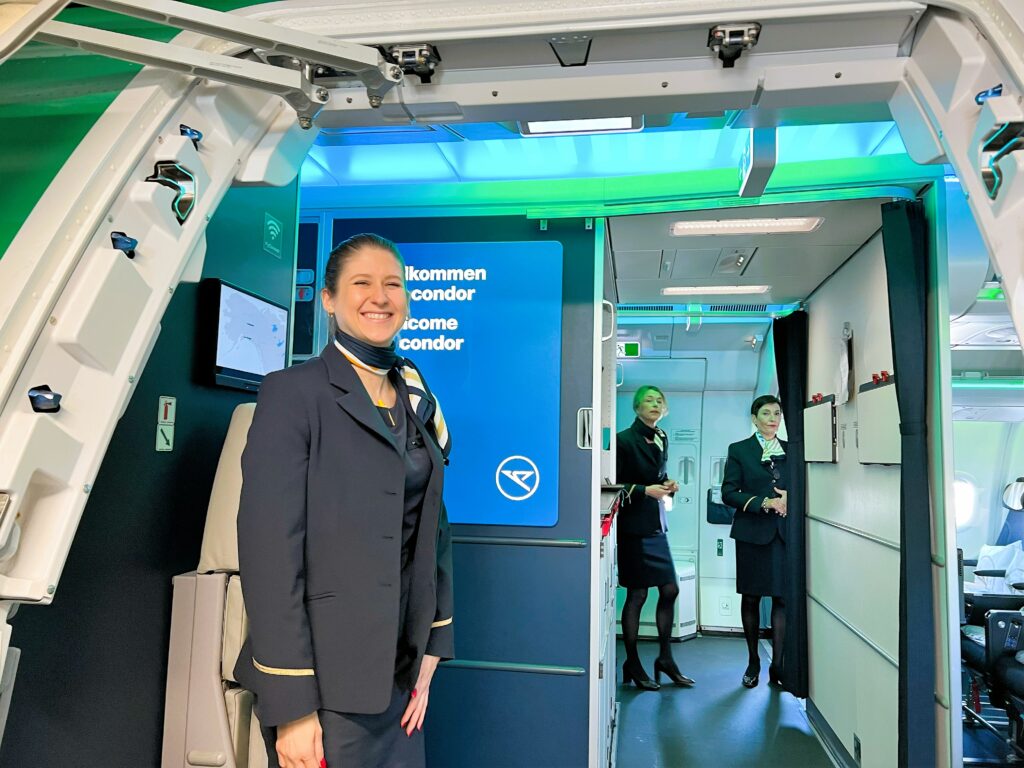 The A330neos are also currently being phased in at JFK, Harry Reid International Airport in Las Vegas, Los Angeles International Airport, and Toronto Pearson International Airport.
Look for the planes next summer in Phoenix, Portland (PDX), Baltimore-Washington, Boston, Minneapolis-St. Paul, Anchorage, Fairbanks, Vancouver, BC and Edmonton, AB.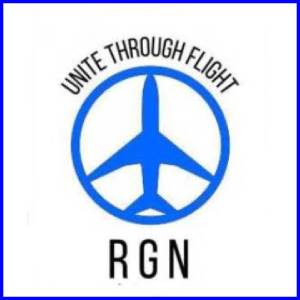 "Condor is transitioning to the Neo for all flights over the Atlantic by summer 2024 and as a result, is increasing capacity from North America by over 30 percent," Condor's director of sales, The Americas, Mikko Turtiainen said during a pre-flight event at The Club SEA lounge, which offers access to Condor's business class passengers.
He said Condor is currently on a "magical journey" and the A330neo's recent arrival in Seattle is "a milestone on that journey." 
RGN joined the 'magical journey' on one of Condor's first A330neos to fly from Seattle to Frankfurt, returning a few days later. The aircraft accommodates 310 passengers seating 30 in business class, 64 in premium economy and 216 in economy class.
Here are some of the features we noted:
That striped livery
While not as controversial as it was when first introduced, Condor's colorful, vertical-striped livery, inspired by vacation themes — "umbrellas, beach towels, ice cream shops" — certainly draws attention.
Our flight from Seattle to Frankfurt was on the green (Island)-striped aircraft, and we returned from Frankfurt on the beige/sand (Beach)-striped plane. At both ends, we saw lots of people taking pictures and heard plenty of delighted giggles from kids and adults alike.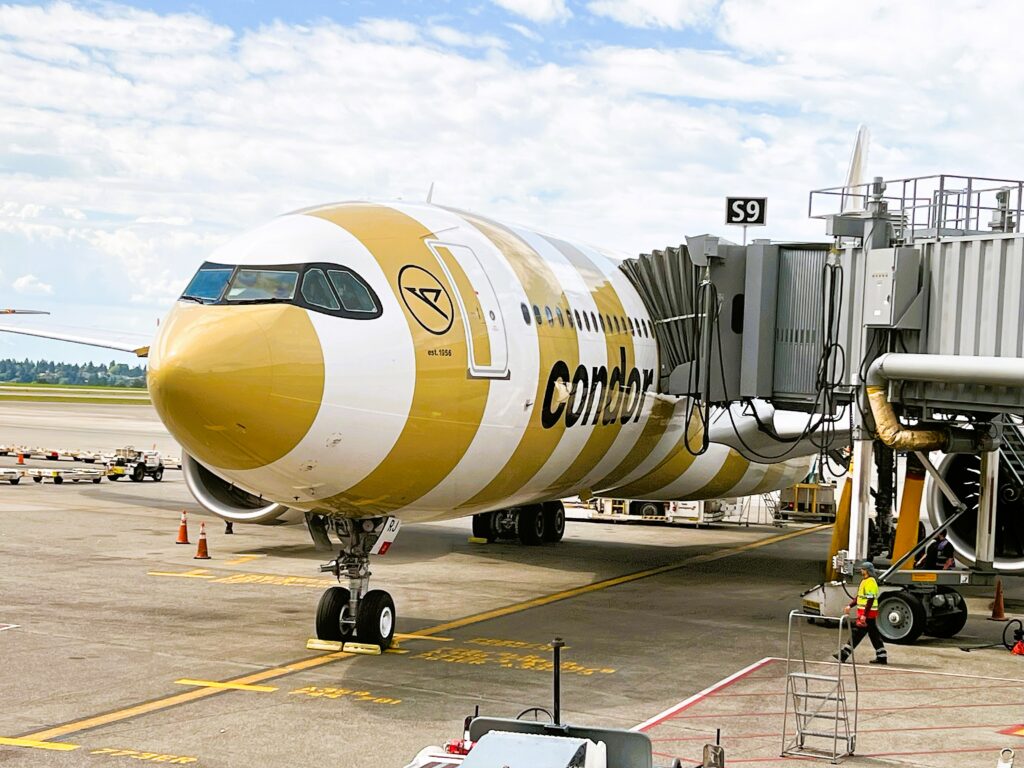 We look forward to spotting the Sunshine (yellow), Passion (red), and Sea (blue)-striped planes from this series. 
Inside the plane 
We toured the premium economy and economy class cabins before and during our very-full flights. Both sections have 2-4-2 seating. Seat pitch is at least 35″ in premium economy and at least 30″ in economy class.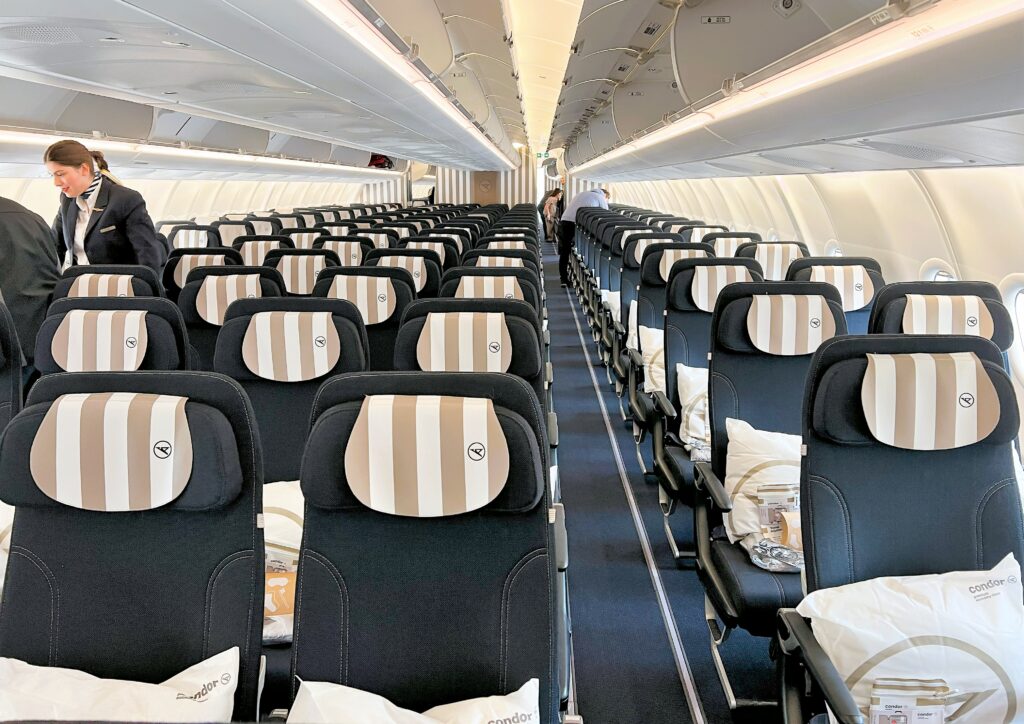 We noticed passengers taking full advantage of the adjustable headrests and footrests in premium economy and, in both classes, the good-sized (13.3″) seatback 4K touchscreen monitors, USB A/C-power ports, the Bluetooth function for using personal wireless headphones and, most notably, the separate/bonus seatback holder for mobile devices and other items.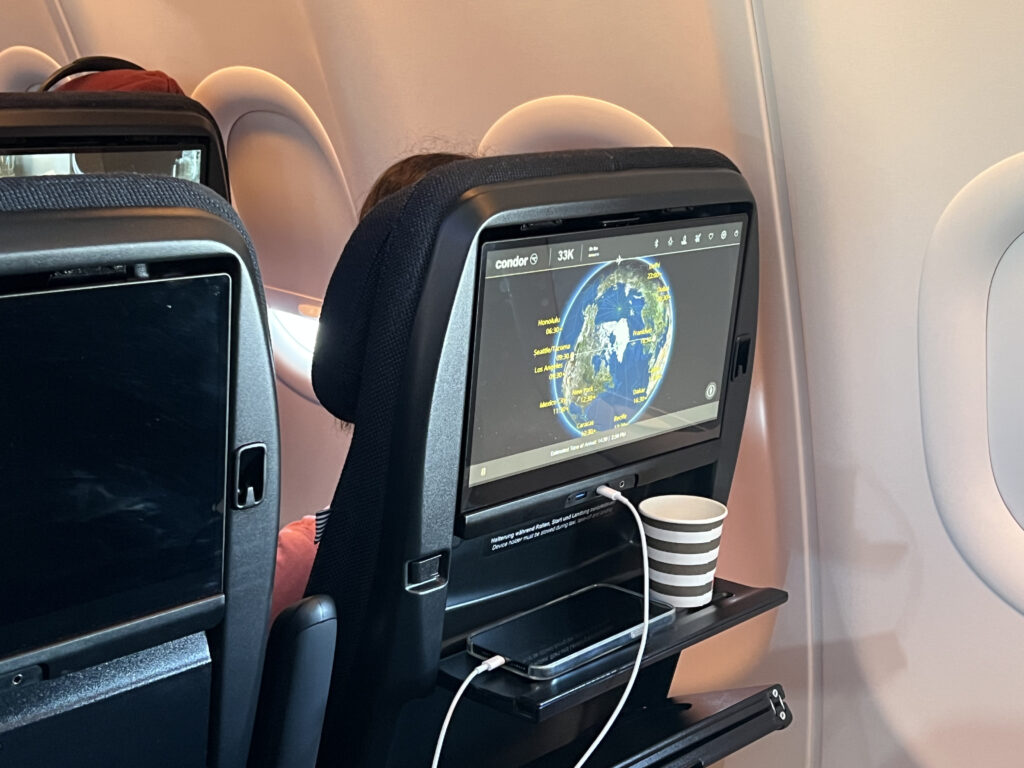 Business class is, as usual, where the most impressive features are found. And this is where Condor's new A330neos are getting the most attention.
For a price significantly lower than other carriers serving many of the same US markets, passengers can book a full-flat business class seat with direct aisle access. The 19″-wide seat offers a pitch of 44″ and stretches to 76″ in length when in bed mode.
Seatback entertainment screens are 17.3″, with remote controls, and each seat has easily accessible USB A/C ports as well as a power socket. The cabin is configured 1-2-1.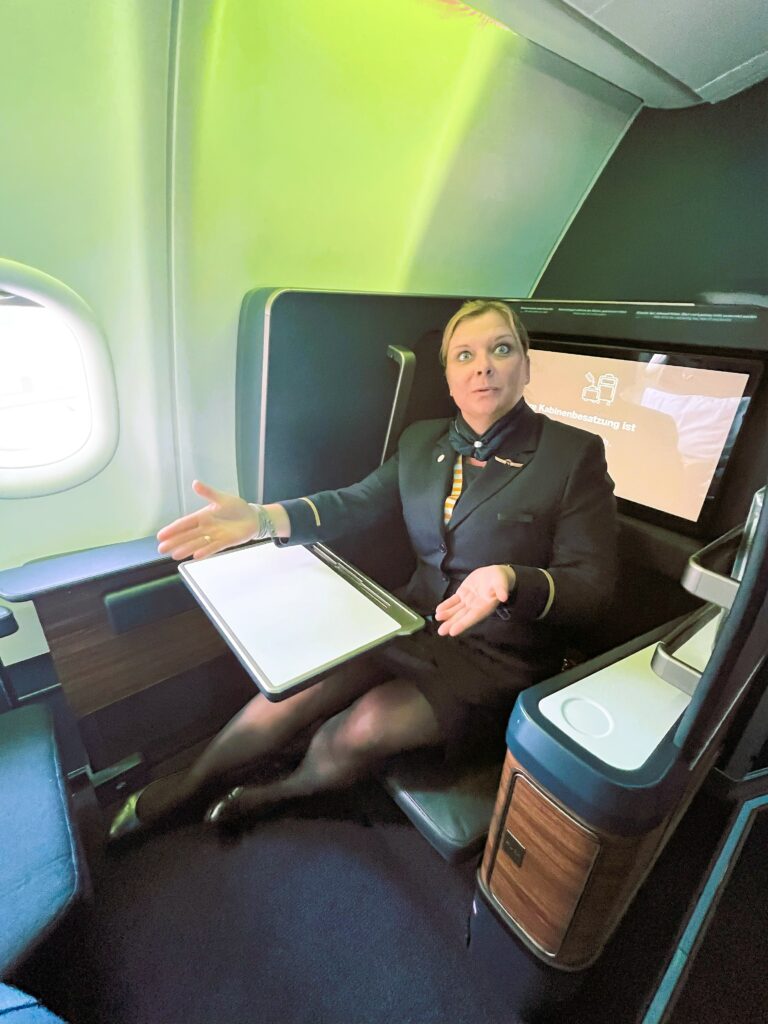 Business passengers can use their own wireless Bluetooth headphones or the noise canceling headphones provided. Personal storage is adequate, and the generous dining/worktable can be easily accessed and adjusted. 
For those who want more space, or who can splurge a bit, business class has four "Prime Seats" in the first row.
Among other amenities, Prime Seats offer 50″ pitch, a 24″ IFE screen, an upgraded amenity kit, comfy pajamas, a bonus basket of full-size snacks (save those for later; meals are hefty), an extra seating area for guests, an extra baggage and sports equipment allowance, plus a code for unlimited text messaging. (Note: Overall, we found the FlyConnect Wi-Fi service frustrating to use and not quite ready for primetime.)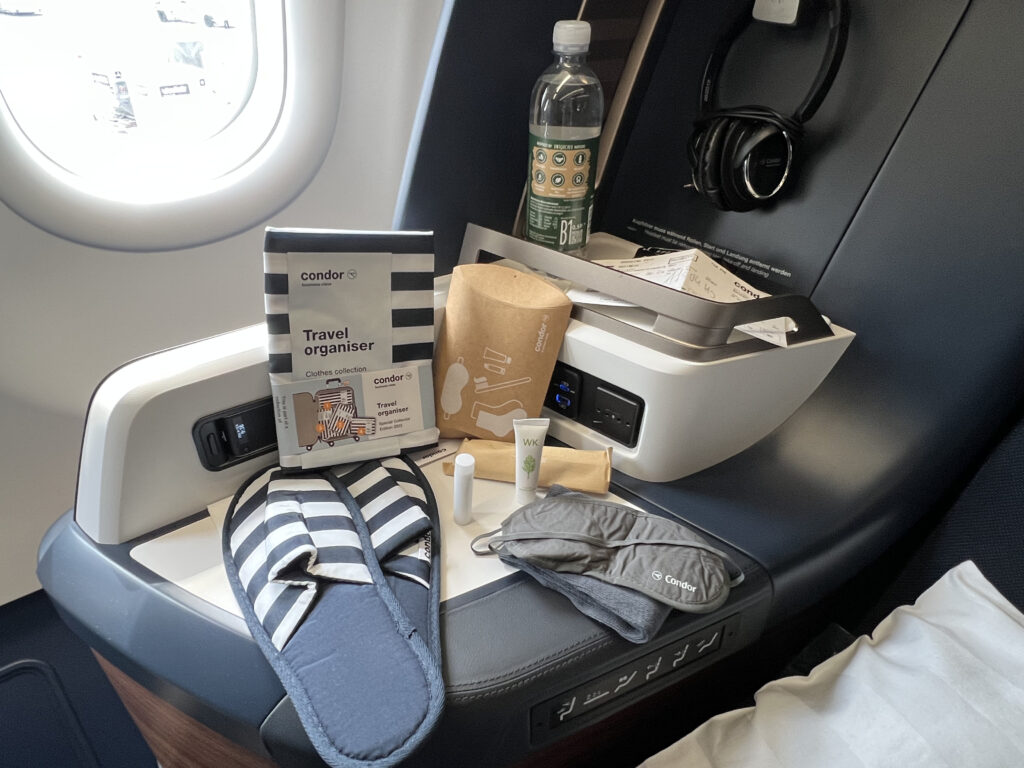 More stripes
During our 10-hour flights we made note of some of the places onboard to spot more Condor stripes. Our partial list includes the lavatories, the air sickness bags, napkins, paper cups, sugar packets, headrest covers (premium economy), slippers and blankets in business class and the eyeshades and pajama hoodie for Prime Seat passengers.
The airline just started serving a special "Ferien Lager" beer, made by Brew Dog, that comes in a can sporting — you guessed it — Condor stripes.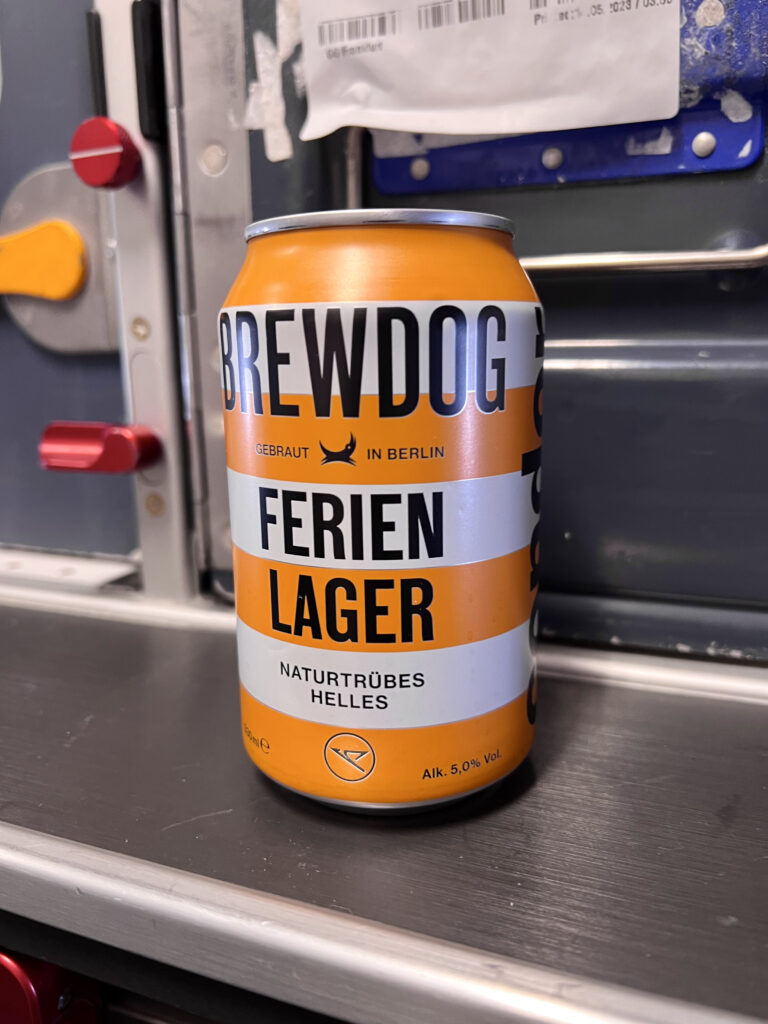 (Harriet Baskas flew Condor Airlines roundtrip from Seattle to Frankfurt as a guest of the airline. Opinions are her own)
Related Articles:
All images are credited to the author, Harrier Baskas