Of all the aircraft seats and systems on display at the Aircraft Interiors Expo in June, one product seeks to enable passengers to remain in their own wheelchairs during flight, thereby opening up air travel to a swathe of people for whom it is currently inaccessible.
It's called Air4All and its a convertible front-row recliner seat pair where the aisle seat retracts to enable a powered wheelchair to be secured for inflight use for the first time.
On the show floor, the Air4All wheelchair seat prototype impressed with both its simplicity and its elegance. Even at prototype stage, this is not some sort of clunky apparatus to just barely meet the needs of disabled people or to tick regulatory boxes. 
When the seat is being used without the wheelchair, it looks very similar to a standard front row recliner seat on a narrowbody, whether that is US domestic first class, narrowbody business class elsewhere, or international premium economy.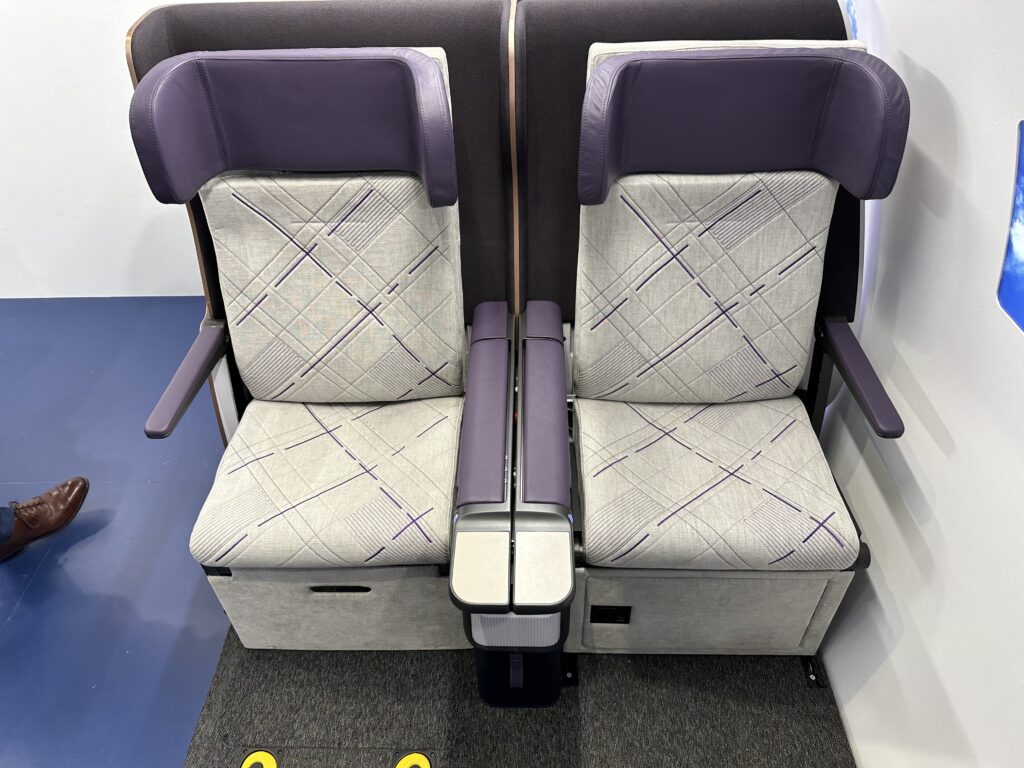 The conversion process for the aisle seat to wheelchair placement is almost unbelievably simple — which in itself marks a very well considered and highly engineered product. The back and seat pan cushions are removed with simple velcro attachments, stored underneath the window seat in a hidden locker.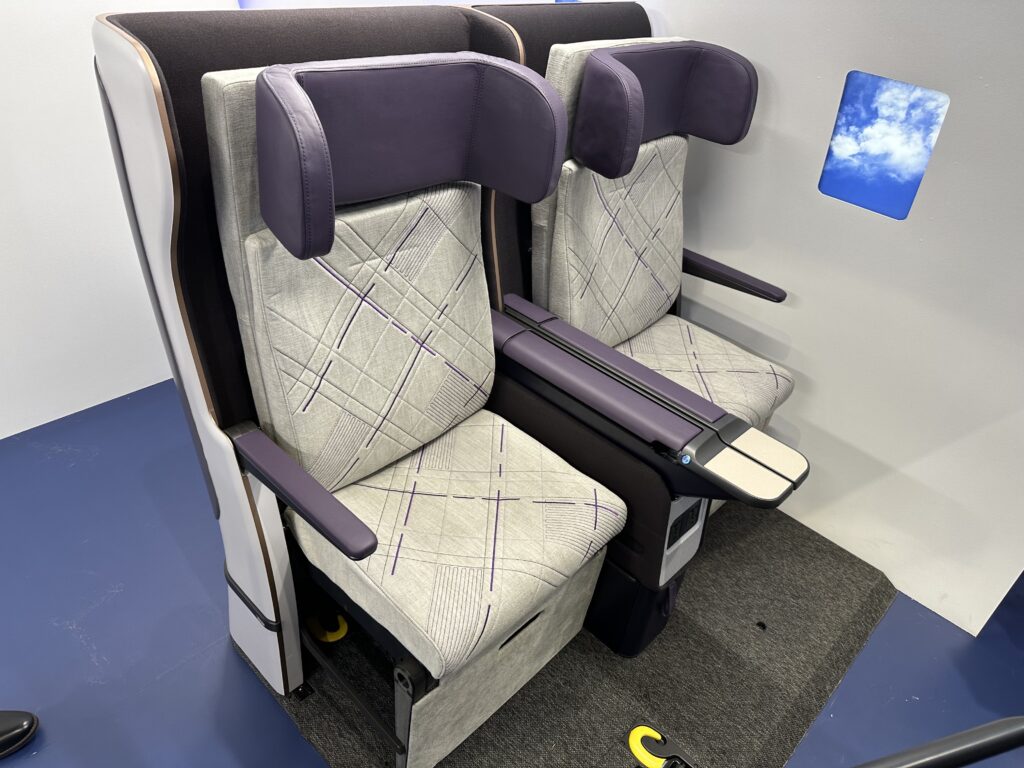 The armrest is released and raised with one press, and the seat pan is raised via a swing motion to retract into the space where the seatback cushion would be. Elegantly, this mechanism also raises the wheelchair user's half of the central armrest up and forwards in order to position it at the height that the wheelchair user can use. The table for the seat also emerges from this raised armrest, again at the appropriate height.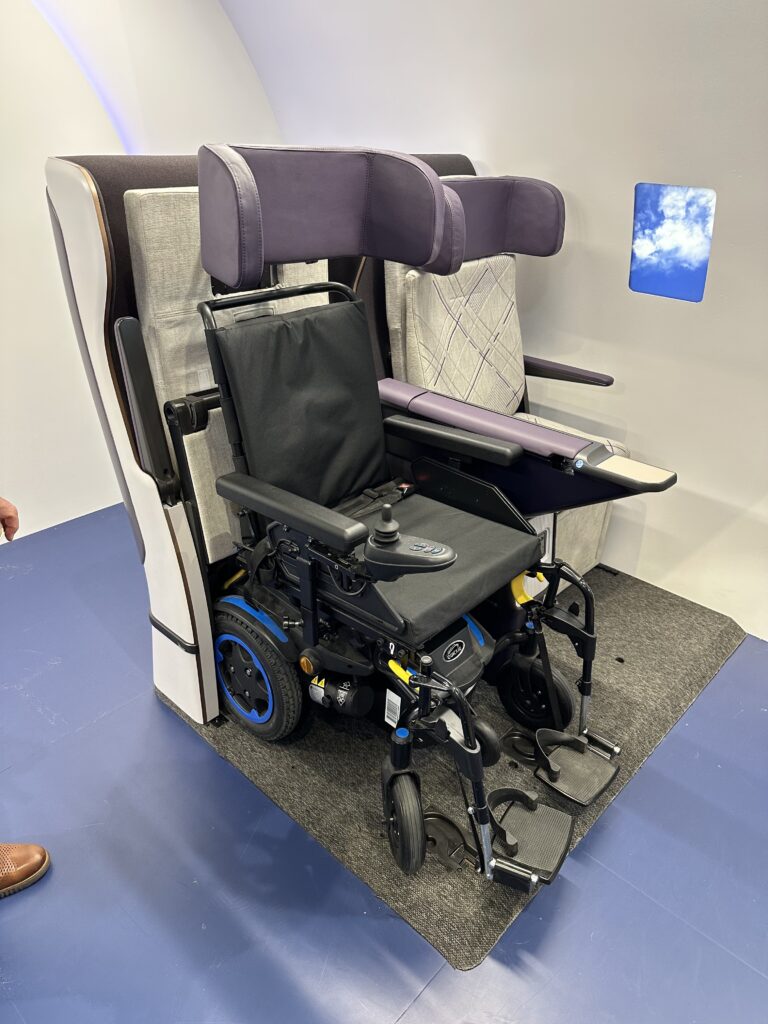 The wheelchair is then secured via standard Q'straint wheelchair attachments, widely used elsewhere in transportation, with which wheelchair users will be familiar, and which are simple to use for assisting companions or staff.
Air4All — a consortium of PriestmanGoode, Flying Disabled, SWS Certification and Sunrise Medical — is, as reported, now working with Delta Flight Products, the US airline's cabin interiors subsidiary, to move from prototype to live product.
From this relatively early demonstrator, Delta Flight Products will take the lead on certifying, industrialising and marketing Air4All, as president Rick Salanitri tells Runway Girl Network.
"We will apply for regulatory certification across the various regulatory agencies, we will be the seat TSO holder of record, and will be the manufacturing and production arm of this team," Salanitri says. "As well, we'll be point of sale. For third parties we expect that there'll be demand, and we'll we'll be standing behind this now."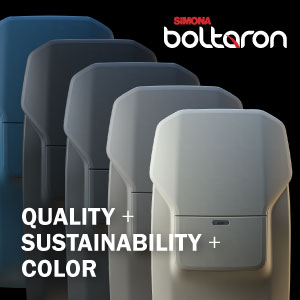 The look and feel of the seat will be extensively customisable for other airline customers, Priestmangoode director Daniel Macinnes tells RGN, and that's a focus as work progresses. "Airlines will have certain requirements in terms of features they want," he says. "We're really trying to make sure that we can accommodate that as well."
Certification may be complex, not least because the product is entirely novel, but there is substantial expertise at SWS Certification and Delta Flight Products, while pressure from disability rights activists and the disabled community means that safety regulators are primed to take action.
Reflecting on the product and its genesis, it feels like aviation is — perhaps for the first time, or at least in a new and much more productive way — engaging with disabled people and the disability advocacy community to develop seating products that properly meet their needs and enable them to make choices about the travel experience that they want. ST Engineering's ACCESS accessible lavatory, also on display at the Aircraft Interiors Expo, is another prime example of this collaboration. 
The entire team associated with Air4All should feel real pride and satisfaction in their work so far, and indeed the work that is to come.
Related Articles:
All images credited to the author, John Walton