Following a temporary outage this spring of the Inmarsat I-4 F1 L-band satellite for Asia-Pacific (APAC), Inmarsat's new owner, Viasat, confirms it has accelerated the introduction of its new hybrid dual-payload I-6 F1 satellite, one of two sixth generation spacecraft.
Under this plan, service is migrating from the I-4 F2 Middle East and Asia (MEAS) L-band satellite to the brand new I-6 F1 satellite. The I-4 F2 satellite currently covering MEAS will then be relocated to serve APAC, in place of the I-4 F1 satellite that encountered the outage in April 2023.
Launched at the end of 2021, the I-6 F1 satellite (and its recently launched sister, the I-6 F2) features Ka-band spot beams and L-band capacity, the latter supporting safety services including for the aviation market. I-6 F1 successfully connected to ground stations in Western Australia earlier this year.
"Initial customer services migration" from I-4 F2 to the new I-6 F1 satellite, "began in June, more than two months earlier than previously planned," a Viasat spokeswoman tells Runway Girl Network.
Pertinent to the SwiftBroadband and Classic Aero cockpit communications and safety services currently supported by the I-4 fleet, she says,
To implement the full migration of SwiftBroadband-Safety and Classic Aero services to the I-6 F1 L-band payload [from I-4 F2], we are working closely with the relevant manufacturers, services providers and airline customers and aim to complete the transition by August 2023.
SwiftBroadband and Classic Aero service providers in commercial aviation include Collins Aerospace and SITA.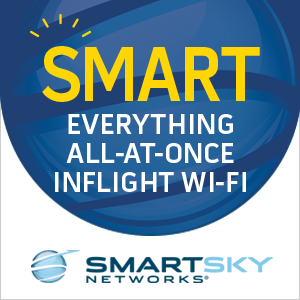 Whilst safety services, including for the aviation industry, were fully restored after the temporary outage of I-4 F1, other users were still affected.
"With this in mind, to continue to deliver the level of service customers expect, Inmarsat will now accelerate the introduction of I-6 F1," German satcom specialist m-cramer Satellitenservices informed clients today.
Viasat's spokeswoman tells RGN that once both the service migration from I-4 F2 to I-6 F1, and the relocation of the physical I-4 F2 satellite to APAC, are complete, this will restore "full capability and resilience in that region".
"We expect the acceleration of I-6 F1 and subsequent fleet re-arrangement to be completed in Q4 2023," she adds.
Related Articles:
Featured rendering credited to Inmarsat/Viasat