As aviation begins to emerge from the COVID-19 crisis, the industry is doubling down on its efforts to achieve a more environmentally sustainable future. It is against this backdrop that stakeholders are taking a hard look at how to recycle cabin interiors, including the aerospace grade thermoplastics used for aircraft seats.
Meaningful work has already been done to repurpose aircraft seat thermoplastics into other applications such as personal electronic device holders or vending machine chutes. But primary recycling of thermoplastics, also known as closed loop recycling – the process of turning one thing into more of the same thing – can be quite challenging in aviation given industry's stringent flammability certification requirements, and other factors.
SIMONA Boltaron appears to have cracked the code, and is laying claim to being the first thermoplastic supplier to achieve true recycling of an aerospace rated sheet.
"In this case it is true 'recycling' not 'down-cycling' because we can produce a sheet with a high percentage of recycled content and still achieve the unbeatable flame, smoke and heat release regulatory requirements necessary to be put on an aircraft. It also is still extremely lightweight and provides outstanding impact performance and durability," SIMONA America Group vice president of marketing Molly Bridger tells Runway Girl Network.
The so-called 9865 Terreform sheet is made with recycled scrap from various Boltaron materials, both aerospace and non-aerospace grade. Extruded and calendared materials can be recycled and used in the process. Terreform can then be molded into aircraft interior parts where aesthetic perfection is not a requirement.
"The Terreform formulation for aerospace has a proprietary mixture of recycled material combined with our key ingredients that give Boltaron materials the impact and flammability results that are so important to meet regulations for the aircraft interior," says Bridger.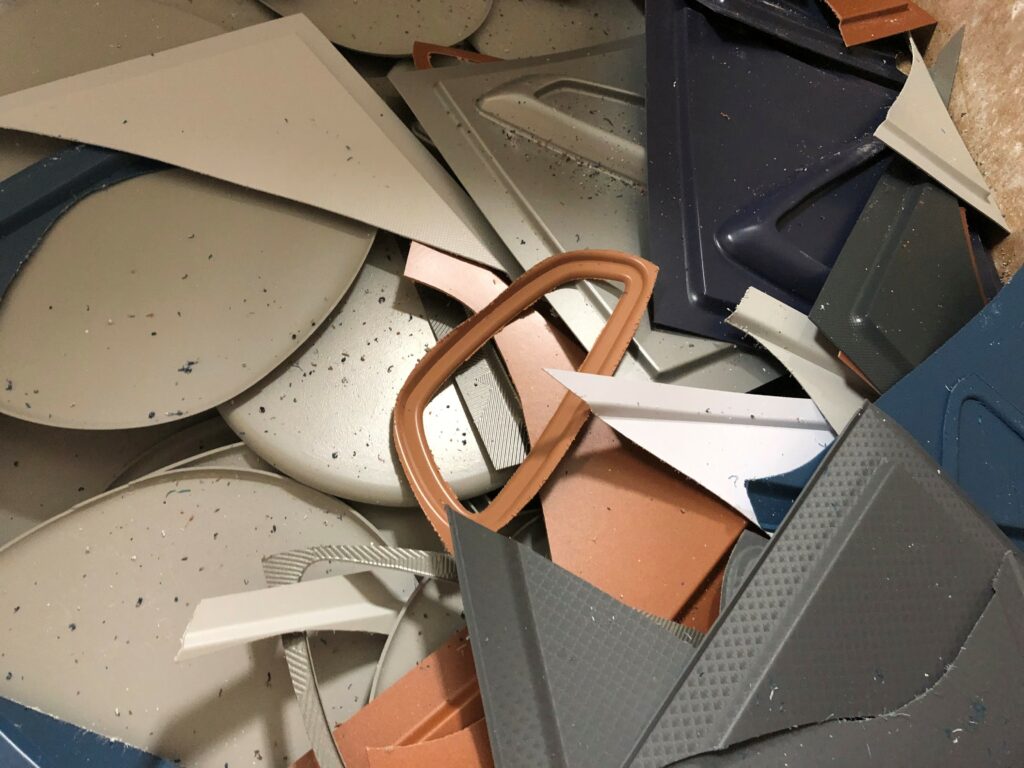 She explains that Terreform meets the flame, smoke and heat release requirements to be used for aircraft seatbacks as well as other parts of the seat such as the tray table and literature pocket.
"The main concession that the operators will have to make at this time is that it is limited to one color and texture. However, the material can be enhanced for aesthetics with any type of print, stone effect, or laminated fabric."
Notably, Terreform can be recycled over and over. "That's the magic of thermoplastic. It can be continuously broken down, re-extruded and re-formed. The key is in our formulation which combines the fire retardant properties with the natural advantages of this high impact material to bring it back to life for use in the aircraft interior again and again," says Bridger.
'Terre' comes from the French word for earth, and 'reform' is what Boltaron's goal is for the repurposed material. "Terreform means to start from the beginning to make an uninhabitable planted inhabitable. That's where we are starting with this eco-friendly material product – at the beginning with a very basic solution and with big plans to grow," the SIMONA America executive reveals.
To that end, Boltaron has hired a new polymer scientist to focus on fire-rated product development. "Our goal is to continue to develop the Terreform line of sustainable materials with a broader range of design flexibility," she says.
It's a remarkable achievement for Newcomerstown, Ohio-based Boltaron, which is part of SIMONA America Group, itself part of SIMONA AG, one of the leading producers in the field of thermoplastic products with production sites and sales offices around the globe.
But Boltaron's sustainability work does not end there. Because the firm is the only plastic sheet manufacturer for the aircraft interior industry that is able to extrude, calendar and press laminate sheet, this means that all of its products are made at one site using similar chemical formulations which enables it to recycle internally both film and sheet products.
"Any production trim that is produced using all three of those processes is regenerated back into materials that can be re-extruded. Since we do all of these processes in-house we can manage the energy consumption and fuel costs of shipping to other facilities," says Bridger.
"For many years we've had a product called Boltaron 1165, which utilizes recycled scrap to produce a single color material that is used for non-aesthetic applications, such as a thermoformed chute for the inside of a vending machine."
Boltaron has also long provided recommendations to its customers about companies that can provide secondary recycling of its sheet. It works with a global network of polymer recycling organizations.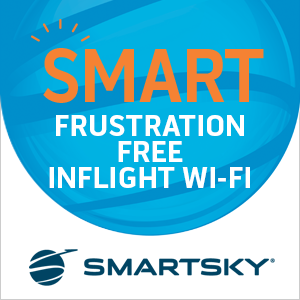 "Our partner closest to our facility that we've worked with for many years is called Blue Ocean Plastics. They have repurposed our material scrap into dozens of unique applications such as fencing and mechanical trays. We call this 'down-cycling' – when the high flammability rated material is recycled, pelletized, re-extruded and then reformed into a part that requires a lower level of flammability performance – but has the same level of chemical, impact and abrasion resistance," explains Bridger.
"We are constantly building new relationships with other recycling companies around the world," she continues. "I would say 25% of the inquiries we receive on our website are either recycling companies that are looking to work with us, or users of our material who are looking for recommendations on recyclers to send their scrap and end use materials to."
Boltaron also collaborates with the Aircraft Interior Recycling Association (AIRA) and North American Aerospace Industries Corporation (NAAI).
"They love thermoplastics because they are great to recycle. We work with them to educate the industry about 'designing for recycling' or 'designing for separation' so that the part is produced using all materials that are easy to separate at the end of use into recycling categories (for example, adhesives, screws, Velcro, etc.)"
With sustainable manufacturing in its DNA, Boltaron is among the firms leading the way in thermoplastic recycling in aviation.
Related Articles:
All images credited to SIMONA Boltaron