Have you heard of Contour Airlines? I hadn't either until I saw one of their jets in February 2020; the bright blue billboard livery was easily visible on a sunny ramp in Phoenix.
The Smyrna, Tennessee-headquartered carrier doesn't serve my home base of Seattle, and thus it languished on my 'maybe one day' AvGeek wishlist.
But that all changed post-pandemic. Needing to be in Phoenix in February for work, my window of opportunity finally opened.
First, a little bit of information about the carrier. Contour runs a hodgepodge of flights, with an emphasis on the southeast and mid-east coast. It also has a modest presence on the west coast. These operations are almost exclusively government-supported essential air service (EAS) routes. 
In Arizona, Contour flies a single route, between Phoenix Sky Harbor and Page, Arizona, which is known for its proximity to the Grand Canyon and Monument Valley. I decided to go for it!
The booking process is basic and straightforward on the carrier's website. Being an EAS route, fares are more affordable than you'd think, with standard tickets costing $69US each way, and fully flexible tickets coming in at just shy of $200. Both fares come with one free checked bag, and additional bags are $25 each. Seat choice is free.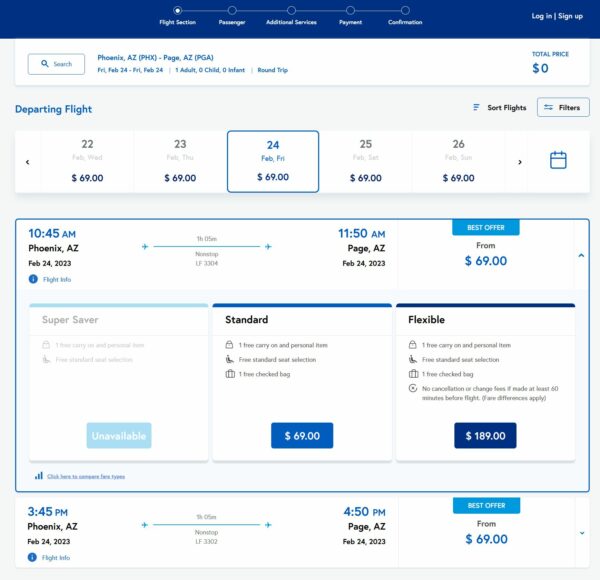 You can see in the screen shot that Contour ostensibly offers a basic economy-style ticket as well, but I am unable to tell you the price points. I searched around the carrier's entire schedule and couldn't find any 'Super Saver' options on offer.
Being a Part 135 carrier (more on that later), Contour operates as a standalone commuter airline. It has an interline agreement with American Airlines, though, and you can book travel across American's network on Contour's website. You can also book the flight through American, but not as a standalone: it must be part of a connecting flight on American's network.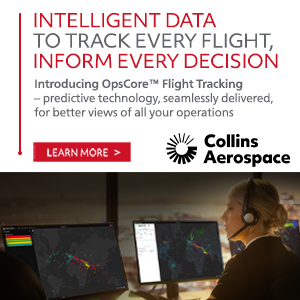 Checkin in Phoenix was, at first, uneventful. A helpful agent quickly printed my ticket and directed me to the TSA PreCheck line.
Security, normally a mere footnote in reviews these days, wound up being notable for the first time in awhile. It seems that Contour has an issue with printing off invalid boarding passes, a problem I discovered when I tried to get through TSA and promptly had my ticket rejected.
TSA directed me back to the Contour counter, where an agent printed another ticket. Unsurprisingly, given that the new ticket was exactly the same as the first, it failed again. TSA finally hand-checked the boarding pass and let me through. Both the airline and TSA acknowledged that this is an ongoing issue specific to Contour. Neither of them were able to explain why.
Boarding began ten minutes behind schedule. Bizarrely, the only PA announcements were not to passengers on the flight but to take up a beef with anyone at Allegiant who happened to be within earshot. Apparently Allegiant was directing people to our gate (the next flight out of our gate was an Allegiant flight, to be fair), and the Contour agent had had enough. They took to the PA not once, not twice, but three times to express their frustrations toward Allegiant. It was weird, never-mind unprofessional.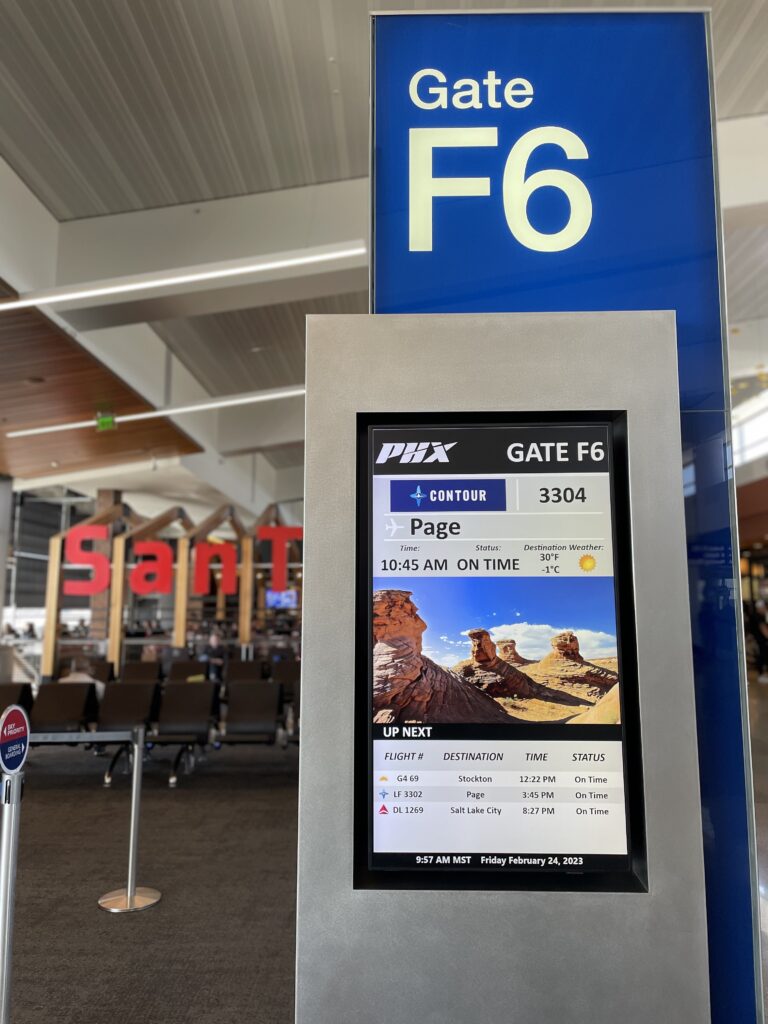 With no boarding announcement made, a crowd gathered after the agent opened the door, and we all just got onto the plane. 
Shortly thereafter, I settled into seat 4A of our Embraer E-140 regional jet. According to ch-aviation, Contour, which operates ERJ-135/145 family aircraft, took delivery of its first E-140 in November 2022.
The airplane is configured with ten rows in a 1-2 configuration for thirty passengers total. If you're wondering why the normally 44-seat jet is carrying so few people, you're not the only one.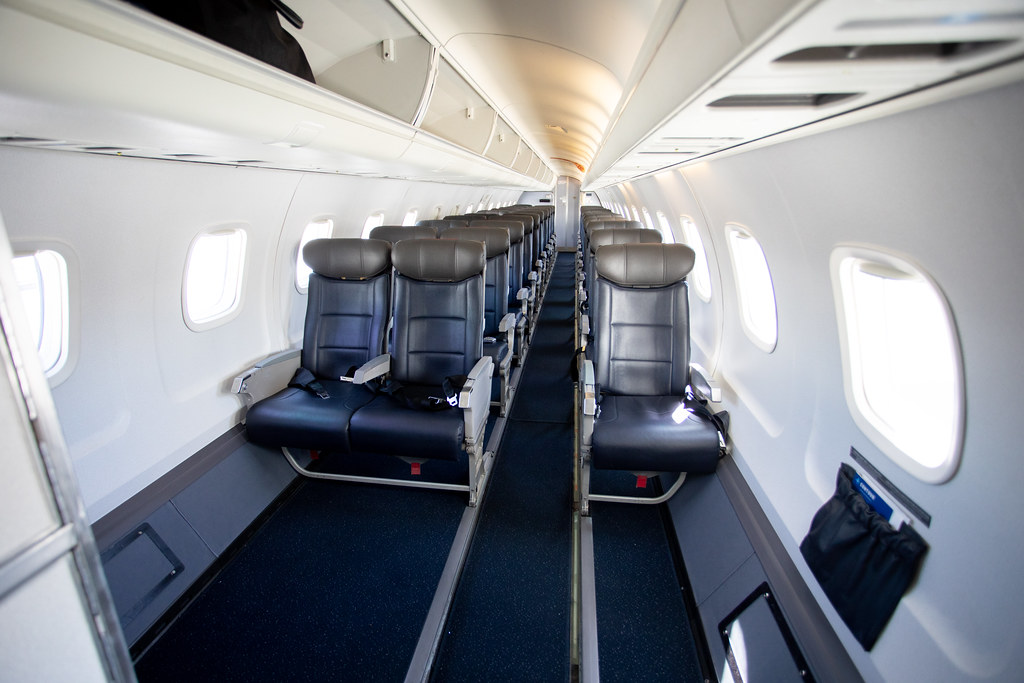 The reason tracks back to the airline's Part 135 status, which places it in a different operating category than most airlines in the US (like, say, American or Delta). In order to qualify for that status, a Part 135 airline cannot carry more than 30 passengers, and it cannot fly as a branded regional, say as Delta Connection or United Express. 
This Part 135 designation has some interesting ramifications for the interior of the plane itself, and they're all good for the passenger!
The first is obvious as soon as you step aboard: the first row of seats doesn't start until several feet up the aisle. A gap behind the last row extends almost the same length. And legroom for all seats, which is normally pretty tight, is instead roomy with 36 inches of pitch.
The seats, too, are roomy, with 18 inches of width, and generously padded. They offer a modest recline. There is no Wi-Fi or inflight entertainment, nor are there any power outlets on board.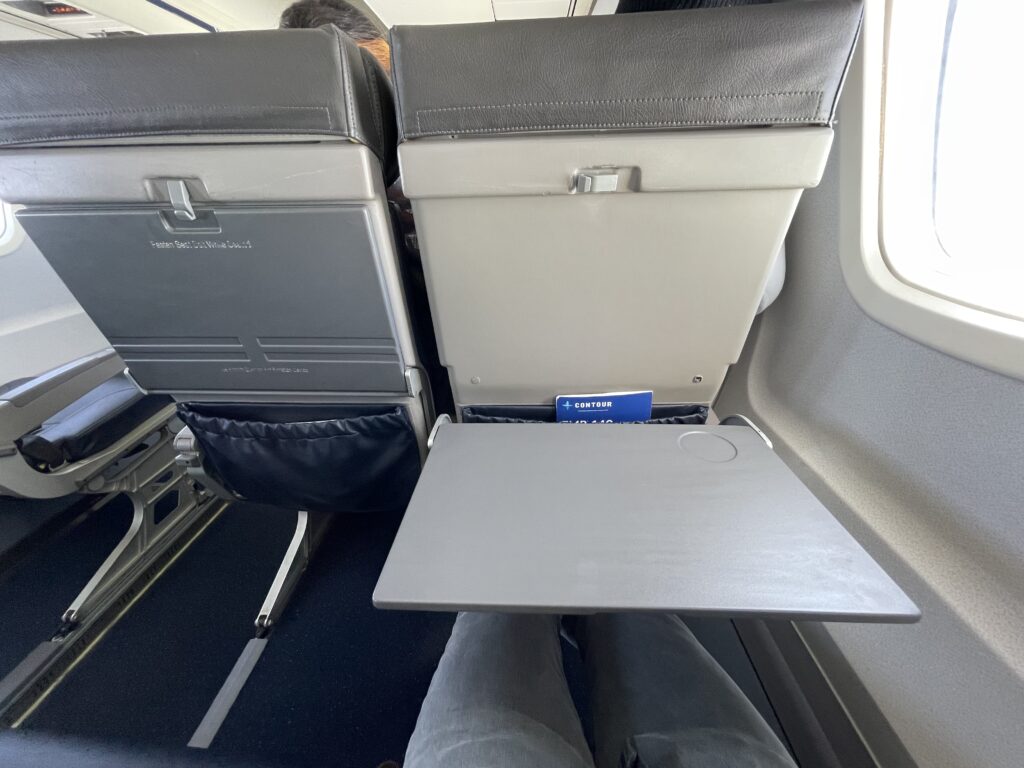 There is a galley up front and a cozy restroom in the back. Overhead bins are positioned on the right side of the plane, and they only fit backpacks, so be ready to gate-check anything larger.
We were up and on our way just a few minutes behind schedule, the jet quickly easing northward toward Page County for the 40-minute flight.
With relatively short flights, the lack of airline-provided entertainment isn't a big deal. Plus this particular route over-flies some incredible Arizona scenery, including good views of the red rocks of Sedona and even some sneak peeks of the far eastern edge of the Grand Canyon.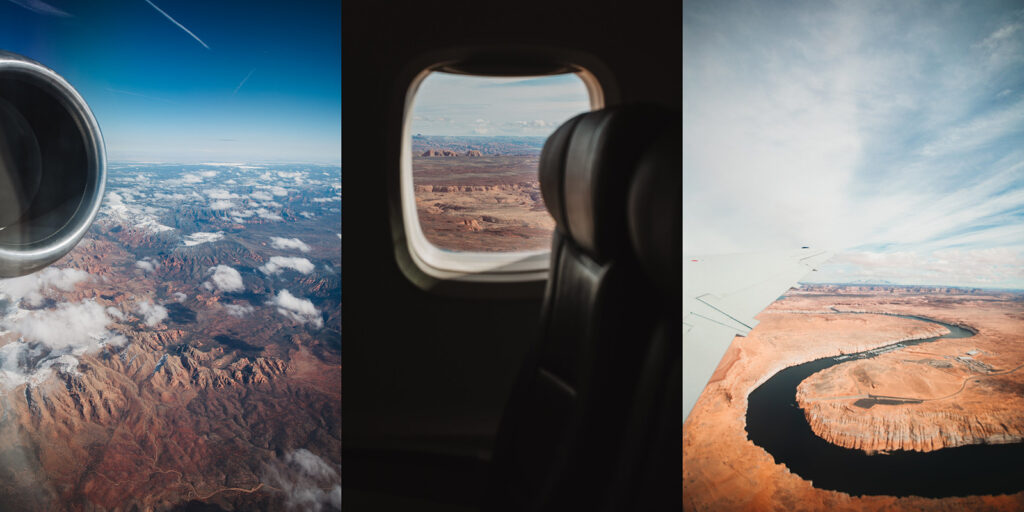 Most short commuter flights have little to no service at all, especially in economy class. Yet in 39 short minutes, our flight attendant completed three hand-delivered drink services to ensure everyone on board had the beverages they needed (there are no trollies on the jet).
They also brought the snack box down the aisle at least as many times, and offered full-size Dasani water bottles.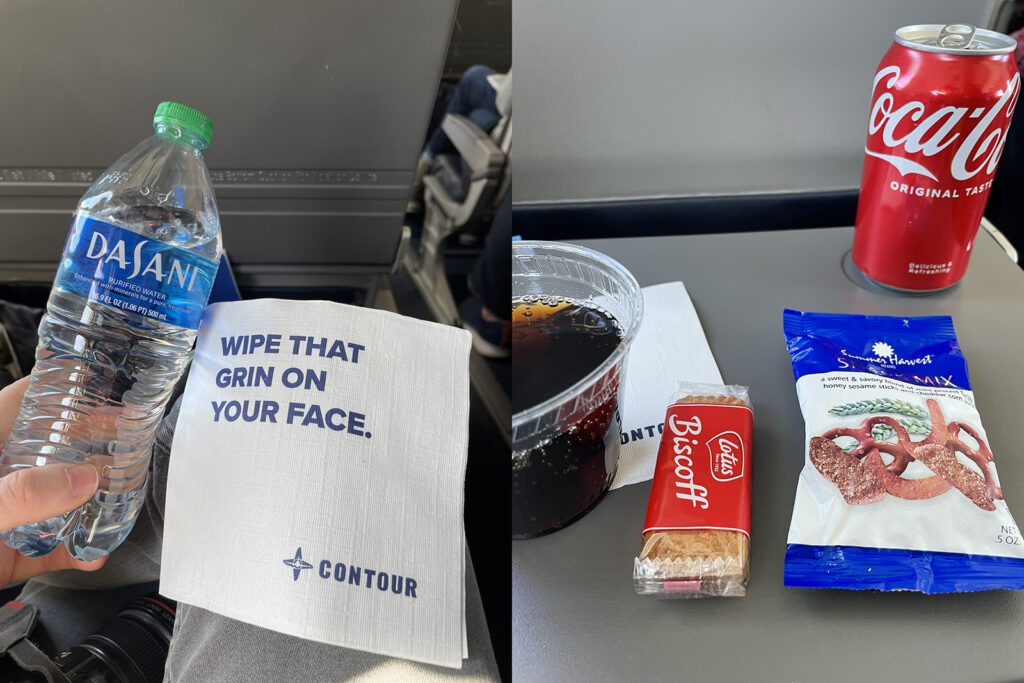 Seeing that my cup of Coke was running low, they even took the can and topped it off. Trash rarely sat on the tray table for more than one or two minutes.
The crew member even included, and I'm not making this up, a hand sanitizer service from a bottle, before landing!
I absolutely did not expect this level of service on a 39-minute, all-economy, Part 135 operator. In fact I'd place this person's efforts in the top five crew member experiences I've ever had in over 650 flights. They were that good!
Had the snack box selection been stronger (like that which is offered on Denver Air Connection), and had the ground experience not been so weird, Contour would have shocked me by nudging onto my 'top ten' overall flight experiences list. A note to anyone from Contour reading this trip report: the issues mentioned all seem very solvable.
Oh, right, and we landed just fine.
Related Articles:
All images credited to the author, Jeremy Dwyer-Lindgren, unless otherwise stated. The photo of Contour's jet on the runway is credited to Contour Airlines, via a press release from owner Contour Aviation