"Beef or cow? Beef or cow?" ask the flight attendants aboard 'Air Afrikaans', the parody airline from 2008 British comedy Beehive, which will be familiar to many an industry longtimer and equally to many an enthusiastic lover of aviation. Comic sensibilities have changed in the more than a decade since, but apart from the beef or cow now being charged at somewhere between eight to ten pounds, dollars or euros on many airlines, has airline food?
In many ways, yes, even back in economy JetBlue's build-your-own economy food concept for its new London flights — "Spiced Eggplant & Quinoa"? "Dig Acres Tomato Salad"? "Summer Vegetable Frittata"? "Sheet Tray Carrots"? — is a great start, and it's served on reusable dishware to reduce single-use plastic.
All the way back in 2014, Qantas replaced the little-pot-of-this and little-packet-of-that trays with 'one big plate' meals ("yellow curry of barramundi with green beans and jasmine rice", "honey-roasted chicken with farro salad, seasonal vegetables and sunflower seeds").
Indeed, as on-demand inflight entertainment became de rigueur on longhaul flights, the need for dinner to serve as a form of entertainment — via those little individually wrapped and/or plated items — was concomitantly reduced. It was no surprise to #PaxEx observers then that Qantas' announcement was paired with an expansion of its IFE offerings.
That individual wrapping has certainly seen a renaissance in 2020-21, with the COVID-19 pandemic and airlines' efforts to try to reduce passenger cross-infection risk leading to a return to the world of individually plastic-wrapped items, whether that be in a meal bag or snack box handed out before boarding or the more usual items served onboard.
This will, it seems almost inevitably, change, and not just because science suggests that the infection risk in meal settings is not that COVID-19 has landed on your sandwich, but rather that a person next to you whose head is 17" to your left or 28" behind you has their mask off to eat their sandwich.
Indeed, the dammed-up sustainability imperative, pulled back since 2019, will burst, and aviation needs to be ready for it. The Intergovernmental Panel on Climate Change's AR6 report is only the latest beat of the drum encouraging us all to do more.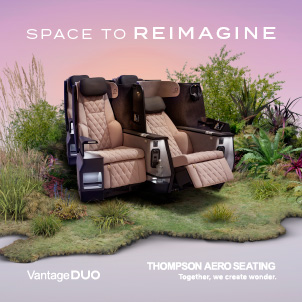 Airlines are in many ways showing willingness to engage with the sustainability agenda, and onboard dining can be a part of that. Reducing the amount of plastic is one element, but so is reducing the emissions impact of what is cooked and served on board.
Reducing waste through the use of pre-booking options is one passenger-pleasing choice. So is choosing to serve food with lower emissions impacts onboard, including vegetarian, vegan and more plant-based food.
By no means does that have to consist of mung beans and despair, of course: many of the great cuisines of the world have vegetarian, vegan and plant-based dishes that are delicious and perfectly suited for altitude. The trend among many regular flyers to choose "Asian vegetarian" meals, often inspired from the Indian subcontinent, reinforces their popularity.
It's about enabling passengers to make smart, climate-sensitive choices that retain airlines' individualism. Can a UK airline replace a roast beef sandwich with egg-and-cress or cheese-and-chutney? Can a French one swap out the bacon in a quiche Lorraine for a spinach version? Can lower-emissions proteins like pork, poultry, fish, eggs and seafood replace beef?
Looking to the future, how else can airline catering contribute to the wider goal of reducing aviation's emissions, retaining the many benefits of travel while minimising our negative impact on our shared environment?
Related Articles:
Featured image credited to Cathay Pacific