Returning home to New York City from Seoul recently meant a 14-hour nonstop flight in economy class aboard Korean Air's Boeing 777-300ER.
On first blush, the experience might sound grueling. But as far as I'm concerned, Korean Air deserves kudos for selecting a PaxEx-friendly 3-3-3 layout in economy class rather than the cramped 3-4-3 configuration that one commonly finds on many other 777 operators.
Getting situated in my aisle seat in the front section of economy, I found that Korean Air's 777-300ER economy class seat was even roomier than the economy seat aboard the Boeing 787 that I had taken to Seoul. While the carrier's excellent 33-34″ pitch is identical across both aircraft types, Korean Air is able to offer an extra inch of seat width on the 777-300ER due to its choice of a 9-abreast layout.
That gave me a spacious 18 inches of width which, when coupled with the ample legroom, meant that this was the roomiest regular economy seat I have experienced in a long time.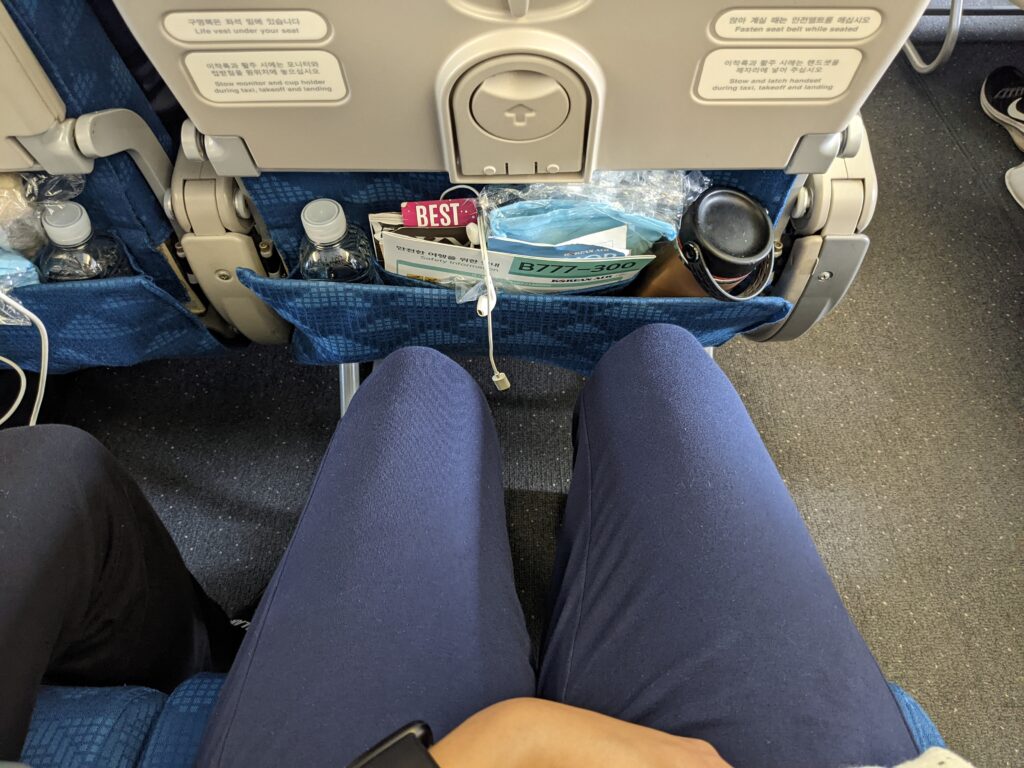 The seatback onboard the 777 featured an IFE remote control, a USB socket and a headphone jack. A cup holder, which can operate independent of the tray table, was quite useful on such a long flight.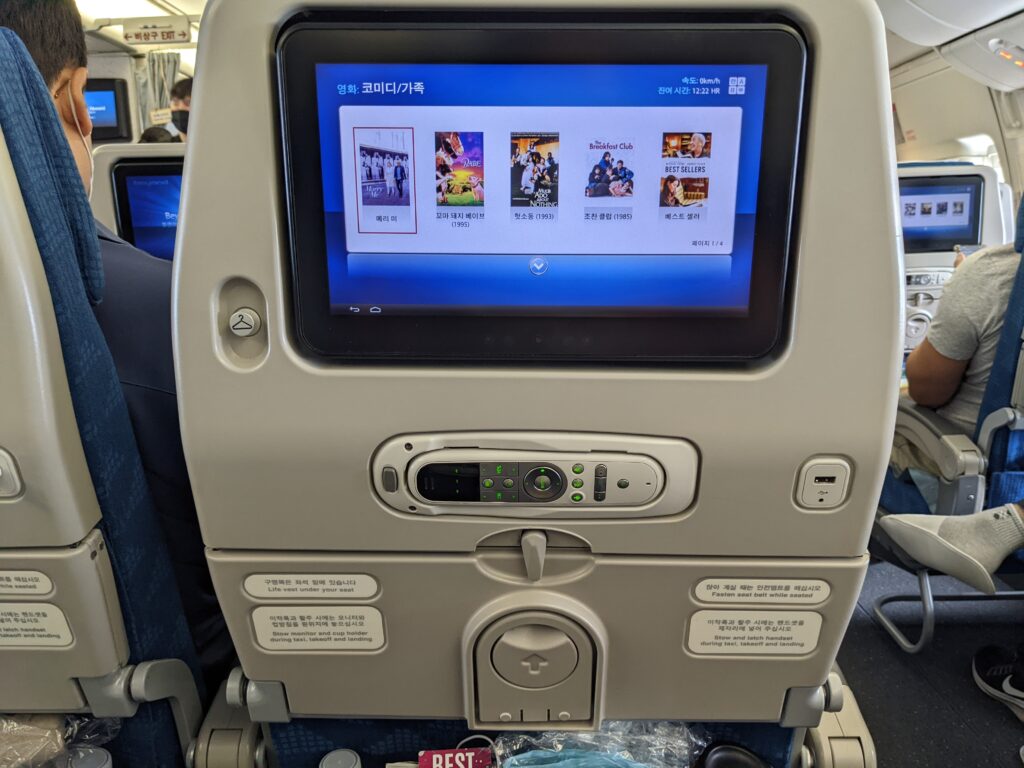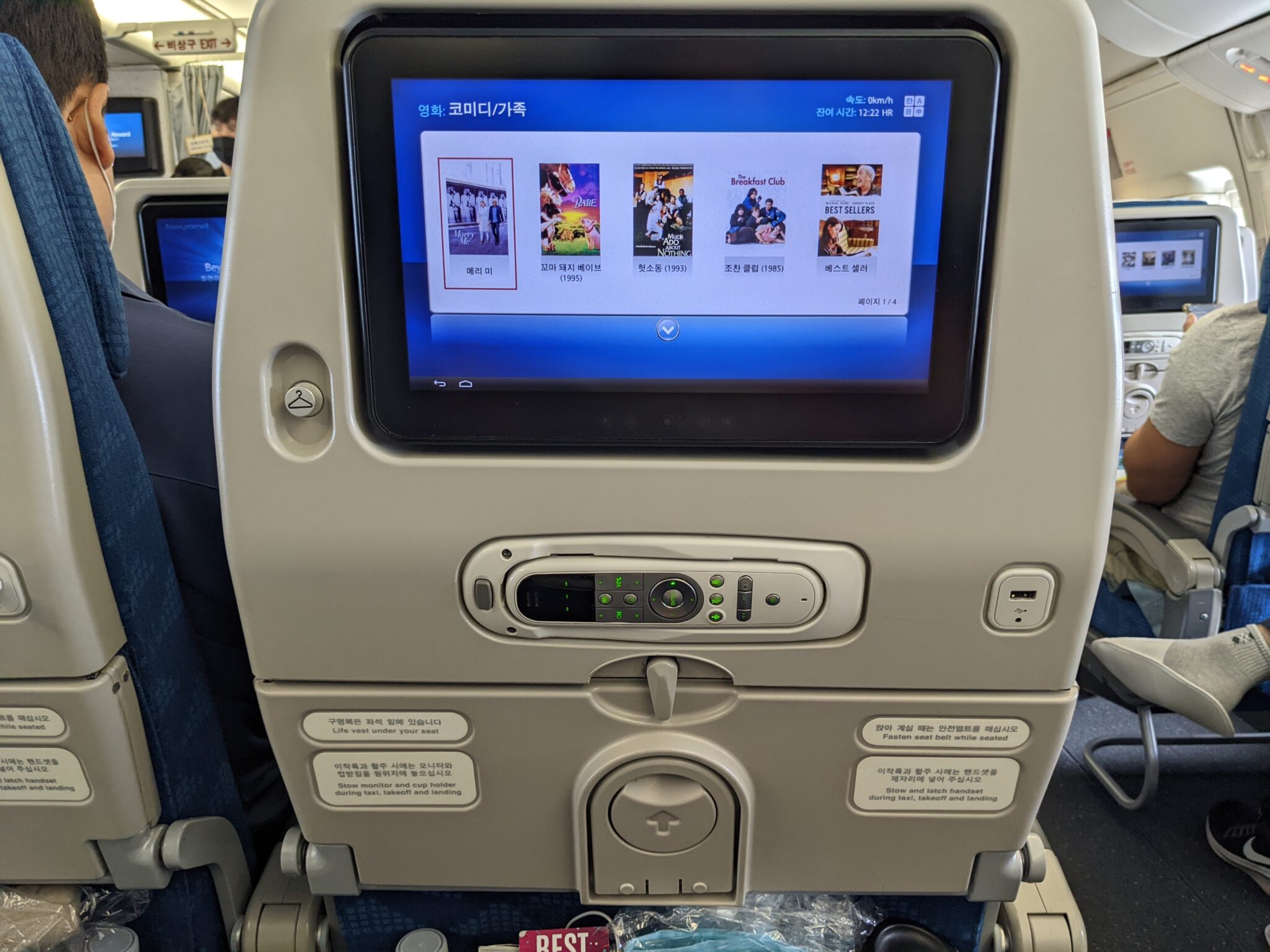 My seat was in good working order and I did not experience any glitches with the IFE, as I had on the 787 flight to Seoul. The seat shape and padding were otherwise consistent with my previous flight.
Also consistent, unfortunately, was the content choice (or lack thereof) on the IFE system. Again, the selection did not compare favorably with other airlines such as Korean Air's joint-venture partner, Delta. The absence of Wi-Fi on Korean Air's aircraft only accentuated the issue, which remains the biggest weakness of the carrier's onboard experience (its new Boeing 737 MAX aircraft are fitted with connectivity.)
Service on this 14-hour flight was particularly good. With a favorable ratio of crew and galley space to economy class seats, the crew were quick to respond. We were served two full meals along with a snack in between. Additional snacks and a cup of ramen were available on request.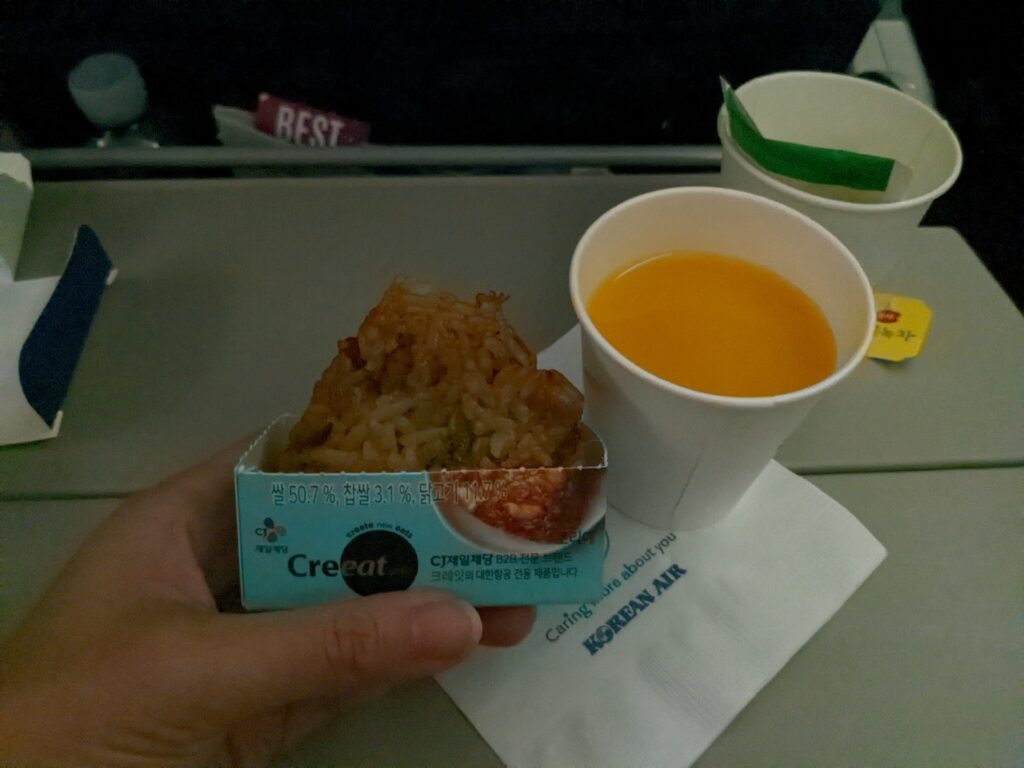 For the first main meal, passengers were given the choice of spicy stir fried pork or chicken on rice; and for the second main meal, kimchi fried rice or seafood-au-gratin. Vegetarian meals were available on request, and the snacks included a Korean rice ball and a banana.
All meals were presented with metal cutlery which definitely added to the pleasant experience.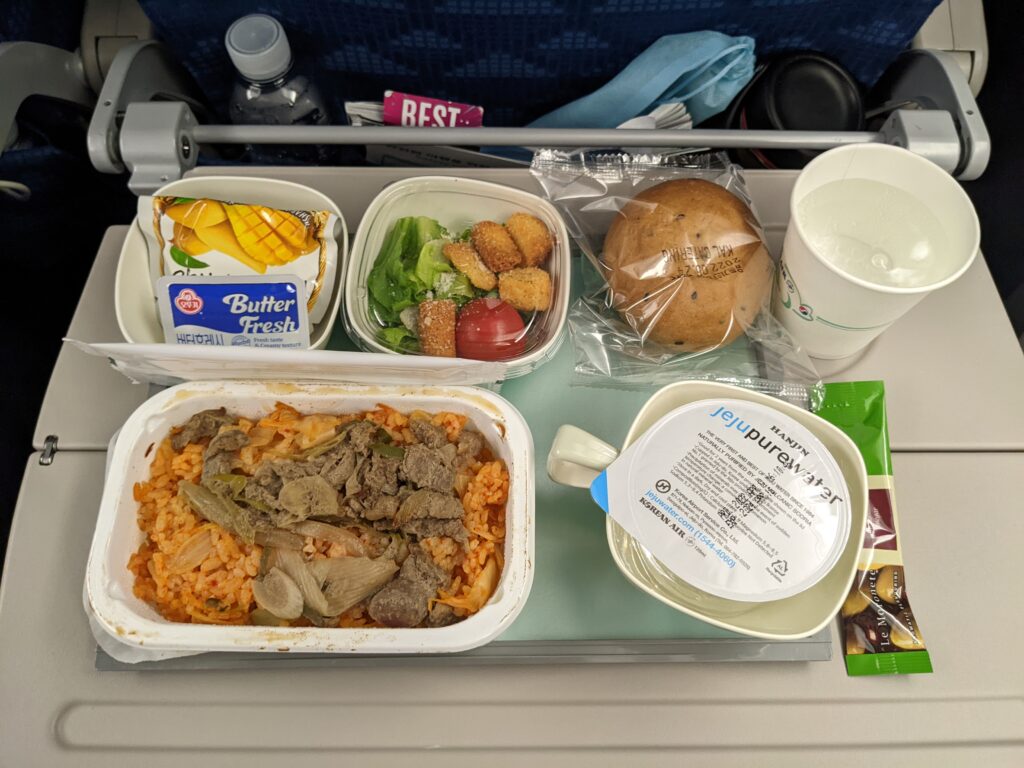 Korean Air maintains a cabin temperature of between 23 and 25 degrees Centigrade (73-77 Fahrenheit). This approach certainly divides opinion. While I was comfortable onboard the 777-300ER, complaints about the warm temperatures are common online (little wonder, then, why some travelers carry personal fans with them).
It is nice, however, that the airline publishes its policy and takes the time to explain some tips and tricks for healthy flying.
All in all, Korean Air continues to offer a compelling long-haul product for passengers. Pre-pandemic, the Seoul-New York route featured a twice-daily Airbus A380 service with an all-business upper deck. But this was curtailed to the single daily 777-300ER equipped with eight first class seats in a 1-2-1 layout, 42 business class seats in a 2-2-2 layout, and 227 economy class seats in the aforementioned 3-3-3 configuration.
Korean Air's hometown competitor, Asiana, deploys an Airbus A350-900 daily on this route. (Asiana also offered a twice daily A380 service before COVID.)
It remains to be seen when both Korean carriers will be able to return to full capacity across their networks. But according to Flightglobal, as travel demand surges, Asiana will resume A380 operations at the end of this month, which will be followed by Korean Air's relaunch of A380 service on the New York route in July.
Related Articles:
All images credited to the author, Karun Mukhi