Tallinn, the capital city of the small Baltic state of Estonia, does not have a plethora of flight options. While many European cities offer multiple nonstops across a handful of airlines, airBaltic's service was the only nonstop that could get me from Brussels to Tallinn, and then from Tallinn to Amsterdam.
The airline did not appear to allow multi-city itineraries, so both legs were booked separately. Thankfully, the base fares were not terribly expensive, with both under €100.
Something of a hybrid airline, airBaltic has a business class cabin, styled in the near-ubiquitous EuroBiz configuration, while economy class is akin to a low-cost-carrier model.
With business class costing nearly €500, the decision to stay in the back of the bus was pretty easy. Booking was straightforward, with three fare classes offering bundled add-ons like seat choice, priority bag drop and refunds. I chose the most basic, Green, which offers nothing but a carryon and personal item. I did, however, pay an extra €15.99 to book a window seat forward of the wing, only for the first flight. Curiously, once a seat is selected and paid for, the choice is locked in. So if you're willing to pay more to book an exit row, for instance, too bad, you're stuck.
Checked bags started at €39.99 for one, and jumped to €79.98 for two. The cabin baggage allowance was limited to 8kg/17.6lbs for both a roller bag and a personal item. Many American roller bags weigh half that alone. For an extra €14.99, airBaltic will extend the allowance to 12kg/26lbs.
It appears that pricing can be dynamic, as a follow-up check for the same flights some days later showed everything a few dollars cheaper.
The airline also offers a book-the-cook style option for meals, with roughly 30 options across a range of culinary tastes. Prices ranged from €11 to €20. Normally I would expect that the pre-order meal option would be the last of the communications I'd receive until a few days before checkin, but not with airBaltic. Instead, I received a steady stream of emails reminding me to reserve a seat, book a meal, or pay for a checked bag.
The emails were incessant, and the frequency increased as the day of departure drew closer. Frankly, it got old fast. And yet there I was, a few days before the flight, deciding to add a checked bag after all. And then a seat choice on the second flight. And then a meal, for research purposes! So I guess the carrier's harassment campaign ended up working, since they got another €75 out of me.
That didn't stop airBaltic from trying to get even more, as the emails kept coming all the way up until departure. In hindsight, it likely would have been cheaper for me to select one of the bundled options from the onset, at least on the leg with a checked bag.
In a weird twist, the airline allows checkin up to five days early for folks who choose a seat in advance. I couldn't tell you why, but if you forget and need a paper ticket it will cost you €35 at the airport. 
The digital boarding pass allowed me to head straight to security on a cold, dark morning in Brussels. But one of my travel mates, who had custody of our joint checked bag for this leg, endured a 30-minute bag drop line which we all waited out together. Thankfully, security was moving quickly.
Our inbound aircraft arrived late, and the ground crew were scrambling to catch up. Boarding was a bit chaotic.
Despite the carrier's myriad stern warning emails about hand baggage being weighed at the gate, I never saw that actually happen. I chalked it up to running behind, but no one checked on the return flight either, and there was no rush then. On the chance that you do get busted for overweight luggage, airBaltic assesses a hefty €60 fee, collected on the spot.
The cabin crew greeted us warmly as we boarded the Airbus A220-300. The airline now utilizes the jet exclusively, enabling it to claim one of the youngest and most efficient fleets in the world. The captain came on the PA to announce our flight time of just over two hours. He added that he personally checked on a dog flying in the cargo hold. A nice touch.
The aircraft pushed back 20 minutes late and took off into a thick fog before punching through into a gorgeous morning blue sky.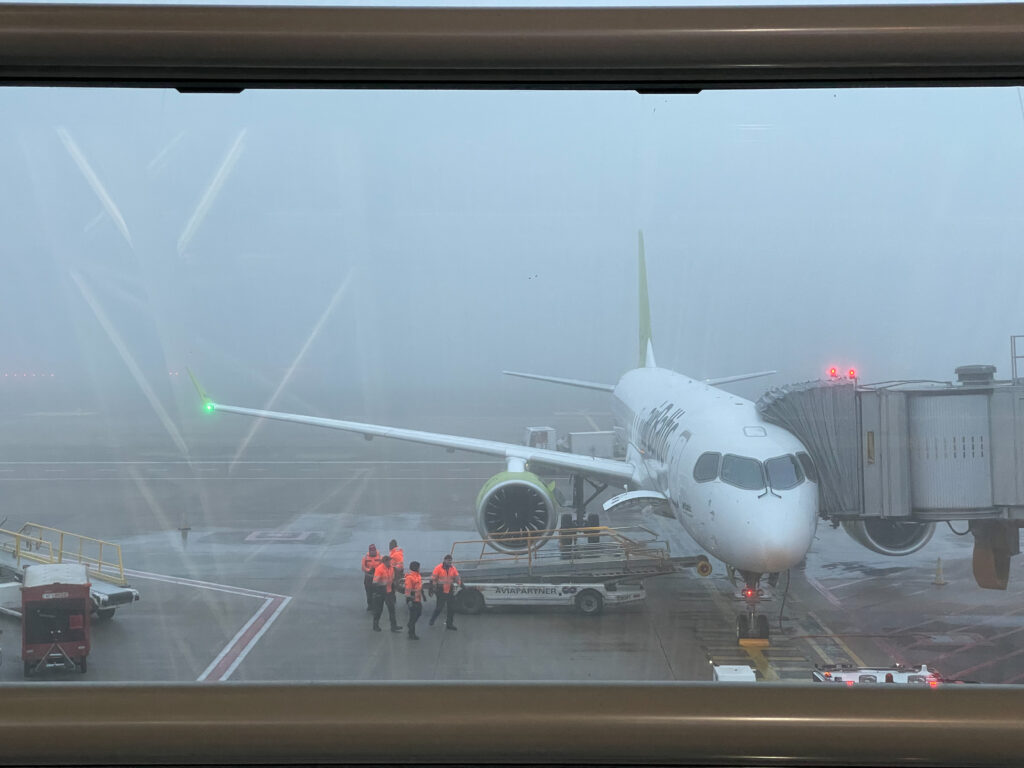 Today's seat was 7A, located just ahead of the wing. Made by ZIM, the seats have 32" pitch and 18.5" width with a modest recline.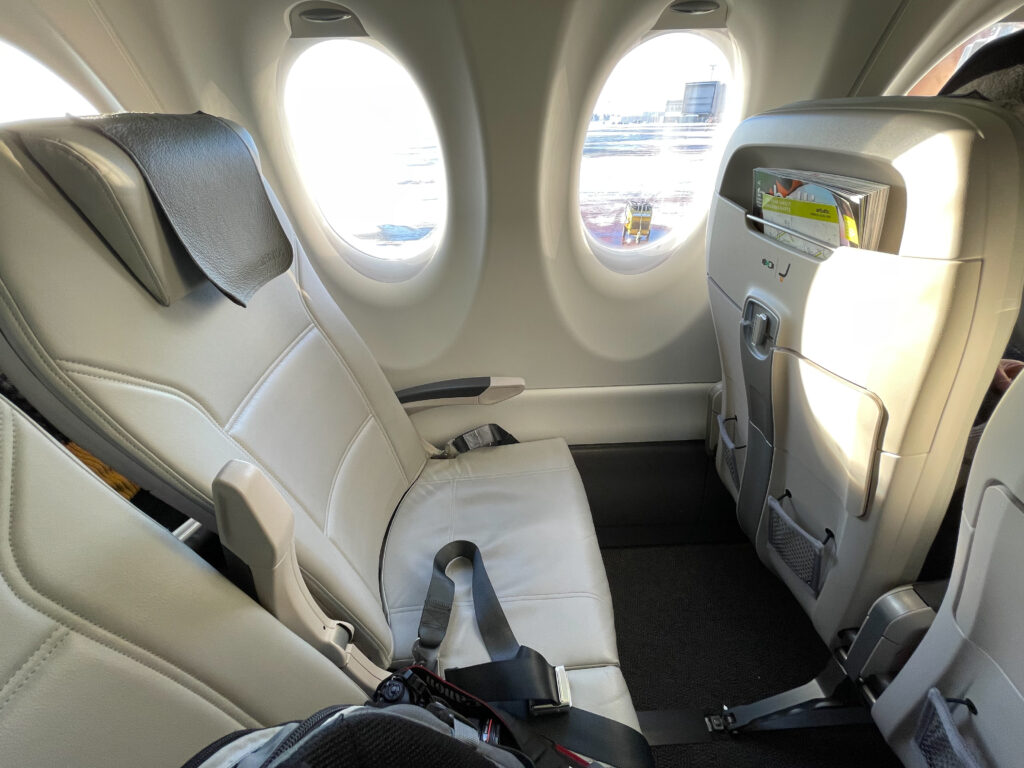 Each seat has a fold-down tray table.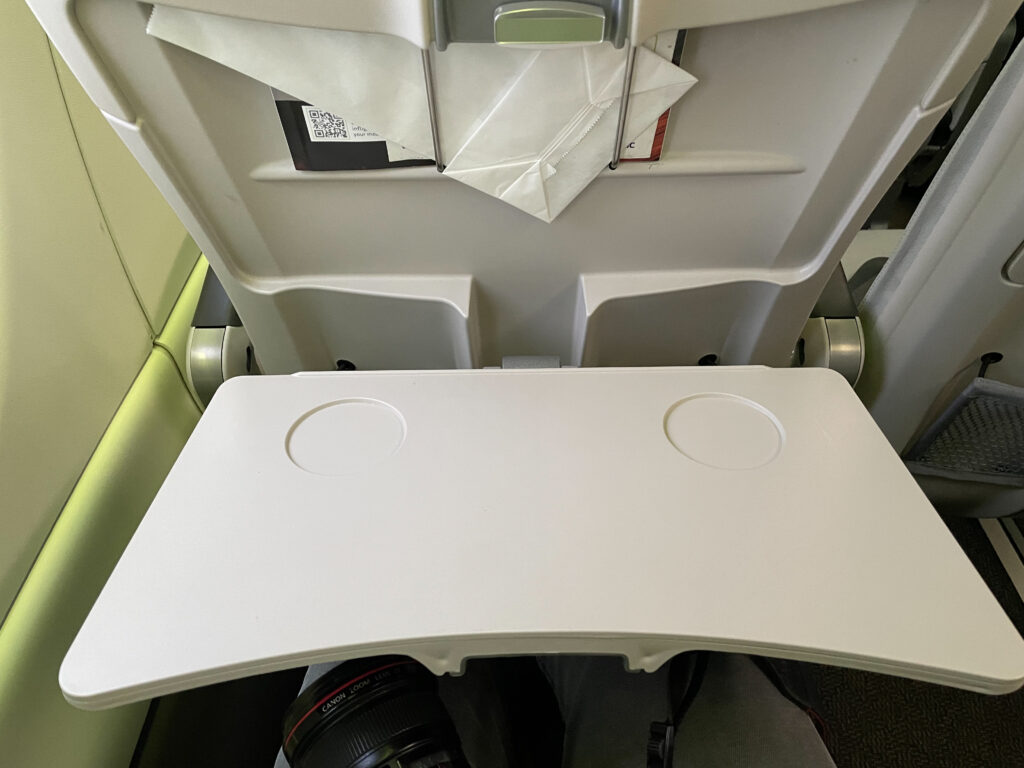 Two small mesh pockets are situated on the lower part of the seatback in front of you, while a small literature pocket at the top holds the airline's inflight magazine and safety card. I could not find any power outlets. With an empty seat next to me, it felt pretty roomy.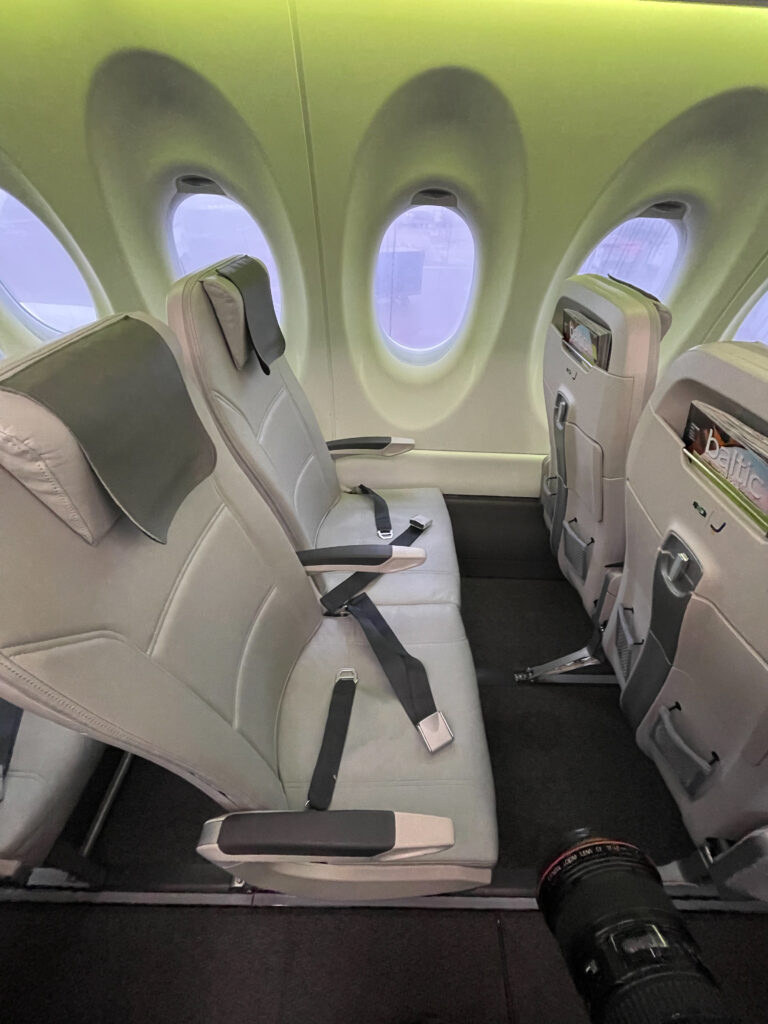 My pre-ordered meal showed up thirty minutes after departure; an omelet with potatoes, green beans, and bacon.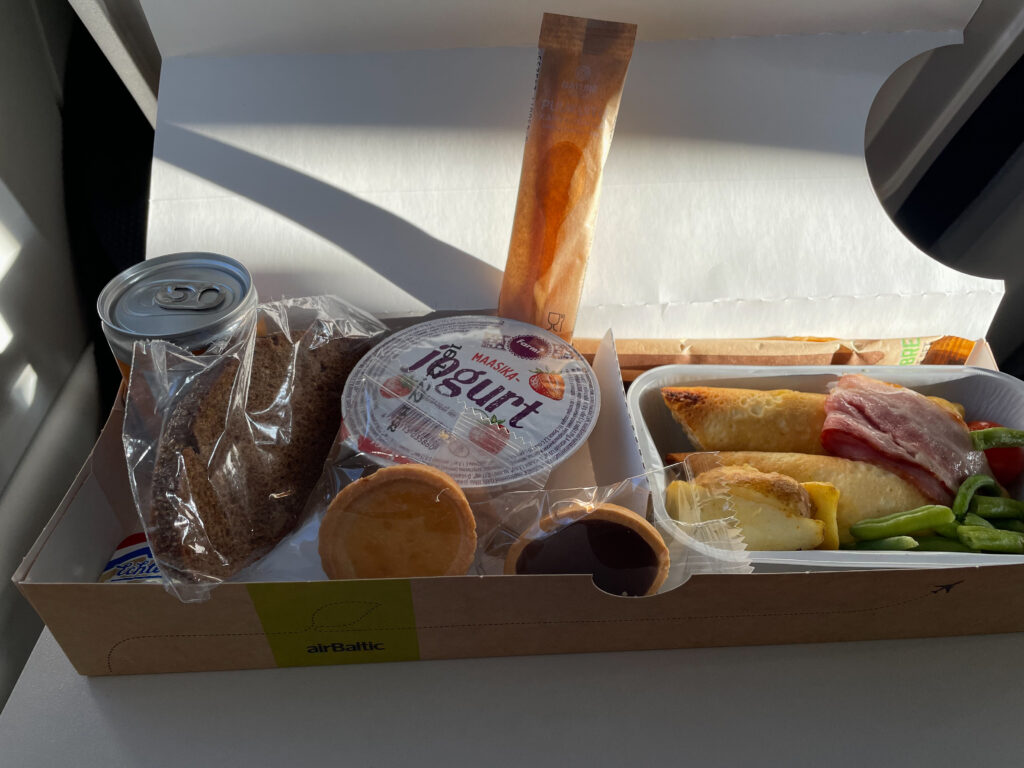 It was warm and filling and it saved me from having to search for something in the airport.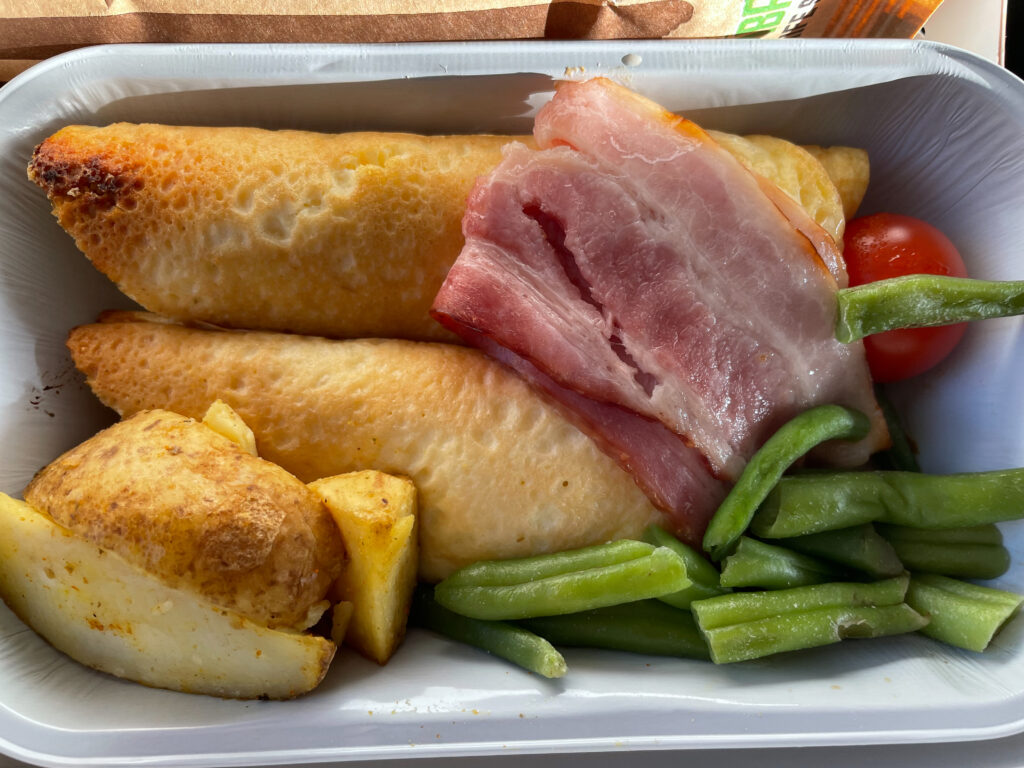 There was supposed to be some sort of inflight entertainment, or Internet, or something. In fact the small overhead screens kept running annoying PA announcements touting the ability to order a meal or shop duty-free from your phone by connecting to the Wi-Fi. But it never once worked – or even appeared – on either flight.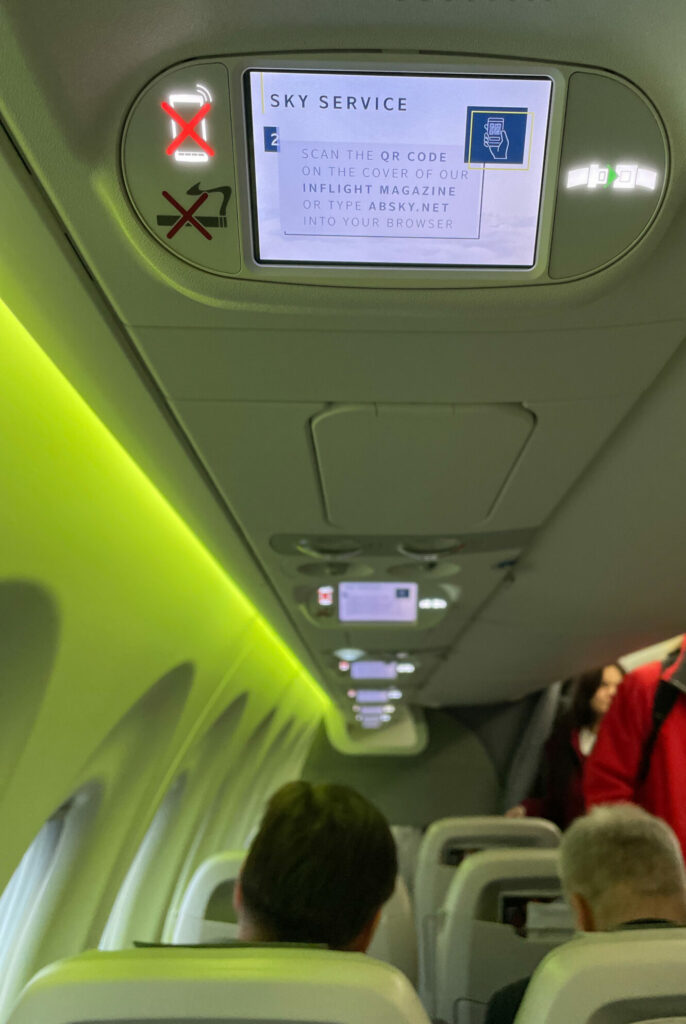 Neither of my other two travel mates could get it going either.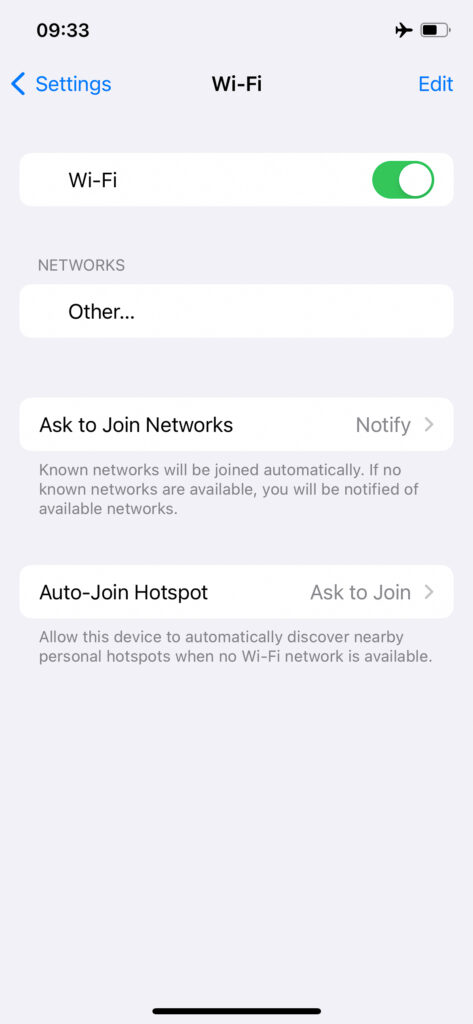 What I do know is that the overhead screens would amble between the standard moving map and flight stats, the PA announcement spiel, and ads for items available on duty-free. I've never seen the screens used for ads like that before, at least not mid-flight.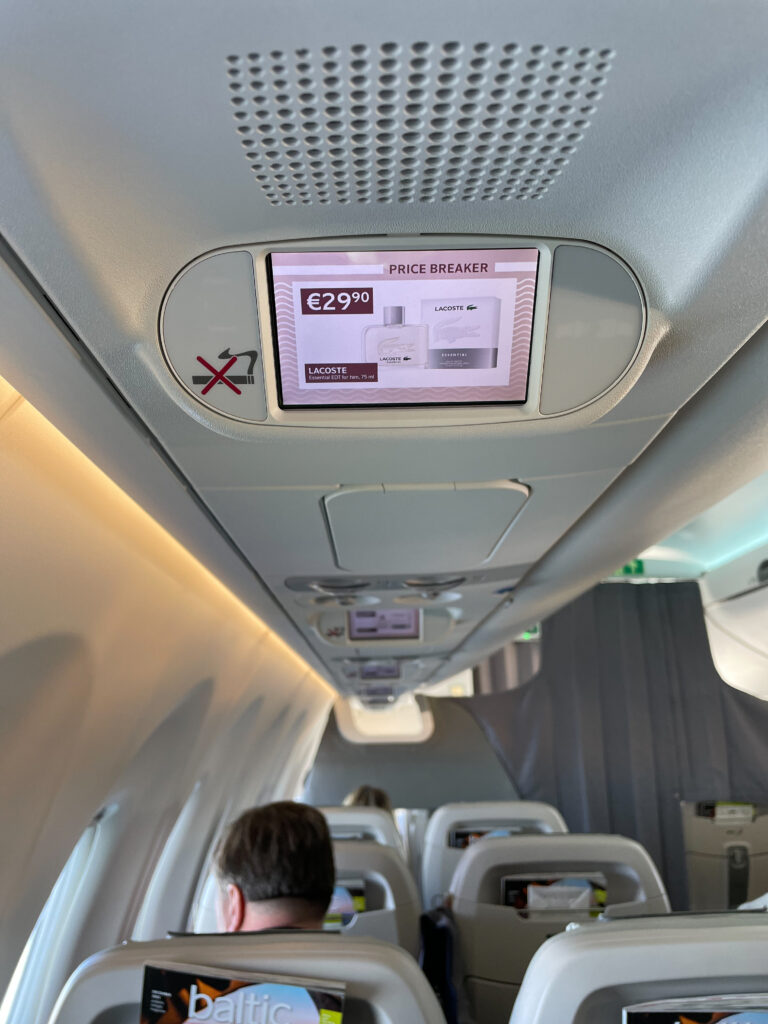 Meanwhile, the view out the window was often quite spectacular, in particular the last little bit descending into Tallinn. It was among the more scenic approaches I've done in recent memory, the type that even the regular passengers were talking about after landing. The A220's giant windows made the viewing all the easier.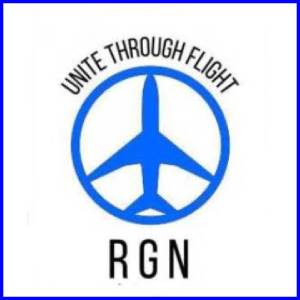 The checked bag showed up at the carousel some time later, and before we knew it we were off on a very cold, blustery walk to a nearby transit hotel in Tallinn.
All told, it was a mixed bag experience. The consistent badgering, both in emails before the flight and via PA announcements onboard, became really annoying. It was disappointing to not be able to kick the tires on the airline's wireless IFE system, and it's not great that the system was down on not one but two flights.
Still, the crew members were warm, the aircraft new and spacious, and the price was right. For what amounted to a low-cost-carrier experience, airBaltic was solid. I'd look to try other carriers before revisiting them, but I wouldn't hesitate to fly them again either. 
Related Articles:
All images credited to the author, Jeremy Dwyer-Lindgren