Carlisle Interconnect Technologies' wires and cables support everything from aircraft engines to inflight entertainment and connectivity installations and even space-grade assemblies for satellites. This level of diversification helps the St. Augustine, Florida-based firm to manage its supply chain. But like other suppliers grappling with raw material shortages, CarlisleIT is having to actively address constraints and choke points as the aerospace industry accelerates out of the Covid pandemic.
Noting that the global supply chain has been stressed "to say the least", CarlisleIT director of sales, Asia Pacific Jerome Viagas tells Runway Girl Network that the company is "managing this by identifying the areas that can cause some concerns and by trying to provide internal solutions for some of them".
He explains:
We are still dependent on the market, but we are doing as much as we can, and we are taking very strong initiatives to respond to these challenges. CarlisleIT has long relationships with our suppliers, and we take a collaborative approach to their challenges in delivering what we need.

By engaging our engineering teams as needed to update qualifications, evaluate proposals, and generally be responsive we have been able to manage many raw material issues and find solutions that keep our customers' deliveries moving. It remains a challenging environment, but we will continue to adapt rapidly as needed.
A significant yet largely behind-the-scenes supplier in aerospace, CarlisleIT's portfolio is vast. "So, we supply all the major aircraft manufacturers with our wire and cable. We don't necessarily always do the harnessing. We can also supply the wire and cable to harness manufacturers. We qualify those cables with the likes of Airbus, Boeing and all aircraft manufacturers," notes Viagas.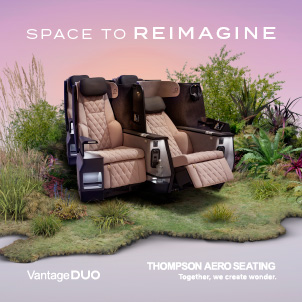 But while it has a tremendous amount of aircraft content, CarlisleIT's focus is firmly trained on interconnect systems. "So, we are not doing any active system, we are not doing LRUs or active systems," confirms Viagas about CarlisleIT's current placement. To wit, though it provides inflight entertainment and connectivity interconnect solutions, aircraft antenna radomes, and IFC installation kits, CarlisleIT has no interest in getting into the antenna manufacturing space.
"[I] mean we have a very clear strategy, and our strategy is to focus on the interconnect systems so passive components and passive solutions, but also integrate, vertically integrating everything," he says.
"So, we manufacture the cables, we manufacture some connectors, we manufacture some backshells, but we also do some harnesses for some cabin applications, in particular for some connectivity applications. This allows us to leverage these capabilities and be competitive and control our supply chain as well. And I think in this environment, controlling supply chain is absolutely key."
With a DNA focused on harsh environments and high technology, CarlisleIT has, however, developed a thermal management system (TMS) for the new breed of electronically steerable antennas coming to aviation. "That's going really well," says Viagas. "We already have a demo and there is increasing demand for such a product. We are seeing that we are able to meet most requirements for operational use, so our system is proving very successful to manage heat dissipation."
He says most ESA systems will require some heat dissipation "and that will depend a lot on where the aircraft is operating — you know, if you are in Canada in winter, or if you operate in Dubai and the aircraft stays on the ground for hours."
We can limit the heating of the antenna for whatever is required for aircraft operations. If you have to stay on the taxiway for an hour because of queuing and lining up, it rarely exceeds one hour or a bit more. This is the solution for any type of environment. The goal is always to have the ability to support continuous on-ground operation. How that is supported depends a great deal on software decisions, the specific ESA configuration, and the operator's needs for on ground performance of the network. We haven't seen any scenario where turning off the system is the only option, even for a hot day in Dubai.
ESAs for aircraft are being developed to transmit via new LEO, MEO and hybrid LEO/GEO and MEO/GEO satellite networks. Outside of providing its TMS for these antennas, CarlisleIT supports the hybrid network evolution on a granular level by supplying content for inside the satellites, for example.
"We have a factory that's part of CarlisleIT that provides micro-coaxial products and we can manufacture space-grade products, space-grade assemblies, provide solutions on the space market as well. So not only are we playing in the aerospace or aircraft aspect to connect our aircraft to the satellite, but we also providing the content inside the satellite," says the CarlisleIT executive.
"We are playing in many areas, and we are highly involved in terms of new product development and innovations because that's how we want to keep the lead in all the markets we are involved in."
Related Articles:
Featured image credited to istock/Jetlinerimages