There are many questions for a startup airline when it comes to choosing aircraft seats. Do you go full-on greige and either ignore internal branding or hope that whatever aircraft you lease has mood lighting that matches your brand? At the same time, do you go for refurbished older seats or a brand new set of slimlines? And if you do opt for new, do you choose something from a smaller seatmaker or turn to one of the bigger companies for quick-turn low-customisation shipsets?
In the case of startup MYAirline, the Malaysian low-cost carrier went shopping in Italy, where seatmaker Geven is furnishing a full-fleet set of its SuperEco seats for the airline. The latest-generation pre-reclined slimline, unveiled in mid-2021, with 180 seats per aircraft, are already flying aboard the all-Airbus A320 fleet.
The MYAirline product looks impressively different from the Geven-standard SuperEco seat, differing from the images released with the original seat product in the type of armrest, the patterning of the seat cover and inasmuch as there is no eye-level literature pocket. Presumably, the safety card is added to the seatback pocket, an unusual inclusion for ultra-slimlines given that every millimetre of room is usually optimised for knee space.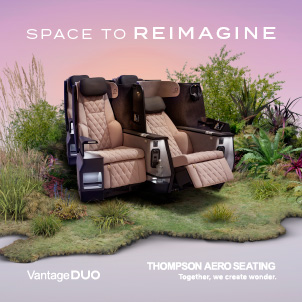 MYAirline says that its standard seat pitch is 29" — relatively generous for a low-cost carrier, particularly in the region. With the shin and knee clearance of a latest-generation seat like SuperEco the airline will, to the extent of approximately an inch, be able to compete on passenger experience comfort grounds, and not just in its 34"-pitched emergency exit row product either.
Unusually, the carrier is also giving a measurement it terms as "legroom", which is presumably the space between the end of the seat cushion and the seatback in front of it. Standard seats offer 12.3", while exit rows provide 17.3". MYAirline notes that the pre-recline angles sits at 109.4°, or 9.4° from the vertical.
Delving into the renderings of the cabin, your author notes that the renderings appear to have either the seats or the overhead no smoking/fasten seatbelts sign reversed, so we will take them with a small pinch of salt.
The seats feature what appears to be a half-sized table: suitable for a snack, half-tray, beverage or to prop a tablet, but certainly not sizeable enough for a full meal tray to be offered.
The dress covers are Eleather, in a coral-rust sort of colour up front with dark grey piping and accents, and a reversed mostly grey cover down the back of the aircraft. In effect, it's an impressive one, managing to choose a colour that is both bright and fresh but that has not yet been selected — even among the regional preponderance of larger red-palette airlines like AirAsia, Lion Air and Batik Air.
The stitching pattern and the shapes assembling the seatback, too, gives the feel of a modern cabin interior, even though the airline's fleet comprises, per the Airfleets database relatively older A320s of between nine and 13 years. Mood lighting in a complementary coral-rust hue also helps here — Blah Airlines this very much is not. Together with a striking mixture of bright red and battleship grey on the outside of the aircraft, together with billboard titles and its winged M logo, it's altogether a coherent and effective branding choice.
Based in Kuala Lumpur, MYAirline launched with three routes to Langkawi, Kuching and Kota Kinabalu, with subsequent routes to Tawau and Miri also announced from among a shortlist of seven further destinations.
Related Articles:
Featured image credited to MYAirline