Lingering Covid-driven supply chain constraints and increased costs have exacerbated system obsolescence problems in aviation, including in the inflight entertainment and connectivity (IFEC) sector. In a bid to head off some of these issues, key industry stakeholders are working to develop solutions that can be supported for years to come.
One such supplier is German multinational corporation Kontron, a leading provider of IoT and embedded computing technology which is turning obsolescence lemons into lemonade through rapid innovation. Kontron's popular ACE Flight 4608 avionics server, which is the backbone for a wide range of IFEC solutions, plus crew and maintenance applications, is currently undergoing a refresh.
The project will see Kontron offer an updated box, known as 4608+. Though the avionics server will offer more storage, it will act as a 'form-fit-function replacement' and be made available to customers by the middle of next year.
This sort of slot-in replacement approach is important to Kontron's current clientele, including airlines and their integrators whose content and software applications sit on the company's hardware onboard aircraft around the world.
"Certainly in Kontron, as a larger organization, we've been hit with a very short notice end-of-life on some components. So that's a bit of a concern," Kontron VP business development avionics Jon Moseley told Runway Girl Network at the APEX/IFSA EXPO in Long Beach.
"So, really to ward that off, we want to do [the server refresh] now to be a little bit of a step ahead of the game. Again, to make sure, as I say, that it's 'form, fit and function' to try and minimize the impact to customers so we can support them for the next five to ten years for some of those contracts."
Then, roughly at the end of 2023, Kontron expects to divulge details about its next-generation server, which will incorporate 10G technologies and feature a slightly beefier graphics engine suitable for 4K seatback IFE systems, said Moseley. Though Covid slowed Kontron's progress on this nextgen unit, Moseley revealed that the firm is now back on track.
In aviation, Kontron's server is often paired with the firm's Cab-n-Connect wireless access points to enable wireless IFE in standalone form or coupled with live inflight connectivity for passengers. Its latest generation WAPs, based on Wi-Fi 6, are shipping at the moment. But here again, said Moseley, it was important for Kontron to make this hardware backwards compatible with its previous kit, including by providing the same mounting holes.
The firm's roadmap envisages adoption of Wi-Fi 6E, supporting the new 6 GHz frequency band, and eventually Wi-Fi 7 and beyond. "[Y]ou know the rate this moves through, it's kind of crazy," said Moseley, noting that the firm is presently exploring 6E use cases including potential seatback IFE integrations.
Notably, Kontron is an active member of global inflight connectivity standards group Seamless Air Alliance, and its Cab-n-Connect wireless access points align with the features and requirements within the alliance's adopted standards such as Hotspot 2.0, which enables more seamless and secure roaming among Wi-Fi networks and between Wi-Fi and cellular networks.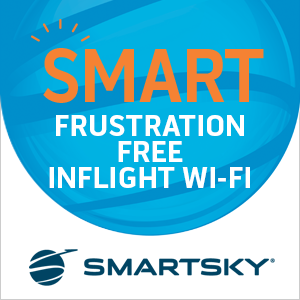 But Kontron supports the connected cabin in other meaningful ways. With new non-geostationary satellite constellations increasingly playing a disruptive role in aero and multi-orbit networks being pursued, the company introduced its ACE Flight 2780 Auxiliary Modem Unit (AMU), which allows a second or third satcom modem to be installed with the main modem manager (Modman) on aircraft.
More recently, it has been making waves with its ACE Flight 4783 dual modem Modman, which accommodates two satellite modems in a single 4MCU line replaceable unit, whilst still maintaining compliance with the ever-important Arinc 791/792 standards for Ku- and Ka-band inflight connectivity installation packages.
"So that was launched with Hughes and iDirect; it's what customers wanted," said Moseley in reference to the GX+ North America GEO solution launched by Inmarsat and Hughes.
But then the buildout of LEO constellations saw traction, and the aviation industry began to more formally craft hybrid GEO/LEO and GEO/MEO-powered inflight connectivity plans. That's when customers started asking Kontron if they might be able to have, for example, "maybe it's an [iDirect] iQ 800 and something to support OneWeb. And it's something that we're listening to. It's very much project driven."
So I think the long-term goal is to have that portfolio, a matrix of a product. So it's 'well, what do you need, who are you going to use, who is your connectivity partner and what do you need in there?'

And it is exciting. It's the real growth area for Kontron. We're working a lot with the modem card manufacturers to ensure that their products will fit and that's key for us and it's key for them.
Indeed, those early conversations with modem card manufacturers are crucial if one is seeking to stay ahead of the game; and avoid schedule delays, traveled work or ultimately system obsolescence. "The last thing, in truth, that we want and they want is to have the card but it's too big, too wide, too fat, too power hungry; and we can't actually get it into the system," noted the Kontron executive.
In the following video, Moseley explains why the inflight connectivity drive in avionics "is the real exciting area" at the moment for Kontron, and how the German company is approaching it, and the broader IFEC market.