"The digital cabin is here." So says Kevin Clark, the CEO of Bluebox Aviation Systems, whose customer Jetstar Group has started accepting deliveries of Airbus A320neo family aircraft with the airframer's Open Software Platform (OSP) already installed, and Bluebox's so-called Blueview software stack and content riding atop it to facilitate wireless inflight entertainment and e-commerce for passengers.
Under the optional OSP program, which is part of the broader Airbus Airspace Link ecosystem, Airbus linefits embedded servers, routers, Wi-Fi access points and operating software to its aircraft. Airlines then have the flexibility to choose from a portfolio of partners — Bluebox, Inflight Dublin and Display Interactive — which provide the software stack and content (including 'airline native' apps) to load onto the Airbus platform for their passengers.
Jetstar selected Bluebox's Blueview solution for its Australian low-cost carrier as well as Jetstar Asia's Airbus aircraft, and will market a customized version to passengers as 'Jetstar Entertainment'. The Jetstar A320neo family aircraft "have got the OSP", Clark confirmed to Runway Girl Network at the recent APEX/IFSA Exhibition in Long Beach. Indeed, the carrier's first A321LR, which arrived in Melbourne this summer, has it installed.
But to ensure a consistency of service for Jetstar's current A320/A321ceos, the airline will carry Bluebox's aircraft-powered Wow wireless IFE units onboard and the Blueview software stack. "[F]rom the passenger point of view, it's exactly the same experience," said Clark.
Indeed, the ability to tick the box for Airbus OSP to be factory-fit to new aircraft deliveries, whilst selecting the chosen software partner's own retrofittable or portable wireless IFE hardware for aircraft already in one's fleet can be a key value-add for airlines.
Passengers, meanwhile, can stream entertainment and other content via the browser-based portal to their own personal devices. But the Bluebox solution goes further.
Clark explained: "We were talking two years ago about the possibilities of the digital cabin. I think everyone kind of gets what digital cabins can offer. We're delivering capabilities that allow that to happen and that's what we're doing with the airlines like Jetstar, for example, where we're starting off on the IFE side but we're moving into the retail side as well and some of the other capabilities. So, if you're looking for a digital cabin, we're there and we can offer that."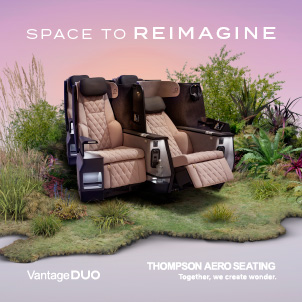 Airbus management concurred that Bluebox and indeed other Airbus OSP partners have invested heavily in onboard retail functionality, going "that step beyond only music, movies, games" and other content like moving maps and magazines, to support inflight shops that generate ancillary revenue for the airlines.
Bluebox does, however, seek to differentiate itself in the Airbus OSP program. "We have lightly different functionality or we deliver the capabilities and the software functionality in a slightly different way," explained Clark. The functionality behind Blueview supports the secure delivery of content, third-party app integration, content management and analytics.
For its part, Airbus celebrated the simplicity and sustainability of OSP, highlighting its ability to offer one technology backbone that integrates seamlessly into the aircraft, and ensuring airlines have a choice of software/content provider.
"We are the OEM. We understand what aircraft technology is, so we do what we do best and they do what they do best, which is integrating either content from one of the studios here or developing the moving map feature or shops [for] purchasing your new sunglasses or your watch. Let them do that and we take care of the aircraft technology," said Airbus upgrades marketing director Yannic Duifhuizen.
Related Articles:
Featured image credited to Jetstar