As Eutelsat and OneWeb seek to merge and become a global multi-orbit satellite operator offering integrated GEO and LEO satellite solutions including presumably for civil aviation, and High Altitude Platform Systems (HAPS) such as Airbus' Zephyr pose tantalizing possibilities for the sector, the prospect of powering inflight connectivity via laser is being touted by Munich-headquartered Mynaric.
"Our laser communications solutions can provide order of magnitude higher bandwidth than any radio frequency technologies. This unlocks sheer endless possibilities for inflight entertainment, real-time aircraft and turbine monitoring and a range of other crew or passenger services no one is even thinking of today," Mynaric CEO Bulent Altan tells Runway Girl Network.
"Laser-linked aircraft may even double-function as airborne cellphone towers for users on the ground, at sea or for other aircraft unlocking new revenue models. The imagination is the limit once Terabit-class connectivity becomes available via laser communications."
To be clear, Mynaric sees IFC for civil aviation as a future opportunity for its technology. "We believe laser communications and the unprecedented speeds and license-free nature that come with it hold tremendous potential for aero ISPs and civil aviation, however we are not yet addressing this market today as we expect first adoption in the unmanned aerial vehicle and government market in the airborne domain," explains Altan.
As such, Mynaric believes it's too early to make quantitative estimates or predict a specific architecture for civil aviation.
"However," says Altan, "in general we expect to see multi-layered, multi-faceted and interconnected networks going forward including network nodes on the ground, in air and in space. Very much like the terrestrial Internet, we expect to see densely meshed networks going forward connecting everything everywhere." He continues:
In this scenario laser communications are not expected to replace all existing radio frequency equipment but to rather complement aircraft communication capabilities with very high bandwidth and secure backhaul links to other aircraft, the ground or to space.
In October 2021, Mynaric and H3 HATS, a subsidiary of H3 Aerospace specializing in high-altitude platforms, announced the successful start of a joint demonstration campaign to showcase laser comms capabilities for high-altitude long endurance aircraft using industrialized terminals.
The campaign utilized a setup of two Mynaric-manufactured HAWK products — on the ground and mounted in the fuselage payload bay of a Grob G 520NG aircraft — to demonstrate air-to-ground links. The campaign demonstrated stable bidirectional laser links with speeds of 10 Gbps between the aircraft and the ground terminal during various flight patterns.
"The biggest takeaway so far was the successful demonstration of the world's first industrialized optical communications terminals for airborne applications," says Altan. "Previous demonstrations relied on one-off prototypes or technology demonstrators. In last year's demonstrations, our commercially available HAWK pre-series products reliably performed as expected and demonstrated stable bidirectional and high-speed optical links in air-to-ground scenarios. These demonstrations pave the way for the operational deployment of laser communications systems to eventually becoming integral to airborne and mobility networks."
Closing laser communication links in the air is much harder than in space due to the aircraft's movements and atmospheric conditions. And Mynaric has faced these challenges during the G 520NG demo flights.
"Laser communication in any airborne scenario is subject to signal degradation due to atmospheric turbulences which vary with geography, weather, altitude, and other factors. Further, aircraft movements are less predictable than satellite motion. The combination of these factors yields additional complexities which we experienced during these demonstrations," confirms Altan.
"However, these circumstances are the nominal conditions to be expected for any dynamic laser communication link from airborne platforms and represent exactly what our airborne product HAWK is built for. We have more than 10 years of experience in building laser communication systems for airborne scenarios and hold to our knowledge the world record of the fastest airborne laser communication link, which we initially established in collaboration with Facebook in 2017 "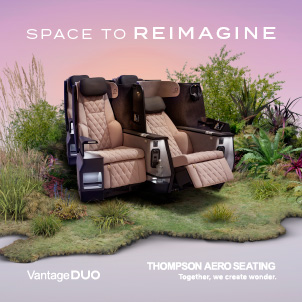 Mynaric's optical communications products also allow for flexibility. For instance, some applications will require meshed networks in the air while others will make use of dedicated relay links.
"Our current generation of HAWK pre-series products can be utilized for air-to-ground or air-to-air links. Future versions will also allow air-to-space scenarios. The demonstrations last year focused on air-to-ground operations as a starting point yet as demonstrations continue, we plan to expand the mission envelope and performance parameters further," says the Mynaric CEO, confirming to RGN that the flight campaign with H3 HATS continues to take place in Bavaria, Germany.
Insights gathered from the flight campaign will help Mynaric to optimize the current product generation and guide the development of the next product generation. Because Mynaric is not yet focusing on the market for civil passenger aircraft, it cannot yet determine whether HAWK is the right solution for this segment, however.
Ultimately, what type of speeds could be supported onboard commercial aircraft fitted with Mynaric's technology, RGN asked?
Says Altan:
Our next generation of space terminals CONDOR Mk3 already features up to 100 Gbps which is certainly also achievable for future generations of our airborne products. Beyond that, we are already working on speeds in the Terabit per second domain for our space products and insights gathered there will also be beneficial for even higher speeds in the airborne domain.

Laser communication stands today at the very beginning and still offers orders of magnitude of performance improvements as the technology and the market matures further. We are truly at the dawn of the Terabit-era for wireless long-distance airborne communication.
On 6 July, L3Harris agreed to invest roughly EUR 11.2 million in Mynaric for an initial 7.2% stake. "With the strategic investment, the companies seek to build on their existing collaboration in the airborne domain and widen the scope to cover all domains including space, air, maritime and ground," they stated at the time. 
Under the arrangement, Mynaric "will become a preferred provider of laser communications solutions and L3Harris will be granted certain collaboration privileges" including access to select test capabilities.
"While this strategic partnership is new," Altan tells RGN, "we look to build collaboration that is mutually beneficial. Our investment in state-of-the art testing environments and labs will benefit L3Harris and we know that having an industry leader such as L3Harris taking this step shows efficacy for our technology and the market potential. The partnership is quite symbiotic as Mynaric provides laser communication products while L3Harris provides integration services of avionics equipment among many other products and services. In this early phase of the technology's adoption, we typically work closely with both the integrator and the end-customer."
For now, Mynaric is targeting unmanned aerial vehicles and the government as first adopters for laser communication capabilities in the airborne domain. "The timeline for adoption by more traditional civil aircraft will significantly depend on the operational success of laser communication capability adoption by these first users," says Altan.
Outside of aero, the firm's product range includes space applications covering space-to-space, space-to-air and space-to-ground connectivity for satellites in Low Earth Orbit (LEO) as well as Medium Earth Orbit (MEO). Its work in this particular segment is timely.
Telesat, for instance, has tapped Mynaric's optical inter-satellite link (OISL) terminals for its DARPA Blackjack program test satellites, in a deal "demonstrating continued success for Mynaric in accessing the US government market", according to Mynaric.
"The technology for laser communications in space has existed for decades, but mainly in the context of research and development. Only in the past six to seven years did serious momentum build as companies like SpaceX, OneWeb, and Telesat began aggressively pursuing the technology for their Low Earth Orbit broadband constellations," notes Quilty Analytics, a financial research and strategic advisory boutique that has launched a new report on optical intersatellite links.
"Without OISLs," suggests the report, "visions of high-speed LEO broadband from companies like SpaceX and Amazon fall apart. These and other LEO systems will run into capacity bottlenecks and coverage gaps that will cost hundreds of millions – if not billions – of dollars to offset through larger ground station deployments. Even then, they will fall short of espoused latency goals and will remain vulnerable to interference and security concerns. At least 15 companies are actively developing optical crosslink terminals and around 10 are planning to architect optical relay networks. Civil and military organizations are pumping time and money into OISLs across the US, Europe and Japan with the goal of providing global coverage and implementing a secure, low latency, high-bandwidth satellite communications solution."
All images credited to Mynaric