As a leading airline IT provider that recognizes industry is undergoing a huge transformation towards a more sustainable future, Lufthansa Systems has made a commitment to actively help shape the green shift in aviation and improve the environmental footprint of its more than 350 customers worldwide through innovative technologies.
"We trigger solutions that optimize operational processes along the entire travel chain and reduce carbon footprint. The key is to combine data sources, gather insights on environmental impacts and develop intelligent software," Lufthansa Systems executives informed visitors to its booth at the recent in-person APEX EXPO in Long Beach, California.
But just how are Lufthansa Systems' IT solutions supporting climate-sensitive planning and decision-making?
Among its cadre of software tools, the company's network design and planning solution, called NetLine/HubDesigner, already optimizes fleet utilization and creates an optimal network for airlines. But by enhancing fleets with partner flights and intermodal traffic alternatives — and adding any relevant penalties for CO2 emissions — Lufthansa Systems can fashion what it calls "a CO2 optimal network" for clients.
Intermodal traffic alternatives such as rail and bus service, carbon offset programs and carbon taxes can be factored in, Lufthansa Systems FlightNav managing director Philipp Barzen confirmed to RGN, saying: "Our algorithm is capable of doing this."
The functionality is particularly noteworthy given there is a strong argument to be made for a green intermodality that would reduce the impact of industry's activities on our shared planet.
Climate change is already taking a toll on aviation. Storms delay takeoffs, change flight paths, and lead to flight cancellations. And increased incidents of severe turbulence are a big concern as the planet warms up.
That's where Lufthansa Systems' flight planning software, Lido Flight 4D, comes in. The solution is able to calculate the most efficient flight route, taking into account all current, flight-relevant data. This in turn enables airlines to reduce flight times and save fuel, which translates to decreased CO2 emissions and lower costs.
A few years ago, before the start of the COVID-19 crisis, RGN highlighted how real-time data, as provided via broadband connectivity pipes, can drive even more benefits from Lido Flight 4D. But while connectivity is still an enabler for inflight optimization, Lufthansa Systems has gotten creative about implementation given the pandemic-era constraints now faced by airlines.
"Due to the significant costs pressure that airlines have to deal with, we assume that inflight connectivity (IP) for that scenario is adopted in the future among our customers. We are responding to that insight by providing improved inflight assistant capabilities to dispatch and to provide capabilities via ACARS (widely available) to the flight deck," explained Barzen.
Also on the flight deck, Lufthansa Systems' electronic charting solutions help airlines to achieve a paperless cockpit, with the firm revealing:  "[W]e have decreased our printing volume by 75% in the last three years, which corresponds to a saving of around 100 tons of paper over these three years."
But the shift away from paper extends to aircraft cabins, as the crisis has prompted many airlines to forgo offering traditional magazines and newspapers and instead move to digital versions, whether via downloadable press reader services, wireless IFE or in-seat IFE.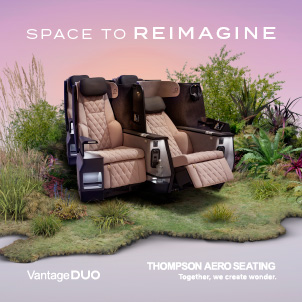 Lufthansa Systems, which supplies its own BoardConnect Portable NextGen and retrofittable wireless IFE systems to the market, reckons that this move to "digitalize seat pockets" will be permanent.
"The pandemic has shown us that quickly adaptable and flexible solutions are required. Therefore, onboard services require more digitalization after, for example, social distancing and hygiene rules have been established," BoardConnect head of product management and delivery Michael Remdisch told RGN.
"We see the need to significantly reduce the number of touchpoints throughout the service to make passengers feel safer on board. We do not see this trend changing after a post-COVID time."
The COVID-19 crisis has also spurred increased interest among airlines in using digital services and processes to enhance food and beverage sales and onboard retail programs. Because Lufthansa Systems offers BoardConnect as an open Digital Experience Platform (DXP), it can integrate with a variety of third parties, including inflight retail partners.
Integrations can be made with the likes of fellow Lufthansa Group company Retail inMotion – which purchased Lufthansa Systems' mCabin app to optimize crew processes at the beginning of the pandemic – or with other named providers in the market, confirmed Remdisch.
Lufthansa Systems is only at the beginning of what it believes it can do to help make aviation a more sustainable industry. But digitalizing aircraft — from nose to tail — is certainly a key way it is aiding airlines in enhancing their eco-credentials.
Related Articles:
Featured image credited to stock.com/Rathke