LONG BEACH — Spirit Airlines is operating in a "business as usual" mindset until JetBlue Airways completes its acquisition of the low-cost carrier. That's why the Miramar, Florida-headquartered operator is pushing ahead with plans to accept delivery of new Airbus A320neo family aircraft with new seats: HAECO Cabin Solutions' Vector Light slimlines for regular economy class and Vector Premium for Spirit's Big Front Seat.
"We're going to keep doing what we do best and that is drive innovation," Spirit VP of guest experience, brand and communications Lania Rittenhouse explained to Runway Girl Network last week when the LCC unveiled its new seats at the APEX/IFSA EXPO in Long Beach.
The HAECO Vector Light and Vector Premium products will debut on Spirit's new A320neos, with deliveries beginning in January 2023. In total, 33 new Airbus narrowbodies are expected to be delivered to Spirit throughout 2023.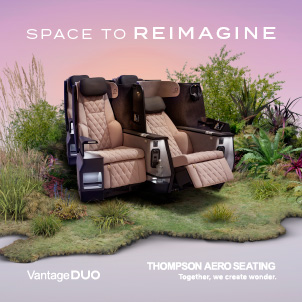 The Vector Light seats are similar in styling to the Acro Aircraft Seating Series 6LC slimlines which Spirit debuted in 2019 as part of a cabin refresh. To wit, they are still pitched at 28" or 29", have an innovative curved seatback design that provides more knee space to passengers, and have an eye-level literature pocket.
However, the new Vector Light slimlines feature some key additional comfort items, including more cushion, newly added headrests, and more space.
"And the seats are a little deeper than they were. And this is additional padding than what we had previously as well," said Rittenhouse, pointing to the seat.
Together with the new headrest, it is "a much comfier ride and it's about 11 ounces lighter than what we were flying on the Acro 6 per seat", added the Spirit Airlines VP.
Pointing at a seat triple on display in a private room at the APEX/IFSA EXPO and describing each seat's width from left to right, Rittenhouse said: "This is 17.5", 18.5" and 17.5"."
Spirit's current window and aisle Acro 6 seats are 17", whilst the middle seats are 18". As such, each new HAECO Vector Light seat gains a half-inch of width.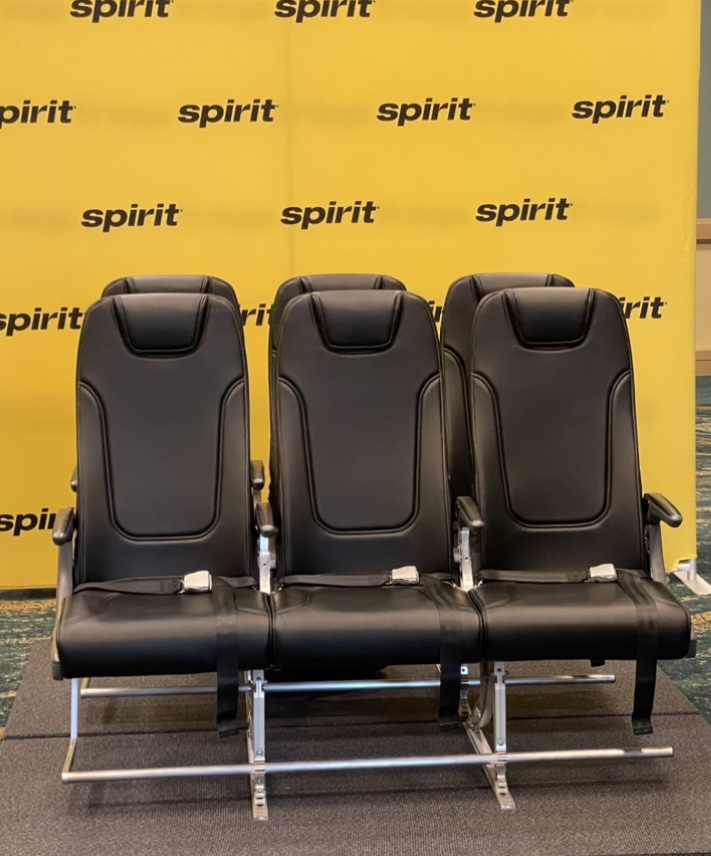 New seat technology — a "canted leg" not on display with this prototype — unlocked previously unused space, creating an opportunity to increase seat width, explained Rittenhouse to RGN. "[This] allows this triple to get closer to the sidewall of the aircraft so we don't have to detract from our aisles, which we love."
Indeed, Spirit has long favored a wider aisle to ensure faster boarding and deplaning for its guests.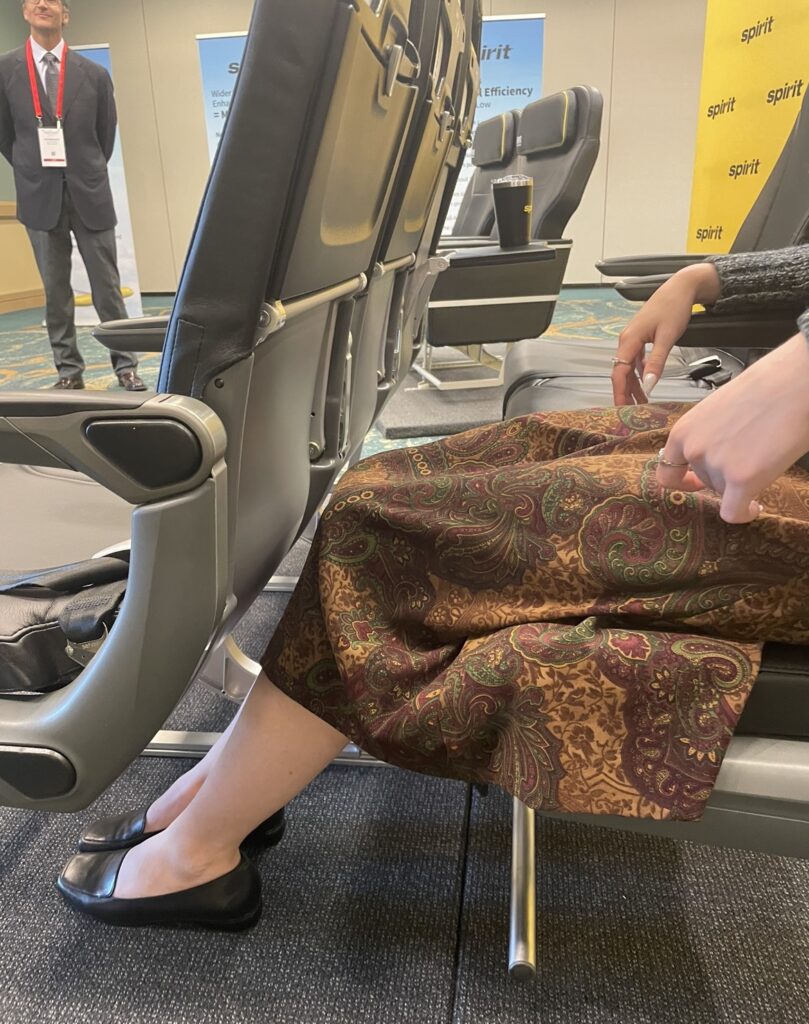 Spirit does not intend to retrofit any current aircraft with the new seats, Rittenhouse confirmed. "We're going to keep the Acros that we have. They're new and they're a wonderful product," she said, noting that, when Spirit upgraded from Acro's prior-generation Series 3 slimlines to the Series 6, its passengers expressed satisfaction in guest surveys.
For the new Big Front Seat, Spirit retained its current supplier, HAECO, but sought some design changes.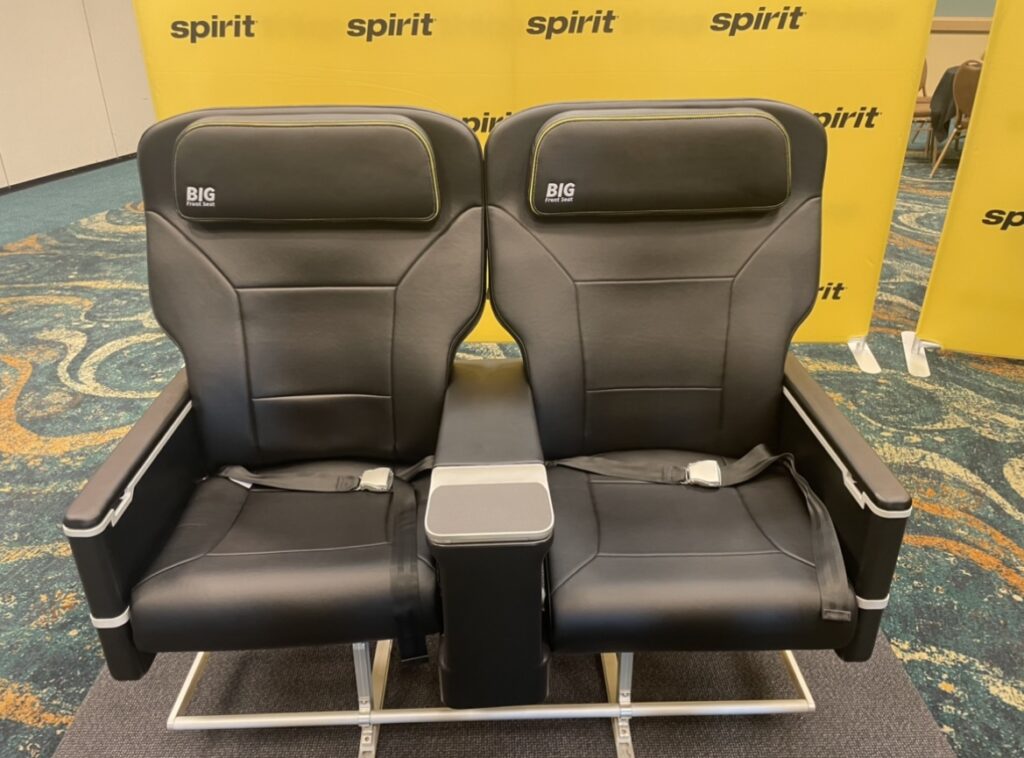 The Vector Premium seats being delivered from early next year will include more cushion, a wider seatback to deliver more privacy, an easier to reach tray table, and an inch more space.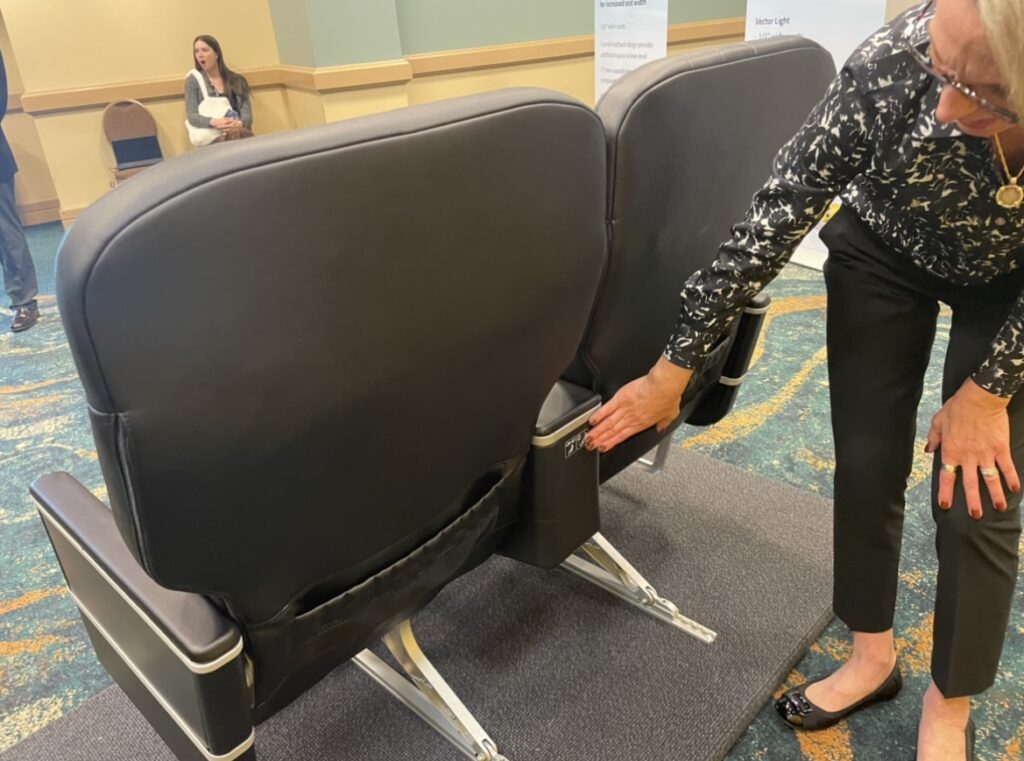 Rittenhouse described an environment of constant innovation at Spirit.
"It is our mission to deliver the best value in the sky so we don't want to rest on our laurels," she said. The end results are "lighter weight and more comfortable and roomier", which is what the carrier had hoped to accomplish.
JetBlue, meanwhile, has said it intends to bring the JetBlue Experience to all Spirit aircraft, once its acquisition of the LCC is finalized.
Related Articles:
Featured image credited to Spirit Airlines