US ultra-low-cost carrier Spirit Airlines is introducing Acro Series 6LC slimline seats in its economy class, plus HAECO recliners in its Big Front Seats, as it evolves its passenger experience beyond the barest of bones.
The seats remain pitched at 28", but Spirit is also pushing for a move away from seat pitch as a measure of passenger comfort, with president and chief executive officer Ted Christie saying that "it is time for our industry to rethink the concept of seat pitch, a metric many industry experts and aviation media have called antiquated and misleading, given the broad differences in seating measurements that more directly affect passenger comfort."
Notably, Spirit is promising "an additional two inches of usable legroom compared to industry-standard flatback seats with the same pitch".  At the same time, the carrier is redefining the seat pitch measurement from standard pitch to a V-shaped measurement from the center of the deepest part of the seatback to the points at which a manspreading passenger's knees would contact the seat in front.
"The 'Usable Legroom' metric is the distance from the center of the back of the seat cushion to the outer edges of the seat in front," explains Steve Barraclough, chief executive of the Chartered Institute of Ergonomics & Human Factors.
It is perhaps understandable that an airline with some of the lowest seat pitch in the industry would seek to move away from pitch as a measure. But there is some objective benefit here. Your author is a regular passenger in British Airways 30"-pitched Collins Pinnacle seats, and has been known to offer his kingdom for a proper slimline at this pitch.
Questions, of course, arise around whether the legs akimbo position is the most comfortable for all passengers, and whether this drives perverse incentives to maximize the use of this position above other comfort factors.
Moreover, seat pitch is also a proxy for other measures, including the "eyeball to seatback" measurement that also affects passengers' perception of space.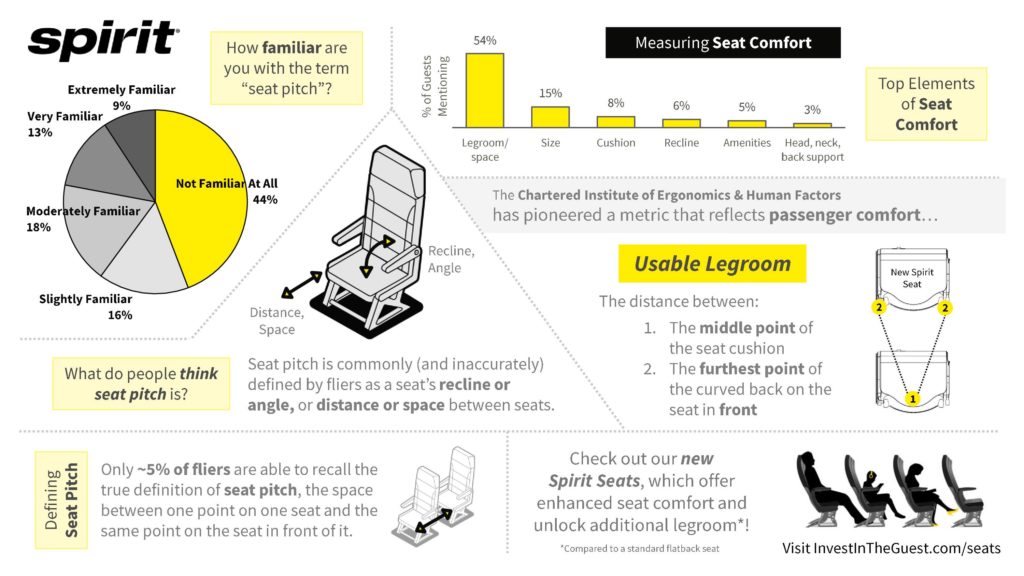 At the same time, economy class seat width is not being maxed out, it seems. Spirit is advertising window and aisle seats with a width of 17", but middle seats of 18". The A320 fuselage should be able to handle three 18"-wide seats, but an option used by low-cost carriers (and indeed by Northwest Airlines, an early A320 family customer) is to widen the aisle to speed boarding.
"Spirit had a narrower middle seat before: they had a 17-17-17. What we've done is we've the trimmed the chassis to be the optimum layout so you reduce any unwanted componentry trying to do other stuff," Acro senior vice president for sales Alan McInnes tells Runway Girl Network.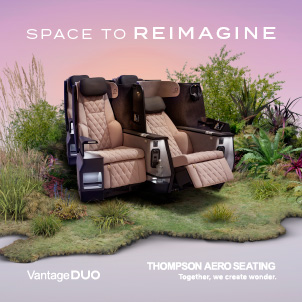 Where the mainline Series 6 version — as seen on Air New Zealand — optimizes for a variety of factors including inflight entertainment, McInnes says, "this takes a slightly different approach: what's the most efficient structure we can do, which then trims down the weight? A standard triple in the Spirit configuration would be about 9-and-a-smidge kilos. That's about 1.8 kilos a pax place lighter than the old seat, but delivers more space to the passenger because of what we've done in terms of geometry."
The benefits are the bigger middle seat, lower weight and lower fuel burn, and it has all resulted in a seat that Acro sees as its future.
"We've done a huge development programme on the actual covers and the foam layout, and all the cushions and all that type of thing, and so it's a seat that will be our 'next ten year' seat," McInnes says. "Series 3ST is still selling, and it's a good seat, but we've recognized in the Series 6 that we had a better chassis that was really adaptable. "
The new seats will begin to be installed this November and, Spirit says, will continue next year on new deliveries.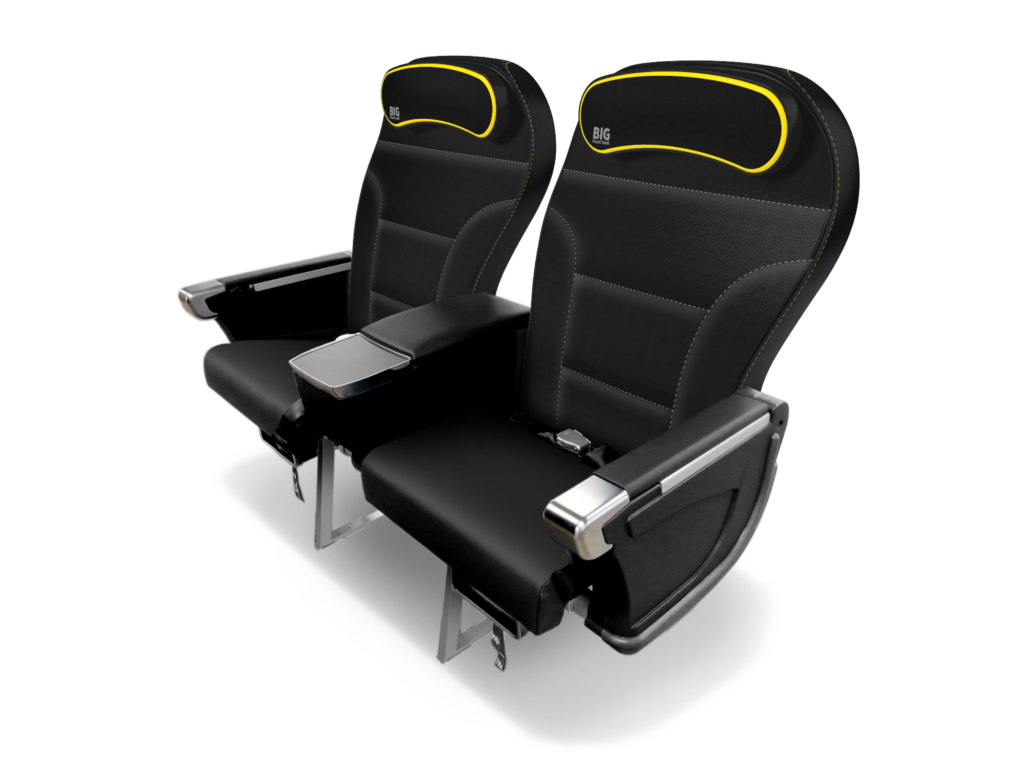 Related Articles: