As Spirit Airlines continues to rehabilitate both its public image and aircraft interiors, it is quietly running a pleasant operation for those willing to play the ancillary revenue game.
Spirit continues to improve its experience by attempting to roll out Wi-Fi, updating its mobile app to provide basic but expected functionality, running a smoother operation, and most importantly has stopped seemingly purposely antagonizing its passengers.
I recently flew Spirit from Detroit (DTW) to New York (LGA) after attending an event to see its new interior on a brand new Airbus A320neo and had a pleasant experience.
My flight was paid for by the airline, but I opted to upgrade to a Big Front Seat (BFS) on my own dime. I still maintain that the BFS is one of the best deals in the industry, and I was relieved to see the airline has maintained an upgraded version of this product in its new interior.
I first tried using the desktop website to pay for and assign a BFS, but it was showing no availability. Bummer. I tried on the iOS app and surprisingly found the entire first row to be available for purchase. Strange, but good for me! I happily forked over the $44, which is a rounding error for the typical paid upgrade to first class on legacy airlines.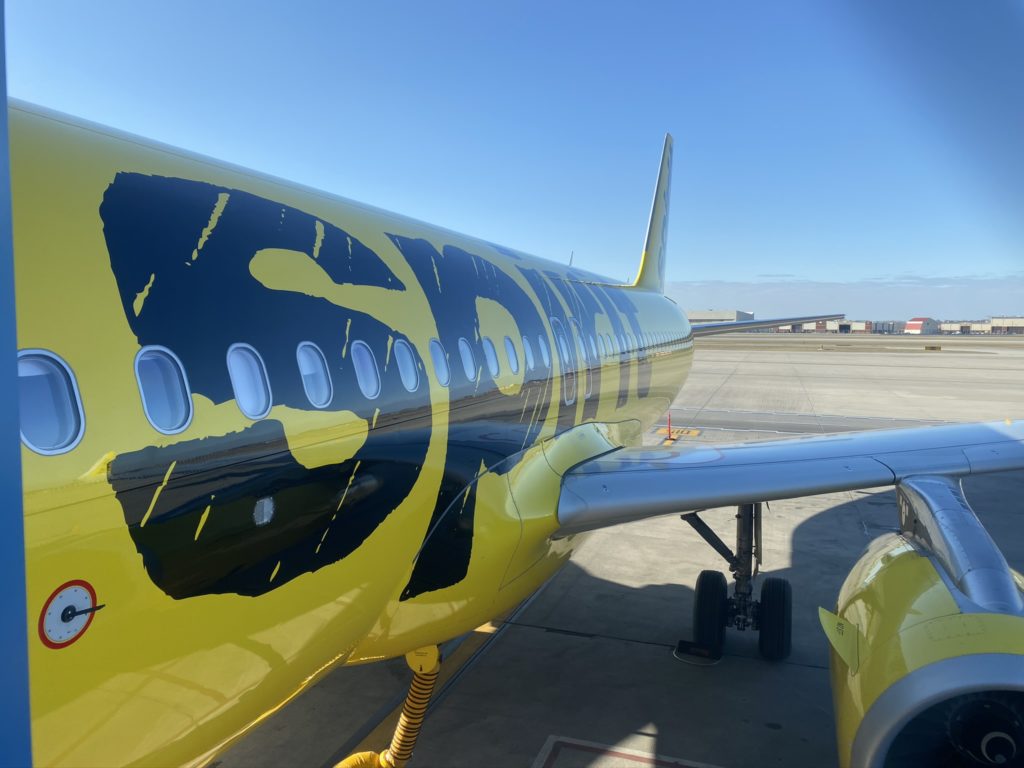 Spirit's iOS app launched only recently in 2018, about a decade behind most other airlines in the United States. It has slowly gained functionality beyond just check-in, including the ability to book flights, select seats, and check flight statuses with push notifications.
My flight was delayed because of weather and air traffic control restrictions  in New York (surprising, I know), and while I received an email notifying me of the delay a few hours before departure, the app did not do the same. At least I got some form of notification, and the new time provided was accurate.
Spirit operates out of the North Terminal at DTW, which is far more spartan than the McNamara Terminal that Delta nearly exclusively uses, but is perfectly fine for Spirit's purpose. I ducked into the Lufthansa Lounge with my Priority Pass account to wait out the delay, which is not something your typical Spirit passenger is going to be able to do. A new boarding time was not provided in the delay notification email, but I guesstimated that it would be about 35 minutes before the new departure time and arrived at the gate right as boarding began.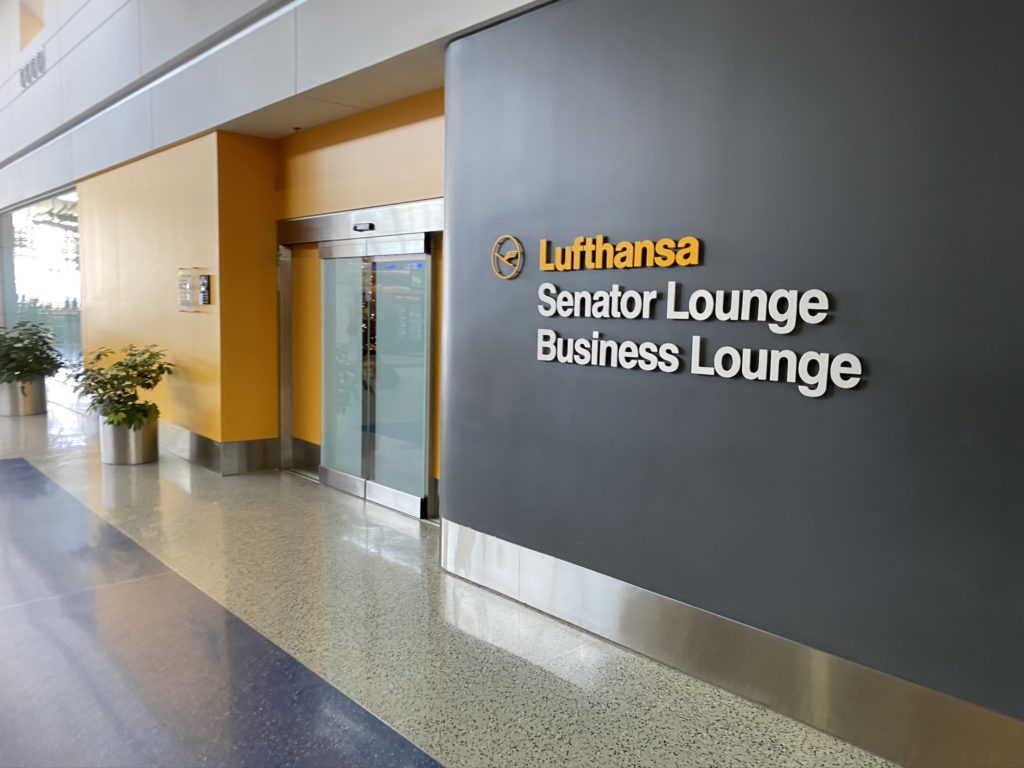 I was greeted by a very chipper cabin crew, one of whom was decked out in festive holiday attire. The crew seemed happy to be working the flight, which is probably something most would not expect on Spirit but I am finding it to be quite common.
Boarding completed a few minutes before our revised departure time and we were on our way shortly thereafter.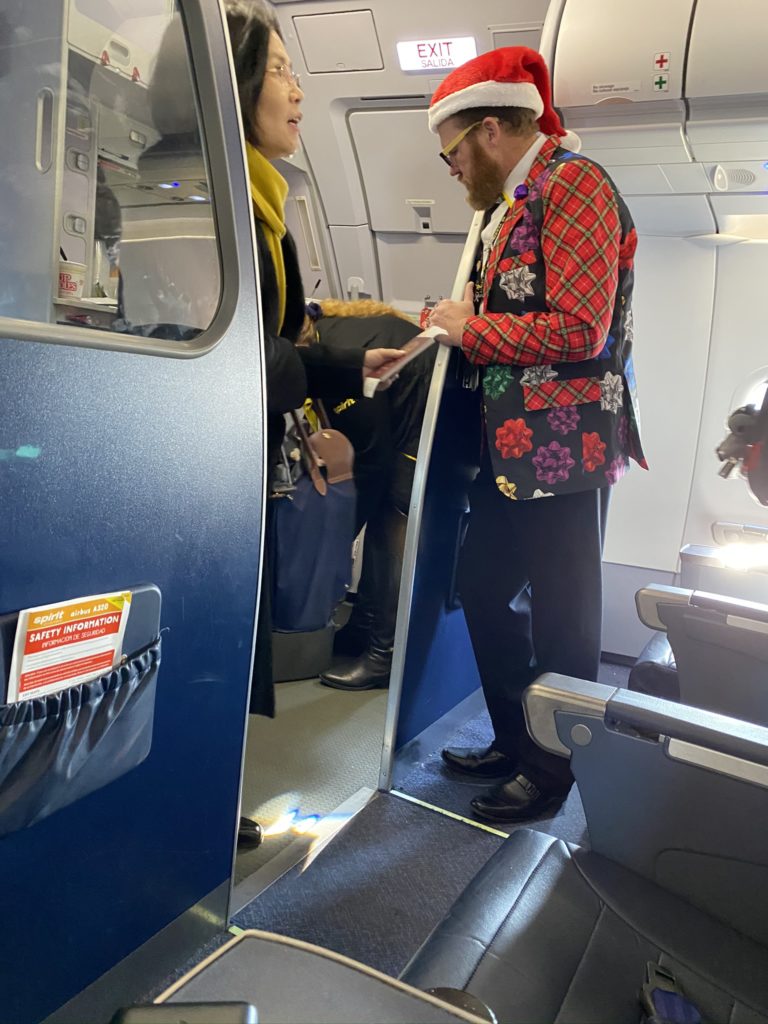 While the Big Front Seat may rival legacy airlines' first class in comfort – sans recline – that's where the similarities end. There is no power outlet, no entertainment option, and no enhanced service provided in any shape or form. And of course, no inflight connectivity yet. The service offered exactly mirrors what is offered in economy.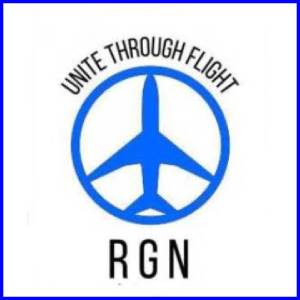 Spirit's buy-on-board program has grown up in recent years, dropping the BuzzBallz pre-mixed cocktail cans for more traditional items. While Spirit still does not offer any "fresh" menu items such as found on the legacy airlines, a decent range of packaged snacks and combos are offered. Though I did not partake on this short flight, it's something that sets Spirit apart from Southwest, which still hasn't started selling any food items in spite of its growing flight network.
Despite the departure delay, my flight pulled into the arrival gate at LGA with minimal overall delay thanks to a copious amount of schedule padding, a common occurrence across all airlines these days.
As Spirit continues to improve its operation and refocus on the passenger experience, it is becoming a more realistic option for many leisure travelers but has a long way to go in recovering its tarnished reputation and expanding its somewhat weak schedule.
I have yet to have a poor experience with Spirit in recent years, and oftentimes find the flight as good or better than some legacy airline flights. If passengers know what they are getting into with regards to the baggage policy, flying Spirit could be a great option.
All images are credited to the author, Jason Rabinowitz
Related Articles: