The democratization of air travel has been a godsend to those of us who live on a strict budget and are eager to fly. That's why so many people are grateful to low-cost carriers for making the skies more accessible. But if you want to secure the most economical rates without getting smacked with fees, there is a bit of work involved.
Living just eight miles away from Arnold Palmer Regional Airport (LBE) in Latrobe, Pennsylvania and roughly an hour's drive from Pittsburgh International Airport (PIT), your author has made it her personal mission to master the art of flying on the cheap with Spirit Airlines, which serves both facilities.
I'm lucky to have the time to do it. A new pre-retirement job affords me my afternoons, giving me free time to analyze Spirit's inventory and dynamic offers on a daily — often hourly — basis. I enjoy the challenge! But if you're a first-time Spirit flyer, here are some tips to consider.
Purchase your Spirit ticket in-person at the airport (if you can)
Spirit sometimes sends out an email with a promo code. So, before I start any fare search, I always check my inbox. Then I head over to the Spirit app, where the games begin. Let me give you an example.
I plan to fly to Orlando, Florida (MCO) in November. A few months ago, I snagged a one-way fare from Pittsburgh for $39 (and an agreement from the hubs that he'll drive me to PIT). But the return flights (to Latrobe and Pittsburgh) were priced at $178 each. So, I held off, bided my time, and kept an eye on the Spirit app.
The $178 fare remained stagnant for quite a while. But my patience finally paid off. As is so often the case with Spirit, roughly six weeks before my desired travel date, the price suddenly dropped to $108 for a one-way Orlando-Latrobe return fare.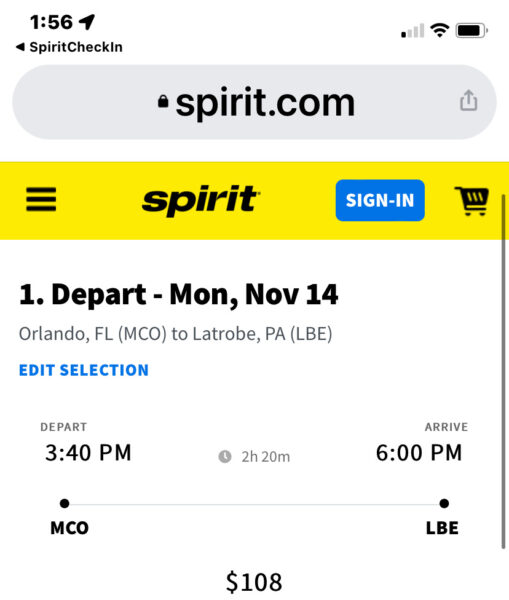 Prior experiences have taught me that the odds are high I will be able to score a cheaper price by purchasing the ticket in-person at Spirit's counter at LBE. And so, I jumped in my car and did the ten-minute drive to the airport.
Spirit has a ticket dispenser at LBE, akin to what you'd see in a meat deli. Everyone in line is asked to fill out a form to ensure they're ready with all the necessary information when their number is called. This protocol is smart and keeps the line moving.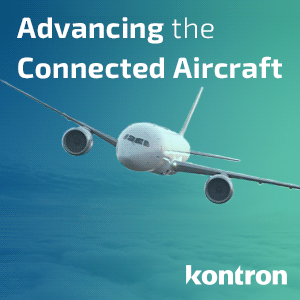 Last week, when I was purchasing the Orlando-Latrobe return, the line at the airport was quite long. My number was 31, but they were only on number 12. A 40-something year old man paced the floor, waiting for his turn. When they called his number, he yelled "bingo", proceeded to counter, and said: "Give me a half lb of chipped ham!" Everyone laughed.
That's the thing about flying Spirit. Nobody judges you for wanting to score the best fare. Everybody loves a good deal.
(On an aside, Spirit's ticket counter at LBE is open Monday through Saturday, from 9:30am until 4pm. But don't wait until the end of the day. A Spirit staffer usually removes the tickets from the dispenser at about 3:30pm.)
When my number was finally called, I was rewarded for my efforts. I nabbed a fare of just $84 one-way — bringing the final tally to $123 roundtrip.
Flying solo? If you don't mind a middle, don't pick a seat
Seat selection does not come with this sort of ticket. But that's alright by me. As a solo traveler, I usually opt not to pay for the privilege.
Obviously, if you desire a window or an aisle, or if you want to guarantee an extra legroom exit row seat or a cushy Big Front Seat, you can pay for the pleasure. For example, when booking Pittsburgh-Orlando, I could have picked an aisle or window seat for as low as $8.
But far too many people get confused when booking online and think that they absolutely must select a seat when the aircraft seat map is presented to them. The truth is that you don't have to pick a seat, unless you desire to sit beside your friends and family. Simply skip the seat selection screen in the booking path. Spirit usually assigns me a seat 24 hours before the flight, and if not, I receive my assignment at the airport. (I am 5ft 9in, and even in Spirit's snuggest middle seat, I have enough room to move my legs.)
Spirit will, however, try to tempt you to upgrade, even on the day of travel. Expect to receive push notifications throughout your journey.
On the day of travel, some Spirit staffers might try to accommodate folks who are flying together, even if they haven't paid to select seats together. But that's not a sure bet, and Spirit makes no guarantees!
Become a packing pro
Now onto the baggage fees. It seems as if Spirit's fees have risen dramatically over the last year. For the MCO-LBE flight, the carrier was asking $57 for a checked bag that measures up to 62 linear inches (length + width + height) and weighs no more than 40 lb. And friend, they truly do mean it. An ounce heavier and you'll be paying more money. A carry-on bag, which can be no larger than 22 x 18 x 10″, would have set me back $62. (Yes, they put a premium on the ease of bringing a carry-on bag.)
But here again, I've found ways to operate within Spirit's bag requirements without paying extra. Your ticket allows you to carry one personal item free-of-charge (which Spirit likens to a small backpack). That item must be no larger than 18 x 14 x 8″, and ladies, that includes your purse. So, you may have to stash your purse inside the personal item, otherwise you will find yourself paying for a carry-on. Trust me, however, it can be done!
If you need to bring a carry-on or checked bag, be sure to add it when you're booking your ticket online or via the app. That's where you'll get the best deal.
If you determine that you need to add a bag after booking, head back to Spirit's website or app at least one week before your flight to pay the ancillary fees. (I've seen baggage fees jump two days before a flight.)
Unsurprisingly, if you wait until you arrive at the airport, you will pay a hefty price each way, and all your hard-won savings on the base fare will be for naught.
Flying Spirit Airlines can be an exceptional experience for the price, if you educate yourself in advance.
Related Articles: