NEXT Renewable Fuels, which recently secured a multimillion dollar investment commitment from United Airlines, is confident it can secure all the necessary permits to build its planned biofuel refinery in Oregon, despite claims to the contrary by a local environmental group that is opposed to the project.
United announced on 15 November that it would make a strategic investment in NEXT through its United Airlines Ventures (UAV) fund, committing to inject as much as $37.5 million in the Houston-based firm, "as long as the company meets certain milestone targets". 
NEXT aims to build a flagship biofuel refinery in Port Westward, Oregon that will begin production in 2026 and could produce up to 50,000 barrels a day of sustainable aviation fuel (SAF), renewable diesel and other renewable fuels. UAV president Michael Leskinen says the "strategic location" of the proposed refinery would enable the fuel to be transported efficiently – overcoming "one of the biggest barriers" to increasing the supply and reducing the cost of SAF. 
"Once all the necessary approvals and permits are obtained and the biorefinery is operational, it has the potential to be used as a platform to scale SAF and deploy additional future technologies," says United.
But Columbia Riverkeeper, an Oregon-based advocacy group which describes its mission as being to protect and restore the water quality of the Columbia River, has told RGN it is doubtful the permits can be secured. Columbia Riverkeeper is opposed to the construction of the proposed refinery at Port Westward on environmental grounds.
"Oregon denied a Clean Water Act certification required to construct the refinery, and NEXT has not even applied to Oregon for two other necessary Clean Water Act permits," claims Columbia Riverkeeper's senior attorney, Miles Johnson. "Oregon did issue a Clean Air Act permit and a Removal/Fill permit for the refinery, but the validity of those two permits is now in serious doubt after a court sided with Columbia Riverkeeper and invalidated a county land use approval on which those two state permits were predicated."
NEXT acknowledges that the Clean Water Act certification was denied "without prejudice", but says this is "common practice here in Oregon as this allows the applicant time to reapply, which we most certainly will". A spokesperson for the company tells Runway Girl Network that the Oregon Department of Environmental Quality (DEQ) "was unable to process our permit in a timely fashion, and at the 11th hour they added additional requirements outside of regulatory requirements that made it impossible for us to provide answers to new, out-of-original-scope questions with the remaining time". 
The spokesperson adds: "We will gather all the additional necessary information requested by Oregon DEQ and will submit a new permit application. We are confident that the DEQ will ultimately issue the water permit in parallel with our federal permit." On the issue of the Clean Air Permit, NEXT's spokesperson says: "The facts are that we have our air permit, the air permit was never challenged, and we will continue to hold the air permit."
NEXT's plan, adds its spokesperson, is to "meet all necessary requirements set forth by the permitting agencies and demonstrate that our project not only meets but exceeds them as an above-and-beyond net positive for the region, the state, and the nation".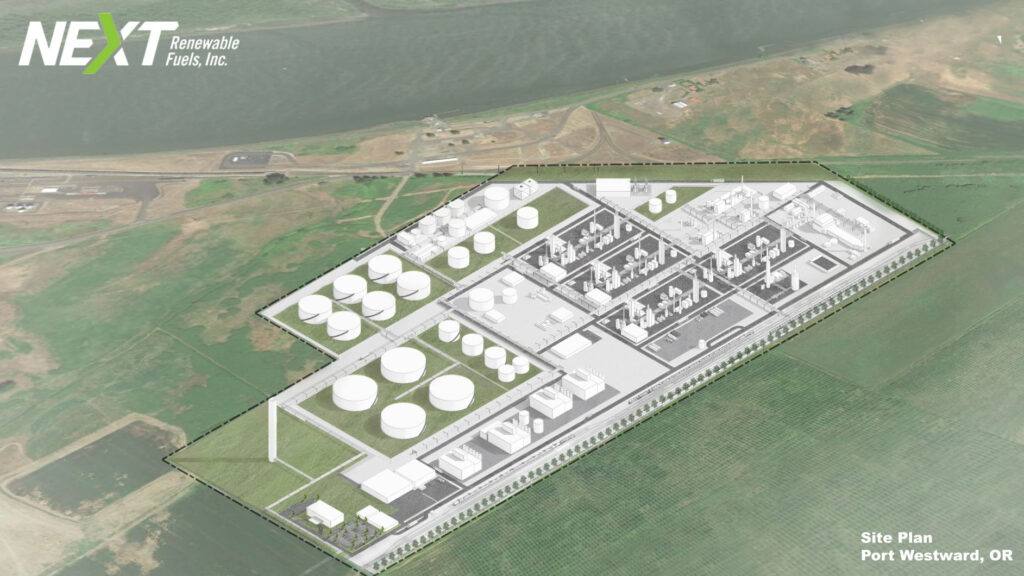 Laying out the reasons behind its objection to the NEXT refinery, Columbia Riverkeeper alleges that it would emit more than one million tons of greenhouse gases each year and alter 140 acres of wetlands, and that the company behind it "has not committed to using low-carbon or waste by-products to make SAF".
On United's decision to invest in NEXT, Columbia Riverkeeper's attorney Johnson says: "Columbia Riverkeeper appreciates United Airlines' recognition of the need to drastically reduce the airline industry's obscene carbon footprint. However, because NEXT would use a significant amount of fossil fuel to make SAF and has not committed to using low-carbon-intensity feedstocks, it is not clear that United Airlines' investment in this particular refinery will result in the kind of significant reductions in greenhouse-gas pollution that our climate crisis demands."
NEXT has dismissed these claims as "absolute rhetoric with no grounding in the facts". The company's spokesperson says that "while billed as an environmental organization, they are a 'not in my back yard' (NIMBY) activist organization regarding this project".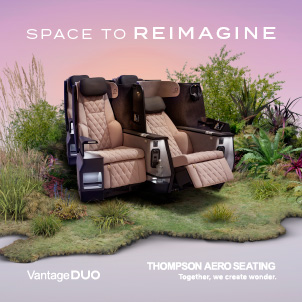 NEXT's agreement with BP to source 100% of its feedstocks "allows us to procure low-carbon feedstocks from around the world", asserts the spokesperson.
Fish grease will be one of the main feedstocks used by the company at the proposed facility, adds the spokesperson, noting that this is "an incredibly low-carbon choice" that can be sourced in large quantities and brought in by ship from countries such as Vietnam.
On the subject of wetlands alteration, NEXT's spokesperson says that while construction of the refinery will impact 116 acres of "low value" wetland, "we will be restoring nearly 500 acres of wetlands within the same area – quadruple what we are impacting".
NEXT emphasizes that there is more support for the refinery than opposition, noting that during the air permit public comment period opponents submitted roughly 80 comments, while "more than 7,000" comments were submitted by supporters.
United Airlines has declined to comment on Columbia Riverkeeper's allegations.
Related Articles:
Embedded rendering credited to NEXT