It's not uncommon for management at Gogo Business Aviation to take a few swipes at the competition during its quarterly earnings conference calls. But Satcom Direct and SmartSky Networks are hitting back at certain claims made by company CEO Oakleigh Thorne on 5 August.
During Gogo's second quarter earnings call, Thorne suggested that Satcom Direct's QEST-made electronically steerable antenna represents a very different approach than Gogo's chosen ESA (for which Gogo has already made $170 million worth of commitments over a seven-year period to its partner, Hughes). Both systems will transmit over the OneWeb LEO constellation of Ku-band satellites.
Describing the two different ESA designs, Thorne said:
Ours is a silicon board essentially that forms electronic beams across some micro elements, if you will, that are embedded in that board, and it's flat.

Theirs use these little cones and it's essentially, think of it as a typical array antenna that is sort of just chopped up in lots of little pieces and flattened out. It's made of metal; it's gonna be heavier than ours. And I think it's a little uncertain on the size yet.

I've seen different data on that, but what we know about from QEST on this is it's quite a bit larger than our antenna; it's not going to fit on medium-sized jets on down … which is where the bulk of the numbers are in the market.
A Morgan Stanley analyst pointed out that Satcom Direct has in fact said that its ESA will be able to fit on medium and small jets, to which Thorne replied: "Yeah, they said that in a press release that was kind of rushed out at the EBACE convention in Geneva when they saw that we were announcing so I would challenge them on that assertion."
Unsurprisingly, Satcom Direct president Chris Moore disputes the notion that SD's ESA won't support installations on smaller bizjets.
"The Plane Simple fuselage-mounted antenna is lightweight and scalable. We have been working with QEST since 2018 and presented the prototype of the fuselage mounted antenna to the business aviation community the same year to demonstrate our hardware will support customers on smaller aircraft to connect to LEO, MEO and GEO satellite networks," he told Runway Girl Network.
"Since inception, we have stated the antenna design will support aircraft down to light jet size, for example the Embraer Phenom 300 could optimize our connectivity solution."
Indeed, SD issued a press release in October 2018 about its ESA partnership with QEST. At that time, SD said the electronically steered phased-array antenna system "aims to be the smallest and most efficient form factor, bringing high speed connectivity to a wider range of aircraft".
SmartSky, meanwhile, is accustomed to being mentioned on Gogo's calls, especially from analysts who are keen to understand the competitive threat it poses to the air-to-ground (ATG) network incumbent. But during Gogo's 2Q event, Thorne effectively suggested that SmartSky's nationwide coverage has gaps.
"They put a press release out last week that they are 'live nationwide'," said Thorne on the call, referencing SmartSky's 2 August statement. Thorne added: "I mean we would agree with that. They're live in parts of the nation across the nation. They're live in the Southeast. It goes up a bit to Chicago. They've got some towers around Wichita. They're obviously flying for a lot of the OEMs and big dealers up there. They're live in Las Vegas where they've tested and demonstrated several times, and they're certainly live out in California where they were getting ready for the GSX [sic JSX] launch that they lost.
"But we don't think they have nationwide coverage. And so that's still to come. And so there, the dealers aren't taking them seriously right now. We don't see any traction. They've made some announcements with a couple dealers, but even those dealers really haven't sold anything. We've heard of one or two planes that might be getting installed, mostly to be used as test aircraft to see if the system works. So that's, I think, where that stands."
Responding to these claims, SmartSky CEO David Helfgott told Runway Girl Network last month: "That is an ill-informed or intentionally misleading statement." He noted that SmartSky's network now comprises 300 sites covering 96% of business aviation flight hours in CONUS, and is supporting connected aircraft flights across the country. Helfgott continued:
When you're an incumbent with monopoly power, the best tactic you can have is to do what they're doing — create confusion and uncertainty, and delay and stave off the inevitable.
Company president Ryan Stone said SmartSky does not have a range issue. "We had a customer fly New York to South Florida over the ocean and they were connected and 150 miles offshore and 180 miles from our site; it works. We have about two times the site density than they [Gogo] have…" (Gogo has said its 5G nationwide network will comprise 150 towers.)
SmartSky last week published an infographic detailing its CONUS coverage map.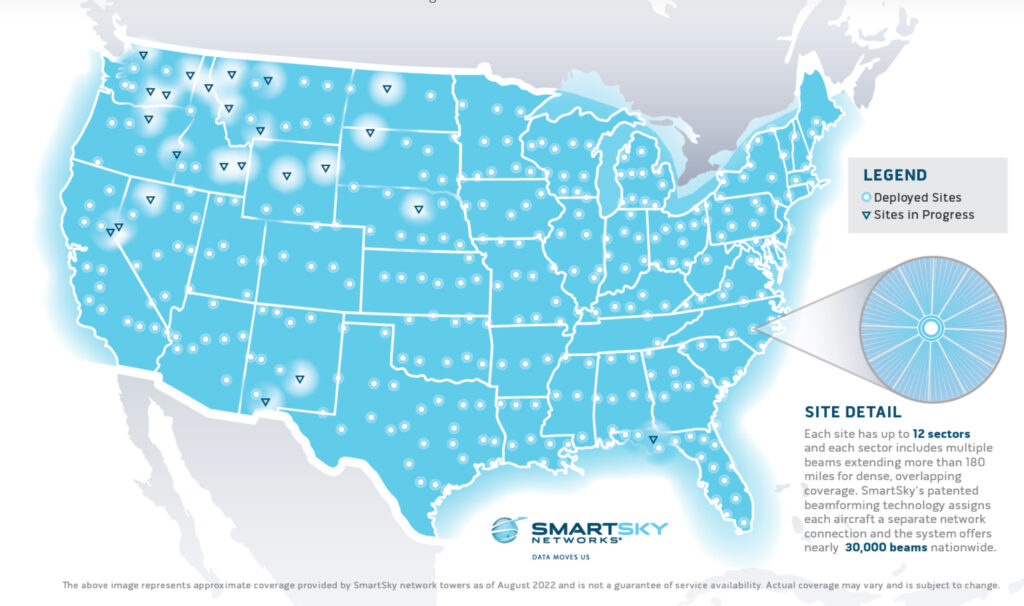 Aerospace giant Honeywell Aerospace serves as VAR for SmartSky's IFC service and ergo is actively selling the SmartSky IFC solution. Company vice president and general manager, services & connectivity Steve Hadden recently told RGN that SmartSky has not only proven itself on its own test aircraft "but also on Honeywell aircraft as well as customers aircraft".
"What makes SmartSky such a good partner is that they have a good financial backing, they have a great value proposition and network architecture, and their technology is now proven," he said.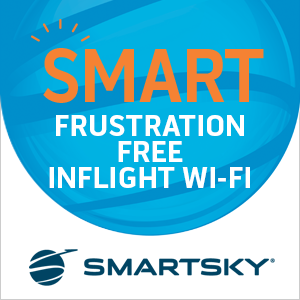 In terms of visibility around aircraft equipage, SmartSky has also announced the completion of a supplemental type certificate (STC) for the installation of its hardware on the Cessna Citation X series business jets.
"FlyExclusive, the fourth largest private jet fleet operator globally, performed the installation at its Kinston, NC facilities. With the hardware installed, the Citation X aircraft made its inaugural flights using SmartSky's enhanced air-to-ground (ATG) network in June and the FAA supplemental type certification was issued on August 12, 2022," it said in a statement.
"SmartSky has previously been awarded STCs for many of the world's most popular business aircraft, including aircraft from major manufactures such as Textron Aviation, Gulfstream Aerospace, Bombardier and Embraer," it continued. Additional STCs are in progress.
Related Articles:
Featured image credited to istock.com/EXTREME-PHOTOGRAPHER