A movement aimed at accelerating the journey to gender parity for women has taken the aerospace industry by storm. Founded and led by CEO Fiona McKay, the 'Leading Ladies Of…Aerospace' entity has attracted strong support as it works to expand female leadership from the ground up. 
Women helping women is a key part of the group's ethos. "I think oftentimes people think that other women tear each other down but there has always been an unspoken kind of rule in organizations that I have been a part of [which] is, as a female leader, I am always available to other women in the industry or outside of the industry to offer coaching and mentoring guidance too, because it is important if I do well, others do well and vise versa," said StandardAero chief human resources officer Malissa Chambliss during the Leading Ladies Of…Aerospace's now annual summit, which was held on 22 September and attended by over 700 people.
But while women executives play an important mentorship role in aerospace, the Leading Ladies group has also embraced an approach that champions both male allyship and intersectionality. In short, it understands the fundamental importance of not only improving diversity and inclusion for women but also minorities, members of the LGBTQ+ community, the neurodiverse, and those with disabilities.
"We will be more powerful as women if we are supportive of these other [underrepresented] groups and we are intentional allies to other groups as well," declared McKay during the event.
According to Sekisui Aerospace senior director Chelsea McLaughlin, who also serves as a board member for non-profit The Lighthouse For the Blind, the first step towards achieving diversity goals is for individuals and businesses to educate themselves about underrepresented groups. 
"I cannot be an ally to a group until I understand. I will never truly understand but I can work to educate myself in how to best use my skills, my connection, and my humanity to progress and support those individuals," she said as a speaker at the summit. Once educated, leaders are better positioned to be effective allies. But they need to make time for such work.
"I think we have to say to [would-be mentees], listen, you are all worth it. Every single one of you; you are worth it. I am available. Call me, text me, email me, LinkedIn. You know, we all have to be there for each other and we have to really understand we are worth it. We are all worth the time and energy for each other," noted Valence Surface Technologies chief human resources officer Patricia Hamrik.
Though there is still much work to be done to improve gender and racial parity in industry, an impressive 55% of the summit's attendees answered "yes" when asked if they have benefitted from allyship in the workplace.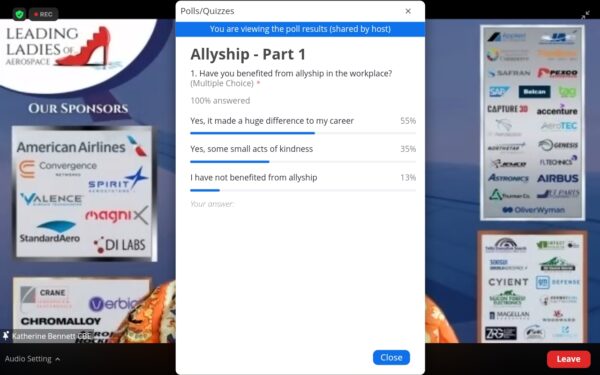 Allyship does, however, require humility on the part of the ally, noted AeroTime Group chairman and editor Richard Stephenson, OBE, who highlighted the importance of appreciating diverse viewpoints even if those viewpoints don't always agree with your own.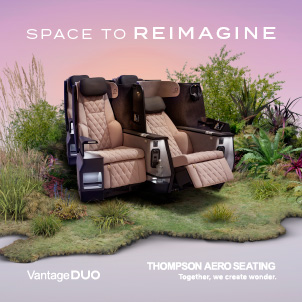 At the end of the summit, the Leading Ladies Of…Aerospace hosted an awards ceremony to celebrate outstanding allies. Boeing vice president – supply chain readiness Teresa Blanco Olympio was honored with the American Airlines-sponsored Glass Breaker of the Year Award.
The Male Ally Award was distributed to Faisal Saeed, licensed engineer – CAT A with Etihad, whilst the Advocate Award went to Hana Galal, an aviation consultant at Airbiz.
The Sisterhood Award, meanwhile, was given to Amanda Hartwig, who serves as director of business development – airframe & components group at BF Aerospace. "Paving a path and being a resource for our sisters in aviation has always been extremely important," she said, adding that she feels blessed to have had a lot of support and inspiration from mentors.
The Leading Ladies of…Aerospace is not limiting its work to an annual conference. It now runs leadership labs, male ally workshops and other events to "create cross-company communities of support that embrace courage, collaboration and compassion". 
Related Articles:
Featured image credited to Leading Ladies Of… Aerospace