On 16 January, UTC subsidiaries Collins Aerospace and Pratt & Whitney hosted the inaugural Women In Line Leadership (WILL Rise) Conference. The companies co-sponsored the event after recognizing the lack of women in senior positions.
The two-day event saw industry role models address 64 women individually selected from every function across 20 different UTC aerospace locations in the US and Canada. Speakers included Boeing Defense, Space & Security president and CEO Leanne Caret, Pratt & Whitney VP and chief HR officer Maureen Waterston, and UTC chairman and CEO Greg Hayes, who gave the keynote.
"Today, women make up 24% of the aerospace and defense workforce, and 21% of the executive payroll," Hayes told delegates. "Yet globally, women represent about 50% of the population and 40% of the workforce. That means as an industry, we have a long way to go. UTC is committed to the advancement of women in leadership positions, and the WILL Rise initiative is a great example of how our companies are working together to make that happen."
In line with UTC's commitment to Paradigm for Parity, a coalition of business leaders dedicated to addressing the corporate leadership gender gap, the aerospace giant has dedicated itself to achieving the ultimate goal of full gender parity by 2030, with a near team goal of 30%.
Jennifer Reed, who serves as vice president and general manager: evacuation, water and lighting solutions at Collins Aerospace Interiors Division, and Pratt & Whitney VP operations transformation Jennifer Caruso played key roles in driving the initiative forward. They are named as co-sponsors of the event.
The two executives met "a couple of years ago to look at how we could get women excited about line leadership roles", explains Reed. "The conference is just the beginning of an overarching program that we're putting in place to drive diversity."
Caruso explains: "UTC is committed to diversity, but the two aerospace business units identified a particular challenge in attracting women into P&L line leadership roles and then retaining them. Not because the companies don't support it, but in part because women might not be interested in those roles and if they did get to them, they didn't feel they had the support structure to enable their success."
A lack of female role models is among the issues keeping women from moving into leadership. Reed says: "It's a problem across industry, not just aerospace. Without role models or a program to help people, they don't realize what's possible and it's difficult to ensure their needs are met.
"What we're trying to do is accelerate the process by which women are achieving success, rather than following the natural flow of doing nothing. But it isn't about meeting a quota or putting women in a role they're not otherwise prepared for. It's aimed at attracting and retaining the best available talent."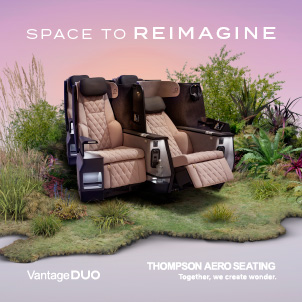 WILL Rise also presented opportunities for training and interpersonal growth, launching a program that continues throughout the year. The attendees have been grouped into 'pods' of ten to 12 each, with an executive sponsor and executive coach. They'll meet for monthly coaching, while quarterly gatherings will see them join their executive sponsor for what Reed calls "deeper dive" development.
An invited list of just 64 women might appear meager but, Caruso says, "We wanted to create a community small enough that we could truly get to know each other and be able to successfully conduct the learning opportunities throughout the year."
One year on, those initial conference goers will enjoy a 'graduation' and return to the 2020 WILL Rise event.
"Focusing on our top female talent, we're building a community of support, training and personal relationships," Caruso enthuses, "and we're excited for the time when women 'graduating' the program begin taking it forward."
Related Articles: