Living in rural Ontario, there are next to no affordable options for me to travel to a major Canadian city that do not involve driving. That is, of course, with the notable exception of GO Transit, a public transit service for the Greater Toronto and Hamilton Area.
Though the nearest GO Transit station is a 15-minute drive from my home, it saves travelers like me from being stuck in three hours of traffic to get into Toronto — traffic that is caused by the heavy volume of drivers on the road and the seemingly never-ending construction on the network of controlled-access highways throughout the southern portion of Ontario.
GO Transit travel is often used by commuters. And as such, it previously did not offer convenient travel times for leisure passengers — folks who, for instance, want to see a Toronto Blue Jays game or hit up the many museums and art exhibits in Toronto. But in September 2021, during the COVID-19 crisis, GO Transit blessedly bolstered its schedule, and opened up more affordable options for day tripping.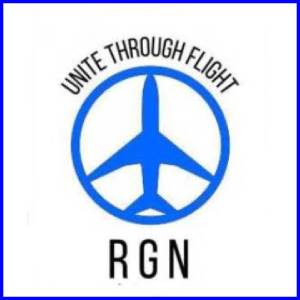 This week, on a 1.5-hour ride from the Allandale Waterfront GO Transit station to Union Station in downtown Toronto, it was nice to be able to leave at 8am versus the prior 6am crack-of-dawn slot for the train.
Passengers can also avail of a service at 9am and again at 1pm. (An attraction in its own right, Union Station is Canada's largest and busiest multi-modal transit hub which connects more than 300,000 passengers daily to their destinations. Needless to say, this station is once again buzzing with activity.)
Your author had not been on the GO Transit train for nearly three years so I was excited to get onboard with my daughter, and to observe some of the recent passenger experience upgrades undertaken by Metrolinx, the company behind GO Transit.
Given the cost of fuel right now — and the fact that time is money in my world — I found the $15.80 one-way adult fare to be reasonably priced. Children under 12 are free!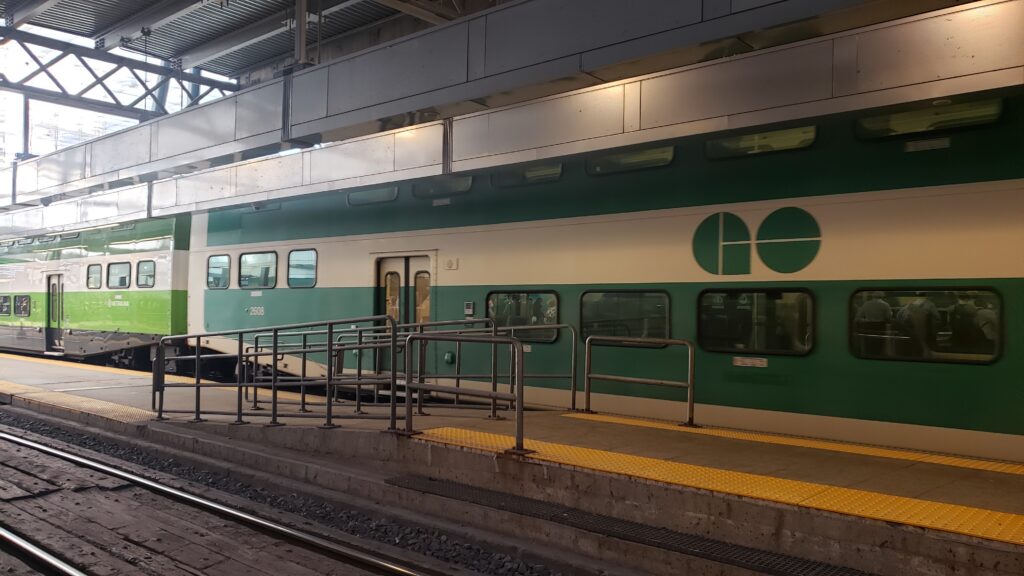 Metrolinx also offers a PRESTO pass for regular riders. The pass costs $6 initially but offers significant savings in the long run if you need to use the train regularly.
With a PRESTO pass, your first 35 trips in a month drop to $13.29 one-way. Your next five trips come in at just $1.79 and then any ride after that is free for the rest of the month.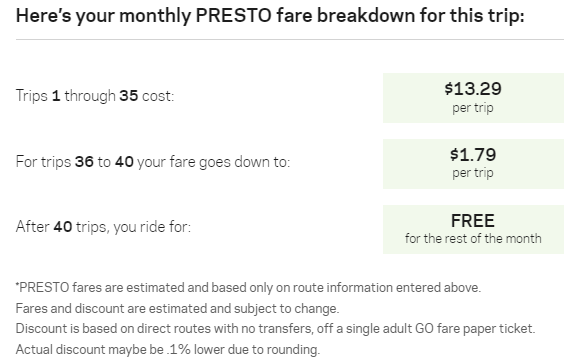 Tickets can be purchased via kiosks at most station locations and the machines accept any form of payment from cash to card. Online tickets can also be purchased. Refilling the PRESTO pass online is also an option.
Once onboard, I was impressed by the array of seating options in a 2-2 layout, including sets of four facing each other.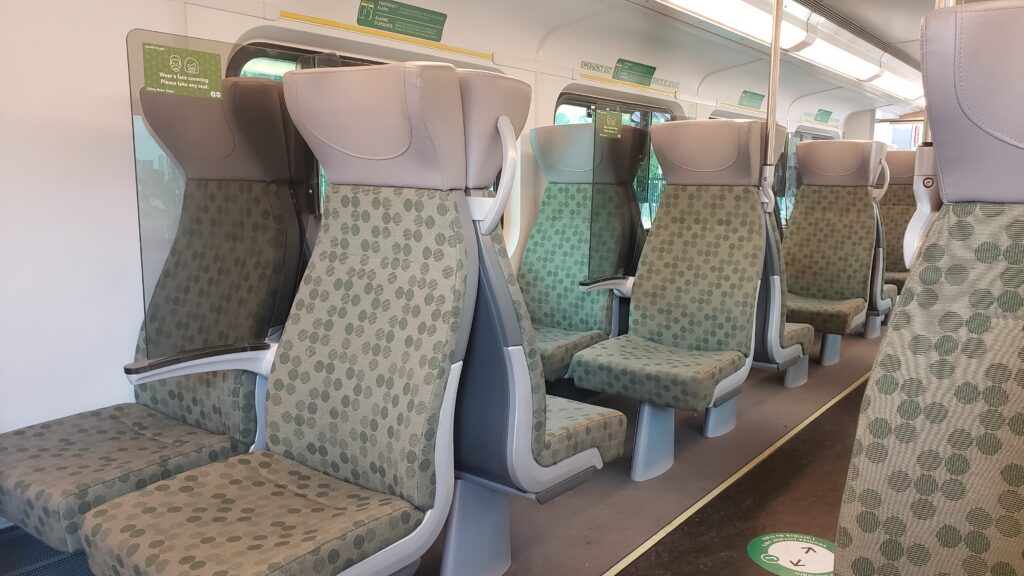 Some seats are separated by a plastic divider — a new addition stemming from COVID (similar ideas were floated in aviation during the pandemic, but they largely failed to launch).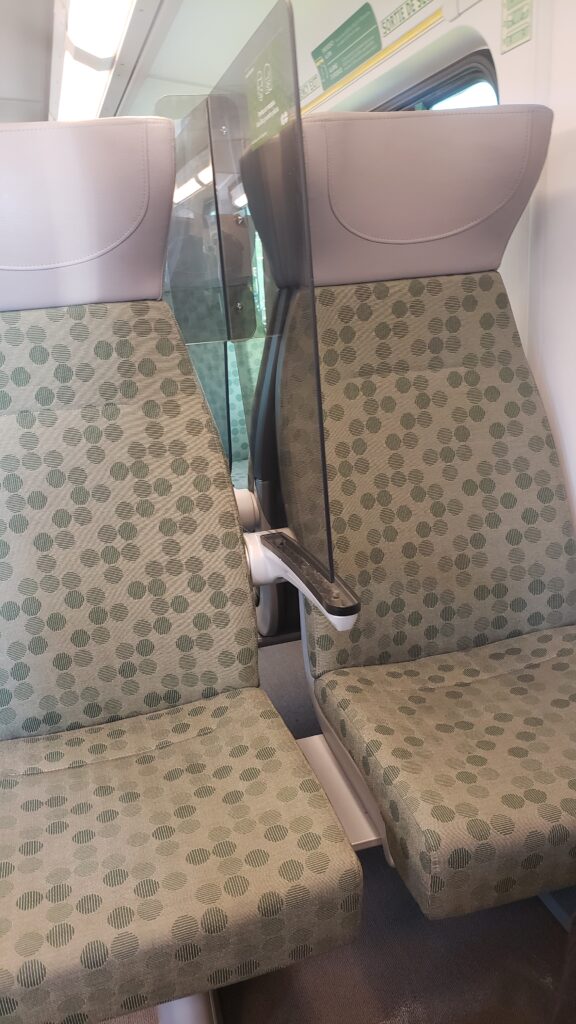 Anyone seeking a little more privacy — or indeed the COVID-cautious among us — may favor this type of seat, as demonstrated by my daughter.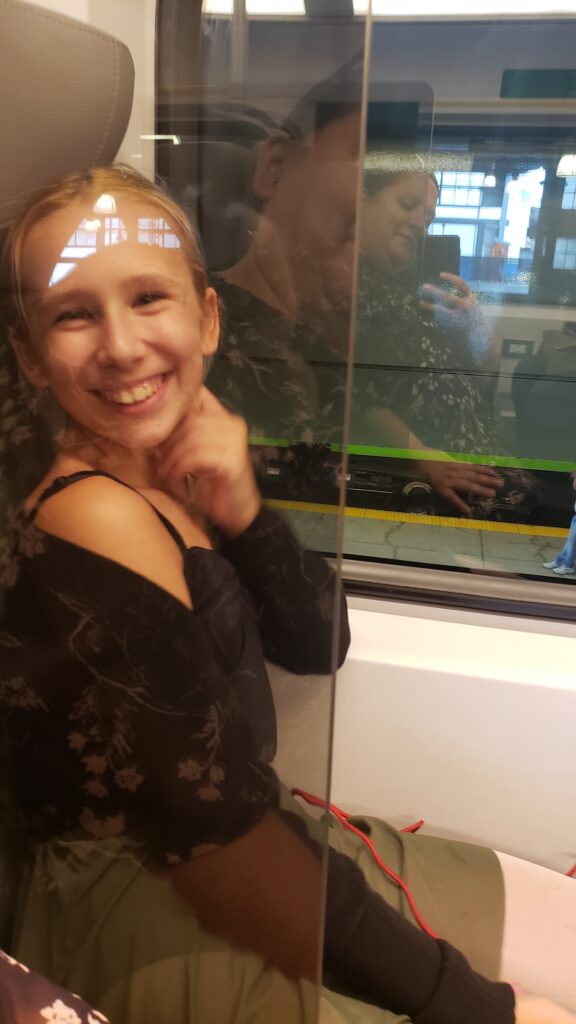 Paired seats that are not separated by a divider are also available, and this is where we chose to sit together on the ride to Union Station. While GO Transit offers a fully accessible car where wheelchair users can simply park and ride, the seat pairs in the regular cars can also be used by anyone who needs a bit more space to maneuver because the seats can flip up.
These seats are also handy for individuals traveling with guide dogs and other service animals that assist customers with physical, mental or sensory disabilities.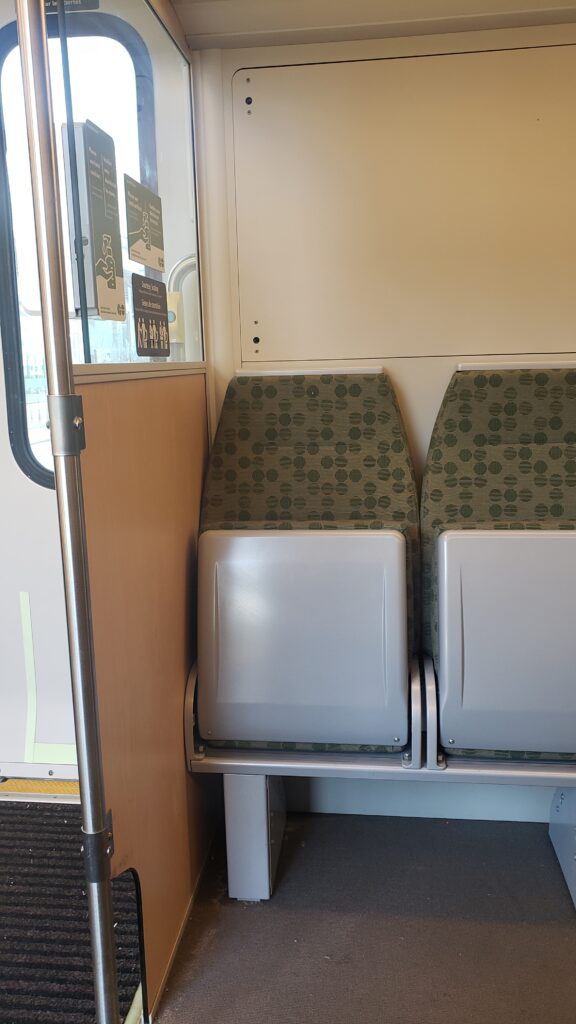 The train was clean with no visible wear and tear of the interiors. And the seats felt spacious and comfortable. Notably, accessible lavatories are available. Having access to a large-footprint bathroom is obviously imperative for wheelchair users, but its also useful for parents with small children and anyone who simply needs a bit more space.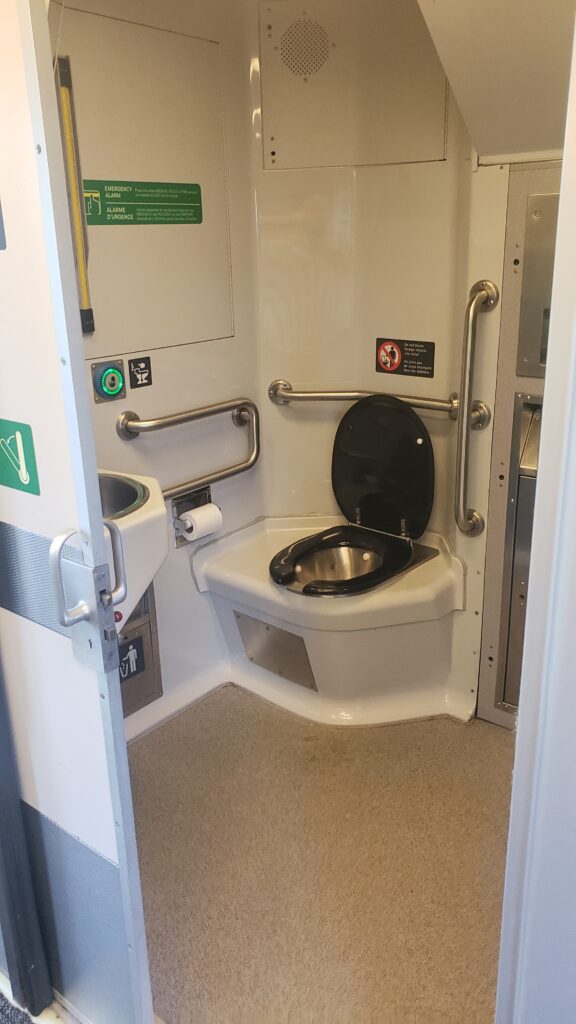 Another improvement on GO Transit is the branded 'GO Wi-Fi plus' entertainment portal, which can be accessed on passengers' own devices. While the content selection was candidly subpar, GO Wi-Fi plus did offer a form of distraction for the 1.5-hour trip, including a few children's programs.
My daughter enjoyed exploring the content but settled on her personal downloads instead. A large selection of books could also be streamed! Metrolinx assures passengers that they can return to the page they left off on, if cookies are enabled on their device.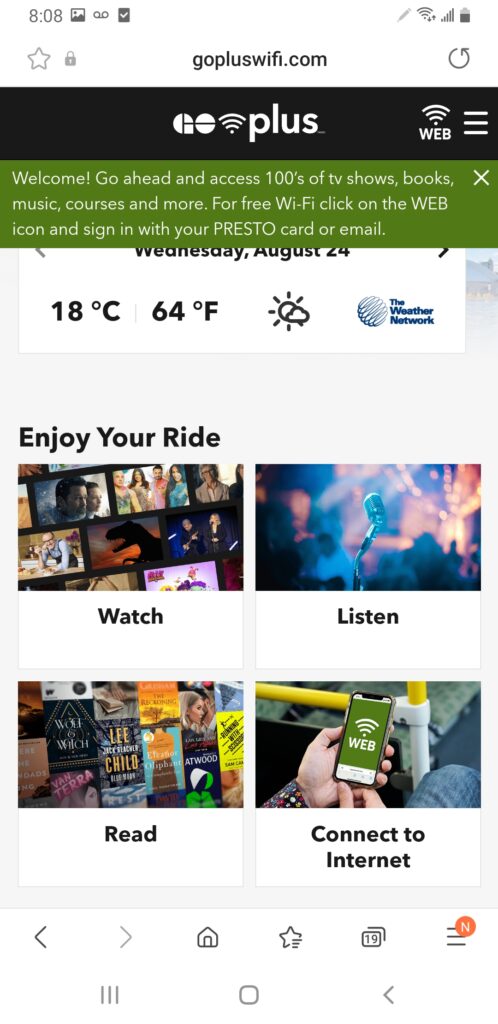 GO Wi-Fi plus also provides some free connectivity, though I found the service to be really only useful for messaging or email. Users who provide their email address can access 10MB of data, while PRESTO pass holders receive 50MB. Thankfully, the trip to Union Station is above-ground and hotspotting is still an option to get work done en route.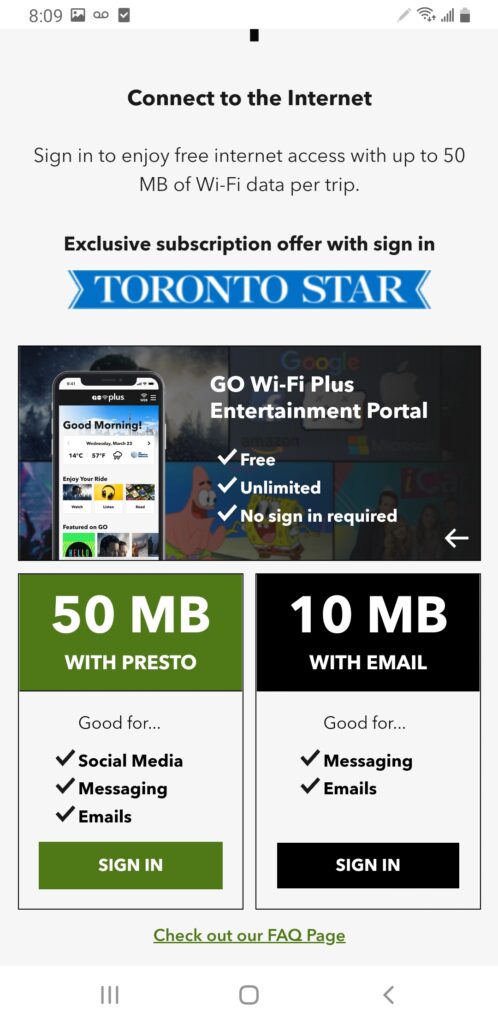 Unfortunately, no food is available onboard. But as a mother of a severely allergic child, I'm accustomed to bringing our own meals on trips anyways.
Related Articles:
All images credited to the author, Becca Alkema