When it comes to acquiring capacity to support inflight connectivity, a growing number of airlines are adopting a per-session model. That's among the reasons why the Seamless Air Alliance — which, incidentally, has just added United to its roster of airline members — launched a toolkit to aid carriers in developing meaningful service-level agreements (SLAs) "with a focus on customer experience and metrics that truly reflect that experience".
"Airlines have moved from buying bandwidth to buying sessions for passengers. What the airlines have asked us to put together are industry-agreed measures," said Seamless CEO Jack Mandala late last year in the midst of the Covid pandemic, when inflight Wi-Fi usage had plunged alongside commercial passenger traffic.
And so, RGN put the question to multiple aero ISPs in the ensuing months following our interview with Mandala — is the per-session model now dominant?
It's certainly widespread, but according to everyone we spoke to — Intelsat, Viasat, Panasonic and Anuvu — airlines still want choice. And some want the ability to renegotiate after the fact. As Intelsat SVP, commercial Dave Bijur put it: "I think flexibility is the name of the game and having diversity of network, diversity of antenna systems, all those are really important components of that."
While acknowledging that the per-session model is likely the most prevalent at present, Bijur told RGN: "I don't think one model has taken over as like the controlling be-all and end-all model. We have some airlines buying sessions, some like megabytes, some are buying CIRs [committed information rates]. I mean everything that you could dream up as a business model is being purchased in this market. And I think that's creating differentiation too because I don't think all the vendors are comfortable with all of those models. But if you have loads of capacity such as we do, you can get comfortable with a lot of business models."
Relative to the per-session model, specifically, Bijur warned: "I do think that it leaves the airline exposed to a certain extent. If the whole thing goes free, and I don't know that it will — I don't personally think it will — but if the whole thing does go free and you're an airline, do you really want to be paying by the session? I don't think so. I don't think you want to pay by the MB either. I think you pay a flat fee and I think that works."
But at the end of the day, added Bijur, "we're not in the business of serving watered down beer."
[C]ustomers want good, high-quality Internet. And that's what we're going to deliver. Whether that's under a per-session model or per-MB or come up with anything else — per airplane, per month, whatever — we're going to deliver that kind of high quality experience.
From Viasat's perspective, said vice chairman Richard Baldridge (in his then role as president and CEO), airlines continue to have varying preferences "and we've been fairly flexible". But, he stressed: "The real issue is — does the airline want to take the risk of buying bandwidth in bulk or does the airline want Viasat to take some of that risk, and those discussions mature as part of the process, and even after selection, they mature. In many cases, we've been willing to take the bandwidth risk associated with subscriber loads and the type of performance they have."
Viasat can accommodate a variety of models for airlines, including per-session, flat rate, and in bulk. Said Baldridge:
Our primary goal is to drive up engagement on the aircraft so we're trying to serve everybody on that plane and if you can serve everybody well on that plane you can attract third party players in a way that helps reduce the load on the airlines.
Moreover, when a passenger has a high-quality Internet experience onboard, the experience also has a positive impact on that passenger's intent to fly in the future. Viasat's data around purchasing intent can prove quite meaningful when an airline is mulling what type of arrangement might suit its needs. (Viasat has, meanwhile, also expressed an interest in staying flexible in other ways, by melding its more direct approach to the market with Inmarsat's GX VAR ecosystem when its acquisition of the London-headquartered firm is complete. GX VARs await details.)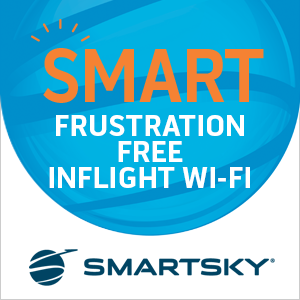 Jeff Sare is now president of Intelsat's commercial aviation business. But in his prior role as vice president, connectivity solutions at Panasonic Avionics, he told RGN that from Panasonic's perspective, "there are a number of different business models that are available to airlines today and it really depends on the capabilities and the infrastructures and the desires of the airlines to do that.
"And what I mean about that is you have in some cases a large airline who's quite sophisticated in their data analytics or their management … they are just buying capacity in a big terabyte or larger type solution because they have the ability to manage that on their own. So, if they are using their own WISP and they are doing their own things and they've invested in those people and those processes and those systems to do that, you know, they'll buy raw capacity to the end."
He continued, "Other carriers, most carriers, I would argue, are somewhat less invested in how that happens and more invested in ensuring that they get the right service so they'll come to us and ask for a more managed service and so that might be sessions or revenue share or a subscription of some sort like you might have on your phone. So, it really depends on how sophisticated [is] the airline in that area of operation."
Many of Panasonic's airline customers continue to block streaming, which certainly helps to control costs regardless of model. But streaming capabilities will be unleashed in time.
"You know holding back streaming is, I suspect, a bit like holding back the tide, right? Over time everybody will move that direction in some way, shape or form, just as you have seen, you know, on your phone or at home on your network. Even what used to be just surfing — [now] every other thing is a video clip — so streaming, you are not going to stop streaming, so that will come," said Sare at the time, wearing his Panasonic hat.
Anuvu (formerly Global Eagle) has seen regional buying patterns form. "We see 'the ask' from the airlines from an RFP perspective, as you might imagine, to be 'price everything out and then we'll take a look at it'. I think it really depends on the market. So the more mature markets of North America, for example, we see airlines wanting a fixed rate for a fixed service. We see them wanting flexibility in moving both rate and service around on networks because networks are vast, but we see there's a consistency of demand that they recognize," said company executive vice president – connectivity Michael Pigott.
"We see [in] some new markets more hesitancy, so more hesitancy and looking at session models, looking at consumption models, looking at things like that as they prove out the value of the connectivity space for … their region, for their market. So we see that variation a lot by region and what we do as an integrator and service provider, is we offer the flexibility to the customers including in [the] contract on certain cases offering the flexibility to switch because sometimes it just doesn't make sense. Now there's caveats on all of this. We're not going to take too much exposure ourselves."
But Anuvu's core item is "we want to be flexible."
So if I'm an airline approaches Anuvu about connectivity, and says, "I'll pay for your hardware, but I want a per-session model then on the capacity front" you're open something like that, RGN asked?
"We're open to it and we've done it. There's tradeoffs to it. I mean we talked about service levels, we talked about how [those] sessions are delivered. We find airlines don't necessarily, when they ask for a session model, don't necessarily want to manage multiple SLAs, like an SLA per-session, but they want the session delivered. But there's a lot of overhead management to that. So a lot of the balancing factor is where you set the SLA for the network, where you set the pricing for the sessions. All of those things."
The industry, noted Seamless Air Alliance's 2021 marketing materials, operates around a SLA "that professes a forward channel (downlink to the airplane) committed data rated (for either each device or for the entire airplane) and a target for the maximum data rate. There is neither an agreement on the return (uplink) channel performance nor any aggressive plan for session size growth."
Its new IFC Toolkit, on the other hand, helps airlines establish metrics related to application, service, and network performance, in terms of reliability, availability, scalability, speed, accuracy and efficiency. "To truly measure the quality of experience, you must track every link in the chain from the passenger's request to the end result they experience," according to the group.
And so, one wonders if the pricing landscape will be affected should airline members of Seamless move towards a more honed SLA-per session model, with each specific part of the service more formally defined. And if per-session penalties are attached, how might the risk factor change for aero ISPs/satellite operators, especially as per-device consumption grows.
Related Articles: