Satellite operator SES says it is working to ultimately bring a "Verizon" telco-type model to the skies in support of inflight connectivity.
With Verizon "you don't know whether the service is provided using fiber or using copper", notes SES Networks EVP, global sales Elias Zaccack. "Our strategy is a multi-orbit, multi-band, multi-system strategy, and what that means is … we're agnostic where the satellite is sitting, whether Ku or Ka, MEO or GEO."
For inflight connectivity, "we will have capability in our network, by software, to define which path each seat on the aircraft can take. We can pick one path for that transmission", and determine the best path.
Let's say you're sitting on an airplane. In the background, you're downloading email, playing Minecraft [with friends over the Internet], those two transmissions are going through different paths.
It will obviously take some time before SES's full dream is realized wherein "the application will dictate what we use". But the Luxembourg-based firm is putting the building blocks in place with the launch of high throughput satellites (HTS), and ultimately its next generation O3b mPOWER network.
SES's first hybrid geostationary (GEO) satellite providing Ku-band wide beams and high throughput spot beams entered service in January. Now over 200 Gogo 2Ku-fitted aircraft are exploiting SES-15, which boasts coverage for North America, Mexico, Central America and the Caribbean.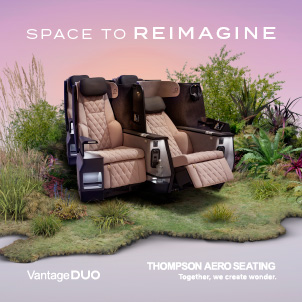 Another hybrid GEO, SES-14 with spot beam coverage over the Americas and the North Atlantic region, is "making its way to orbit as we speak" following its 26 January 2018 launch, notes Zaccack. SES initially planned an August service entry for SES-14, but the firm "had to spend an extra three to four weeks to get it back in right orbit" after an Ariane 5 launch anomaly, so it is now is eyeing a service entry of September.
The launch of SES-12, as well as additional O3b satellites for the current MEO network, are slated for the near future. "It just goes to show the level of investment that SES is making in order to build this robust network. We're not even at mPOWER [nextgen MEO] yet. We continue to invest heavily in making sure we have the most robust network as possible and available to all the service providers," says Zaccack.
Gogo is pleased with SES's developments. It too draws parallels between terrestrial wireless and a multi-band network. "MEO, including mPOWER, is a good development, so what we need is multi-band, multi-mode terminals", notes Gogo chief technology officer Anand Chari.
"It's too early to predict – we are not going to pick a horse and say that's the winning constellation – but we are preparing for this multi-mode, multi-band constellation."
Gogo previously signaled its intent to leverage the shared GEO/LEO satellite network contemplated by Intelsat and OneWeb, using its 2Ku antenna platform. But broadly, the firm clearly celebrates the open ecosystem of Ku satellites around the world, saying this is key to its growth.
"Intelsat has launched three [high throughput satellites] and Gogo has been using all three, and SES launched its HTS, SES-15, which brings more speed and cost-efficient bandwidth to the airlines and the passenger without changing the hardware on the plane. We can bring the innovation; we don't need to wait for someone to launch the next satellite in five years in a closed ecosystem," says Chari.
And as more SES satellites launch, "Gogo can leverage those" to bring #PaxEx improvements to airlines and passengers.
"It's what's taking place in wireless. The cell tower companies can come up with innovation and AT&T and Verizon get to benefit from that and that's the model we will [follow]," adds Chari.
Related Articles: