Gogo Business Aviation is making strong progress towards meeting its goal of bringing 5G air-to-ground (ATG) inflight connectivity to market in 2022.
The company, which is executing on a pure-play BizAv connectivity strategy in the US following Intelsat's acquisition of Gogo Commercial Aviation, also believes it will be well-positioned to accommodate hybrid ATG-LEO satellite solutions in the future.
During an earnings conference call to report a 4% year-over-year increase in first quarter revenue and improved financials, Gogo Business Aviation CEO Oakleigh Thorne revealed in reference to 5G ATG: "We completed critical design review and flight testing for our airborne antenna."
"We completed installation of all 5G core hardware and software in our data centers, and successfully completed our first end-to end-call on the Gogo sim," he continued. "We successfully completed acceptance testing of our 5G base station antennas and preparation for testbed installation later this year. And we completed building our prototype 5G Aircards in preparation of full airborne equipment prototyping also later this year."
As previously reported, some production related delays associated with a particular 5G semiconductor chip pushed back Gogo Business Aviation's planned launch of the service from 2021 until 2022. "Our schedule takes into account the chip manufacturers' current expectations on delivery timing, and [we] still project service launch will take place in 2022," said Thorne.
In the near-term, Gogo Business Aviation continues to see robust take-up of its AVANCE ATG platform (comprising its L5 system with 4G speeds and the L3 system with 3G speeds). During the first quarter, total AVANCE units online grew more than 42% year-over-year to 1,900, underscoring BizAv's continued strong recovery from the COVID-19 crisis.
Upgrading AVANCE L5 customers to 5G will be fairly seamless, with Thorne explaining that "most of the upgrade will be software. The only hardware needed will be one small box and two new antennas that fit exactly where the old antennas sit on the outside of the aircraft."
Notably, Gogo Business Aviation is also eyeing the possibility of integrating future satcom technologies with its ATG solutions.
For example, when LEO satellite networks and electronically steerable antennas (ESAs) are ready for primetime, "Gogo would have the option of offering AVANCE customers access to those networks simply by adding a new ESA antenna on top of the plane. That antenna could plug into the existing AVANCE platform already installed inside the plane. Much like a Tesla, the rest of the LEO upgrade would be achieved with a simple software update to the AVANCE device already on board," said Thorne.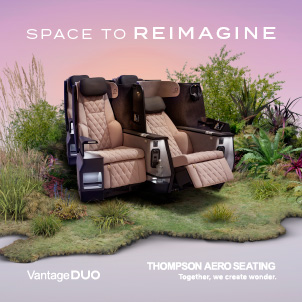 A few years ago, Gogo announced it would be a global provider of high throughput Ku-band satellite connectivity to the business aviation community, offering "nominal speeds of 25 Mbps". The solution was to feature a tail-mount antenna system for Gulfstreams, Dassault jets, and other business jet types. It would have competed with multiple satcom players, including Inmarsat, Collins Aerospace (in partnership with SES) and Intelsat. But that particular tail-mount/GEO satellite strategy appears to have been shelved in favor of a possible hybrid ATG/LEO future.
Asked by Runway Girl Network if Gogo has any plans for revisiting its global Ku tail-mount offering, Thorne said: "Our main priority now is completing our Gogo 5G deployment, but we have stated publicly that our software-centric AVANCE platform has multi-bearer capabilities that would give us the option of adding LEO connectivity relatively easily and cost effectively.
"We would need to add an ESA antenna on the exterior of the aircraft, but should be able to avoid expensive and time consuming installation of new hardware inside the aircraft…that could all be accomplished with a simple, over-the-air software upgrade."
Related Articles: