Denver International Airport (DEN) and Southwest Airlines on 5 May marked the completion of 16 new gates at the airport's C Concourse, bringing the carrier's total footprint at the airport to 40 gates and ensuring it can operate upwards of 400 daily flights. Southwest plans to begin using some of the new gates by the end of this month, or in early June.
An additional 530,000 square feet of space has been added to the East end of Concourse C, which will include new locally-owned restaurants, bars, and coffee shops. At the time of the ribbon cutting, construction had not begun on any of these retail outlets, so passengers flying from the new gates will have to make a lengthy walk to source refreshments until the new concessions open up.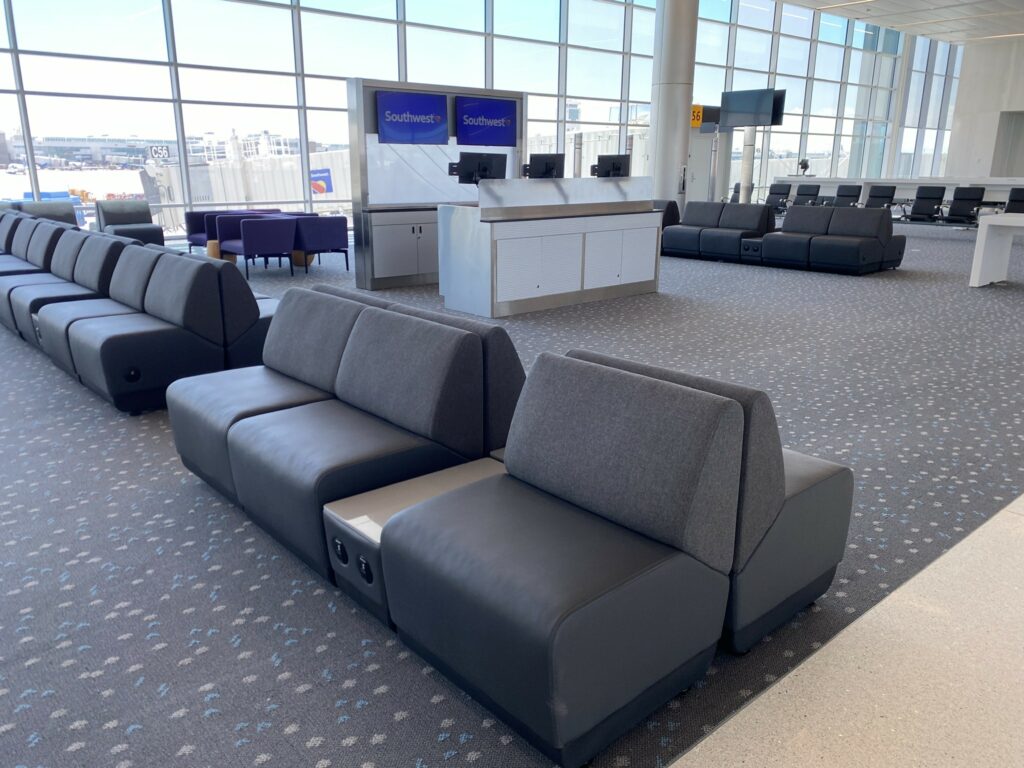 Work began on the C Concourse expansion in 2019 — part of a $2.3 billion expansion project across DEN's three current concourses. Four new gates for United Airlines were completed and opened in November 2020 at United's West B Concourse. Additional gates are under construction on East B Concourse, and West A Concourse, and are slated to open this fall.
The expansion is expected to be LEED Gold Certified, and offer plenty of natural light. It is anticipated that a rooftop solar system will generate 335 kilowatts of electricity. Low flow plumbing fixtures in the new bathrooms are projected to reduce water use by 47 percent, according to the airport. 
Since returning to Denver in 2006 with 13 daily flights, Southwest's DEN operation has grown to become the largest operation, with over 220 daily weekday flights. The rise to the top spot occurred during the COVID-19 pandemic.
"As Denver's population grew, we saw demand consistently increase," explained Southwest spokesman Dan Landson to Runway Girl Network. "During the last few years, we've seen the customer base continue to grow which gave us a better opportunity to expand our operation and support our expansion throughout the Western half of the US. During the pandemic, we also saw travelers seeking destinations which offered quick and easy ways to reach the outdoors and this helped fuel DEN into becoming our largest operation in our system."
Indeed, in the midst of the pandemic, Southwest added nonstop flights to several new cities from DEN, including Bozeman, Montana (BZN); Eugene, Oregon (EUG); Fresno, California (FAT); Palm Springs, California (PSP); and Santa Barbara, California (SBA).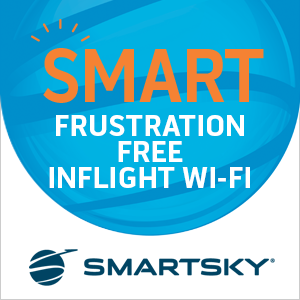 During the ceremony, DEN CEO Phil Washington stated: "There's no better time for these improvements than now, as air travel is increasing and continues to grow."
Southwest VP airport affairs Steve Cisneros also remarked: "The last two and a half years have been exceptionally hard for everyone, including those of us in the airline industry, but one of the few bright spots across the country has been right here in Denver. Leisure travelers continue to lead the way for us, but we're seeing more business travelers hit the road."
The new East gates at Concourse C feature a variety of seating, including high-top tables, club chairs, and the type of more traditional seats that one would find at an airport gate. Electric and USB outlets are plentiful in these new seating areas. Bright yellow signage is a welcome addition, and consistent with international airport standards. For early morning flyers, a new outdoor patio with two fire pits sits on the end of the concourse, which would be a great place to enjoy some coffee while watching the sunrise.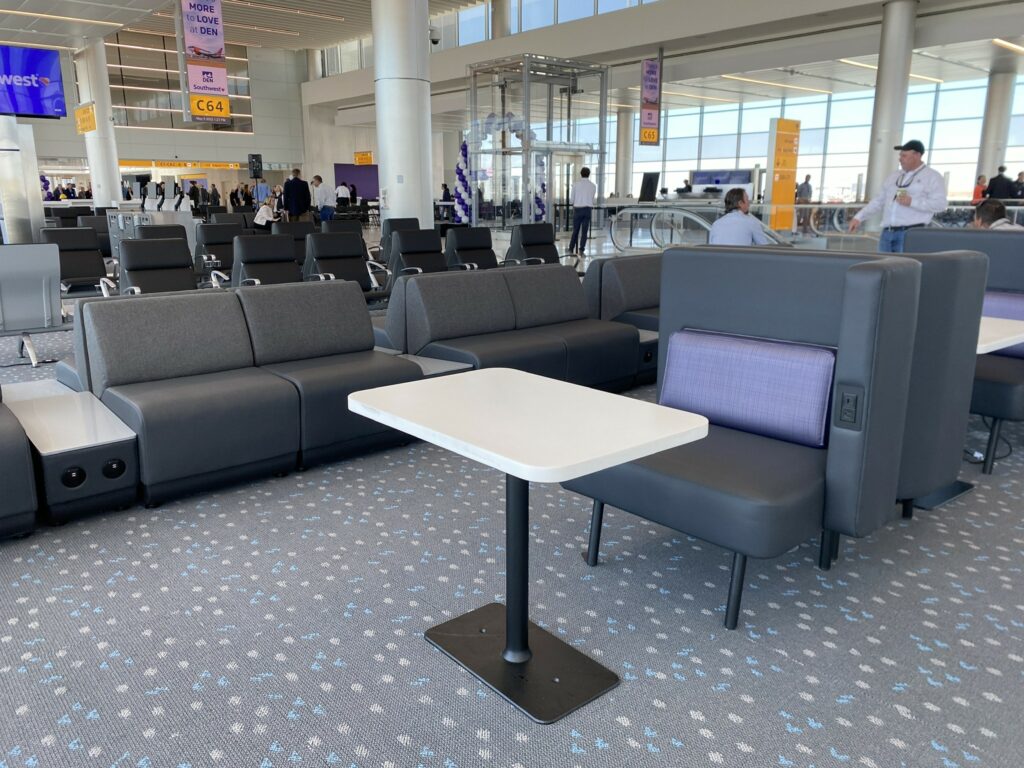 In the coming months, American Airlines will transition its DEN operation from Concourse A to Concourse C, occupying four gates, (C30, 32, 34, 36), and will accordingly move its Admirals Club to the concourse as well. 
DEN was originally designed to accommodate 50 million passengers annually. In 2019, 69.5 million passengers traveled from the airport. Last year during the COVID crisis, DEN rose to become the third-busiest airport in the world, with 58.8 million passengers.
Growth plans at DEN, including the remaining concourse expansion work, should allow the airport to reach its goal of accommodating 100 million passengers per year in the next eight to 10 years. DEN predicts that its 2022 passenger numbers will reach 72.8 million. The airport's master plan includes two more potential concourses, and up to six additional runways.
Related Articles:
All images credited to the author, Paul Thompson