Whenever we dive into the details of a cabin onboard an Airbus A321neo, it seems like we focus on the brand new lie-flat seats of the long-range version. But many of these widely popular aircraft will not be flying for up to ten hours on long hauls. Indeed, many are already used as shorthaul workhorses, performing the unglamorous work for which the original A321 was designed and with which it originally entered into service with Lufthansa in 1994.
In the middle of the pack sit the A321neos from Delta Air Lines, which will start flying its newest jets on transcontinental routes at the end of May. The plan is for these "domestic" market aircraft to initially be based in the airline battleground city of Boston, from where they will fly to to Denver, San Diego, San Francisco and Seattle.
This first tranche of aircraft aren't the recently leaked "transcon" aircraft, which will offer outward-facing herringbone seating on a subfleet of Delta's A321neos, as journalist Edward Russell discovered recently.
This domestic version is nonetheless a very decent domestic product. Up front, twenty first class recliners in the usual 2-2 configuration will be pitched at 37". These are a "highly customised version" of Recaro's CL4710 mechanical recliner, the seatmaker's corporate designer Marcel Gross confirms to Runway Girl Network, with Factorydesign involved as the design partner.
The most striking difference is the large winged headrest, which will add privacy, but hidden within the armrest is a larger — and the airline says sturdier — table that offers 25% more workspace.
There's also a lot more visible and accessible storage, most notably with a large bin between the seats in front of each passenger. Delta says there is three times more volume for personal stowage, including special spots for water bottles and laptops. Inside the seat, meanwhile, is memory foam cushioning.
Ashley Garris, Delta's manager for onboard brand experience and design, tells RGN that "my favorite part of the new seat design is the improved privacy and better definition of personal space. These elements were all designed based on our customers' desires to experience a more exclusive cabin on our domestic routes. I also like how much our customers were a part of the seat creation, since we put the seat through multiple rounds of customer testing to make sure the seat would meet their needs in-flight."
In between domestic first and 132 seats in the main cabin come 42 seats in Delta's extra-legroom economy, Comfort+. That's not to be confused with Delta Premium Select, the proper premium economy recliner product, which will be installed on the transcontinental version of these aircraft.
And that's one of the fascinating airline design and branding details that is to come: how Delta positions its transcon premium economy recliner versus its transcon domestic first recliner, with the extra privacy wings of the Recaro domestic first product as at least a visible differentiator.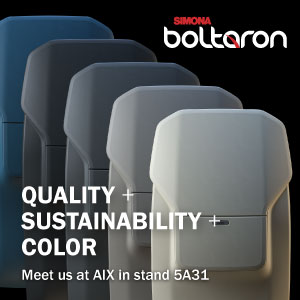 Equally fascinating will be whether this new A321neo configuration is refitted onto Delta's A321ceos. Delta inherited its A320 family jets from Northwest, but only started taking delivery of the A321ceo in 2016 as part of its fleet replacement strategy. The airline made a big purchase of end-of-the-line and keenly priced A321ceos and took delivery of the very last A321ceo — indeed, the very last A320ceo family aircraft — ever produced just last December. 
Delta has over 125 of the A321ceos in its fleet, compared with more than 150 neos currently on order. With the airline's propensity for maintaining and upgrading the cabins of its older aircraft to modern standards, and leveraging both its MRO and cabin product divisions to keep them flying, the point at which Delta decides to upgrade its ceo cabins for neo commonality will be interesting to observe.
Related Articles:
Featured image credited to Delta