The premium narrowbody business class race is hotting up with a new seat — and new seatmaker — from Northern Ireland: Alice Blu Aero's Quantum seat is an outward-facing herringbone for the Airbus A320 and Boeing 737 families. Runway Girl Network sat down with managing director Ryan McNeice and head of engineering Tom Trail to learn more.
Alice Blu's creation, McNeice says, came after "we saw an opportunity to create a new type of seating company, focusing on the seating sector that our research indicated will be growing up to 50 percent per annum for the next five years: the business class seating on narrowbody aircraft."
The company's research estimates that some 10–15 percent of new aircraft builds in this market will require some sort of business class product. Its first seat is named Quantum, a 22"-wide fully flat business class seat offering direct aisle access to every passenger via an outward-facing herringbone layout, initially at the angle of 45° away from the aircraft centreline with a pitch of 38".
On the A320 family's wider fuselage, it offers a bed length of 86" (7'2", or 2m18), while on the 737 it is approximately four inches shorter. For airlines looking for a tighter pitch, Trail estimates that a 35" pitch could be achieved at a 64° angle, but this would of course require additional certification.
Quantum's design is modular and certified to 16g, where the lower half is set and the upper half is customisable. These customisations might, the company imagines, vary between a horizontal vanity-style storage zone on top of the console or a more traditional larger upright storage locker, which would of course block more of the window view.
Interestingly, Alice Blu isn't planning a door for the product. "We believe that the seat is incredibly private, so we don't see the need for a door," Trail says. "Now, that may go against industry trends, but that's just our initial view."
Instead, the angle of the seat and the privacy shell proposes a clever solution to one of the critical questions around long-haul narrowbody cabin design: the aisles being blocked. Quantum's design allows what Trail calls "lay-bys", little passing areas where a passenger or crewmember can slide in to allow someone else past.
Elsewhere on the seat, the meal and laptop table slides out horizontally from underneath the console surface and is very sizeable.
The inflight entertainment monitor can go up to 24", and is fixed on the seat shell directly in front of the passenger.
Alice Blu's product strategy is to "offer complete business class kit, including front row furniture and class dividers. Initially we're looking for partners who are looking for retrofit programmes for their existing platforms, and once our production line is more established, we'll look at moving on to discussions regarding linefit with relevant OEMs," Trail says.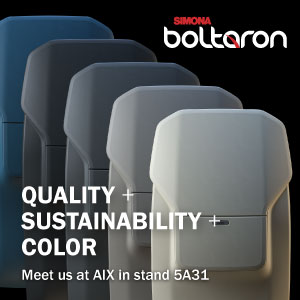 With a medium term goal of some five hundred seats per year — that's some 30-odd shipsets assuming 16-seat business class cabins — Alice Blu intends to be strongly vertically integrated, with robust supply chain control. 
"We are manufacturing a lot of the parts — we're based on a manufacturing company that's literally ten yards from the back door of our new factory," Trail explains. 
In terms of certification, Alice Blu is currently in the audit phase for quality management standard AS9100D, and nearly ready to submit the seat for certification, but has not yet decided whether this will to be to the European Union Aviation Safety Agency, EASA, or its UK equivalent, the Civil Aviation Authority. More development testing is expected in June, with a test plan written and to be submitted for full testing in the third or fourth quarter this year for the A320 and 737. The hope is that a TSO will be granted in the first or second quarter of 2023.
Overall, it is encouraging to see more seat suppliers entering into the premium narrowbody game, and indeed ones with novel business plans and seat design principles.
Related Articles:
Featured image credited to Alice Blue Aero