Greece's national carrier Aegean is to go with an almost full-fleet outfitting of the Inmarsat-Deutsche Telekom hybrid S-band/air-to-ground European Aviation Network inflight connectivity system. It's the first customer publicly announced since British Airways/Iberia/Aer Lingus/Vueling parent IAG, and the first since the purchase of Inmarsat by Viasat was announced as being in the works.
The deal covers EAN installs on the full Aegean Airbus A320/A321 fleet by 2025, of which seven aircraft, says Inmarsat, already have the equipment and service live. According to the Airfleets database, Aegean's fleet currently comprises 30 Airbus A320 family aircraft, of which five are A320neos, and 14 A321s (including four A321neos).
Three packages will be on offer to passengers:
a trial service that the airline is calling "try before you buy", which offers ten minutes of Internet browsing, emails, messaging, and socials
"text and surf", an extension of that service
a streaming option
Aegean is also working with Display Interactive for a new digital portal, "powered by" the EAN partner, which serves as the wifi signup function as well as adding entertainment (it cites music, series, documentaries, cartoons, games, and news, travel information and a signup for its frequent flyer programme).
The Greek airline's route network, by and large, connects European destinations with Greece, which means that the EAN is likely to be in range for most of the airline's flight routes. 
Inmarsat and Telekom claim full coverage across the entire Mediterranean, but the line stops at the African coastline to the south and the EU border with Russia, Belarus, Ukraine and at the Bosphorus in Turkey in the east.
That said, a dozen or so destinations into Africa, Arabia, Russia and the Caucasus may be out of scope of the EAN's air-to-ground coverage at some point. 
It will also be interesting to see how the satellite/air-to-ground handoff works on routes to Spain and Portugal across the Mediterranean. ATG coverage looks to be available between Greece and Italy, but appears gappy between Italy and Sardinia/Corsica, and between those two islands and the Balearics. 
Also notable is the slow speed of the rollout. The operators say that the EAN's small S-band antenna and radome on top of the fuselage and the small ATG antenna underneath can be installed in just seven hours. This should be possible in an overnight stop, so it's very curious as to precisely why it's taking more than three years to outfit some three dozen aircraft. It is somewhat telling that the press release for the Aegean deal makes only one brief mention of the EAN's speed-to-install advantage, in the notes to editors section at the bottom.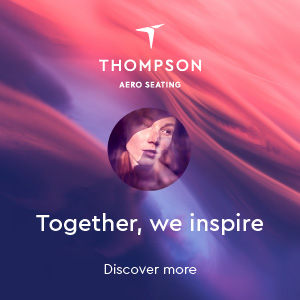 All in all, it's a smart move for the airline, since passengers want Internet connectivity more and more. As Inmarsat Aviation president Philippe Carette put it, "our European Aviation Network inflight broadband solution experienced record demand from passengers last year, with take-up rates substantially higher than before the pandemic."
Crucial, though, will be the airline's decision when it comes to throttling, data packages and usage policies. When British Airways softlaunched its EAN connectivity prior to the pandemic, its throttling of the service to 1Mbps maximum speed for just 50MB, dropping to 0.6Mbps thereafter, proved poor value.
Europeans are not used to paying roaming charges and routinely expect either unlimited or functionally unlimited mobile Internet for a matter of ten to twenty Euros a month on their cellular contracts. Aegean, which has not released pricing for its packages, will need to tread carefully.
Related Articles:
Featured image credited to EAN