A wave of new inflight connectivity system installations is forthcoming as airlines prepare to replace legacy kit with next-gen hardware and in some instances adopt new aero ISPs as they emerge from the COVID-19 crisis.
The latest indicator that industry is readying for IFC retrofits comes from Panasonic Avionics, which recently announced it has tapped ThinKom Solutions to develop a new-design Ku-band VICTS antenna for Panasonic's global IFC solution, with plans to offer it for both linefit and retrofit installations in 2023.
"Our new antenna offering with ThinKom is an integral part of our network and will allow airlines to access both current and future satellite constellations," explained Panasonic Avionics vice president of inflight connectivity solutions Jeff Sare.
Earlier this year, Sare hinted that the firm was gravitating towards a hybrid antenna design to accommodate GEO and LEO-powered transmissions, telling RGN that, in the context of talking to LEO satellites in the future, "other current technologies that are mechanically steered but closer to the ESA design are probably very viable mid-term technologies…" ThinKom's ThinAir-branded VICTS is a mechanically steered phased array antenna.
In announcing a formal arrangement with ThinKom, Panasonic seems to be effectively conceding that its traditional gimballed antenna solution – which it assembles at its Lake Forest, California facility – is yesterday's news. The arrangement also underscores that low-latency LEO networks will play an increasingly important role in IFC (Panasonic even preserved some of its XTS capital for LEOs).
Asked by RGN if the newly designed antenna will follow the ARINC 792 standard for nextgen antenna installs on brand new aircraft – and if we're right in assuming it will easily slot into the current ARINC 791 footprint on aircraft currently fitted with Panasonic's antenna – ThinKom CTO Bill Milroy said:
Regarding the details of the Radome, Fairing, and Adapter Plate for our new ThinAir® design, Panasonic chose to retain responsibility for those.

However, I can tell you that the integrated assembly will be 791-compliant, ready for both retrofit and linefit.
Panasonic has spent many years — and plenty of money — to interface with airframers' IP and obtain linefit offerability across most commercial types, so its pipeline to Boeing and Airbus must be seen as a boon for ThinKom.
But on the retrofit front alone, the opportunity could be substantial. According to Panasonic, over 2,300 aircraft are now connected to its global communications network.
Retrofit specialists prepare
Lufthansa Technik is among the firms readying for the retrofit wave. (Incidentally, the MRO giant has through the years fitted a sizeable number of aircraft with Panasonic's legacy antenna hardware including for Lufthansa and others. It remains to be seen if Lufthansa will adopt Panasonic's new Ku antenna from ThinKom.)
"Rip & replace is a topic gaining more and more airlines and lessors' attention (slightly slowed due to COVID)," Lufthansa Technik head of connectivity solutions Lukas Bucher told RGN broadly in reference to the anticipated trend.
"Once airlines have made it past the dark days, have settled the fleet setup and are on a positive trend, they will continue with upgrades. That requires enhanced STC solutions which respect the IP situation of a given constellation (former IFC STC provider, new IFC STC provider, airline). Some of the ongoing IAMA standardization activities will support the future ease of such transitions."
Indeed, IAMA — the Independent Aircraft Modifier Alliance, which boasts Lufthansa Technik, EAD Aerospace, Etihad Airways Engineering, Envoy Aerospace, Collins Aerospace, CarlisleIT and others as founding members – is a growing force in the industry. It recently welcomed Qantas to its list of subscribers which share a common desire to ensure an open and transparent retrofit market through STCs.
In that vein, IAMA has launched a new initiative: a request for proposal (RFP) service. "We created this service to make it easier for airlines, who have a specific requirement, to obtain that upgrade. The airline representative clicks on the button and completes the RFP. IAMA will then help find the appropriate service from one of our endorsed members. It's a great way for airlines to save time and get the modifications they need from the right provider," explained IAMA alliance manager Annelouise van Dijke.
"Also upcoming is our next IAMA Virtual Think Tank (IVTT) on the 22nd of September, where we will focus on the Compatibility of STC with regards to future OEM SBs [Service Bulletins] and look into the transferability of a modification, more precisely into the commercial right to use of the STC documentation."
With respect to airlines' move to second-generation IFC systems, Lufthansa Technik's Bucher said: "These connectivity transitions are independent of geography; they are happening where long lasting contracts are coming to an end and the airline is not happy with the performance or the scope of the contract." Delta's massive rip-and-replace of Gogo 2Ku, and pivot to Viasat on several hundred aircraft, is to date the most prominent example, however.
Proprietary solutions for airlines?
As previously reported, Lufthansa Technik and partner Honeywell are eager to gain a foothold in the Chinese market with a China-approved Ka-band IFC solution that will talk to the ChinaSat 16 satellite when flying in the region but can be easily tweaked to support Inmarsat Global Xpress service elsewhere.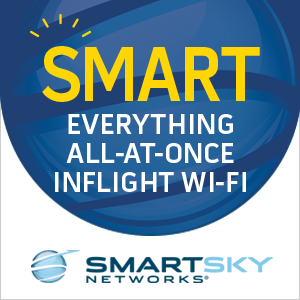 As part of the new MCS-8420-branded package for China, the two firms said they are making various software platforms available, "including the option for airline proprietary solutions so that the respective airline itself has full control". And so, RGN put the question to Bucher: Does Lufthansa Technik anticipate that some Chinese carriers will be interested in taking full control (now or in the future)? Is this shift being observed elsewhere in the world?
"Yes, this ​is a good observation," he replied. "And yes, we do see the trend that airlines want to take the destiny into its own hands or work with 'local' software companies. Lufthansa Technik preferably delivers the cabin distribution hardware installation as a certified 'foundation'. Additionally, we continue to offer [Lufthansa Systems'] BoardConnect as our preferred digital platform, since we do believe in a good integration of hardware and software.
"On an international level, Lufthansa Technik does see the same tendencies. With AERQ as our newest joint venture, such trends are being picked up."
Certain major carriers, such as American Airlines, Delta and Turkish Airlines, have brought some seatback IFE work in-house, be it system development or maintenance services. But there has been less public activity about in-house IFC work. Canadian satellite operator Telesat continues to maintain that airlines are interested.
In a recent interview with RGN, Telesat director, product and commercial (global) Manik Vinnakota said: "Some of the big airlines are definitely exploring how to better control the entire connectivity from start to end, and just as they've gotten experience on the entertainment side, connectivity is becoming even more important now and especially in the next few years so that ball has started rolling."
Related Articles:
Featured image credited to Lufthansa Technik