Having recently returned to the UK after traveling to the US, via Dublin, for a long-awaited family reunion, my advice to anyone considering a Covid-era transatlantic trip is to prepare like you've never prepared before. Then prepare some more. And brace yourself, because this is going to cost you.
First and foremost: Read the small print. Fill in the forms. Download the apps and carry the documents. Have contingency plans in place for all eventualities, and expect to pay through the nose for multiple Covid-19 tests.
We booked our flights from Manchester in the UK to New York JFK, via Dublin, pre-pandemic, with the original intention of traveling in July 2020. That routing added an extra layer of complication, with the differing requirements of three separate governments to satisfy.
However, it did provide the opportunity to clear US customs in Dublin on the way over, and to experience Aer Lingus' newly reinstated Airbus A321neo flight from Washington Dulles on the way back.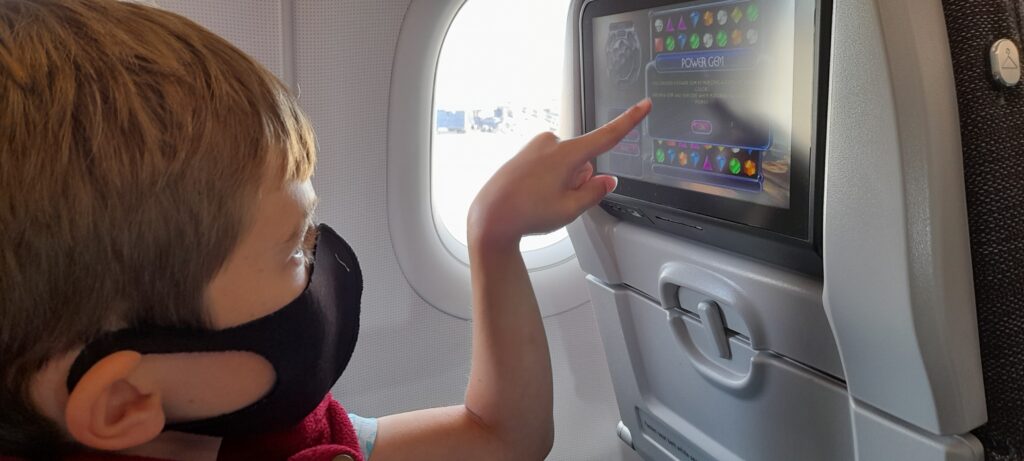 Most UK and European Union citizens are still barred from entering the United States under a presidential proclamation that applies to certain travelers from the Shengen area, the UK and the Republic of Ireland. As the spouse and offspring of a US citizen, however, myself and our two children were permitted to enter under an exemption.
Fortunately, I did bring our marriage certificate and the children's birth certificates. When the US Customs and Border Protection officials at Dublin Airport's US Preclearance facility asked for them, the look of panic on my husband's face, followed by the expression of relief when I fished the papers out of the travel wallet, was priceless.
After a tense wait of about half an hour in a back office, US CBP cleared us through.
In total for this trip we spent well over £1,000 ($1,366) on pre- and post-travel Covid-19 tests for a family of four, including two fully-vaccinated adults. This included four PCR tests prior to departing the UK, four tests prior to departing the US, and an additional four tests to take two days after turning to the UK.
The last round of tests must be ordered before you travel so the reference number to prove you have purchased them can be included on the UK government's passenger locator form, which must be filed 48 hours before the return flight home.
For a while I thought I'd bought three tests that weren't required, because the Irish government does not require PCR tests for fully-vaccinated arrivals or those aged under 12. However, it turns out the UK government does require that all arrivals from countries on its Amber list are tested prior to their return and two days later, regardless of vaccination status.
Looking at the much lower costs for tests in other countries, I can't help thinking that the UK's private testing providers are laughing all the way to the bank.
Passenger locator forms had to be completed for both the UK and Irish governments, along with a passenger attestation form for the US Centers for Disease Control and Prevention (CDC).
I downloaded the VeriFLY app, which enabled me to upload travel documents and PCR test result certificates for the whole family ahead of the trip. Once all the information has been uploaded, checked and verified, a green tick signals that you are good to go.
While this gave peace of mind that I had taken all the necessary steps prior to leaving for the airport, when I presented my smartphone to the check-in agent in Dublin to show her our VeriFLY green ticks, she looked flummoxed. She didn't appear to have any familiarity, but the app itself worked, she accepted it and checked us in.
The experience served as a reminder that all of these new and constantly evolving requirements can be just as baffling to airline staff as they are to passengers.
Having pre-cleared US customs in Ireland, we arrived at JFK with no immigration line to face – a huge plus after a long flight with kids.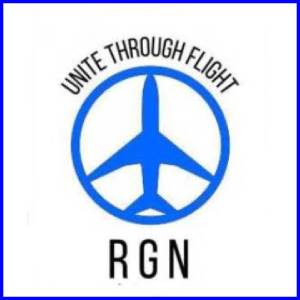 Three and a half weeks later, it was form-filling, VeriFLY document-uploading and Covid-testing time again. Our stay was longer than intended as Aer Lingus twice pushed back the date for the reinstatement of its Washington Dulles-Dublin service.
Having been through the process once already, it felt a little more straightforward preparing for our return journey. We found a pre-travel Covid testing station 20 minutes from where we were staying and paid $175 per test.
We tested negative, thankfully, but this is an important factor to consider when traveling internationally – if one of us had tested positive, we would've had to self-isolate in the US, and then pay for another round of tests in order to fly home. Top-level travel insurance is a must.
Our flight from Washington Dulles to Dublin was Aer Lingus' first service on the route since the start of the pandemic, and my first experience of traveling across the Atlantic on an A321neo. Previous transatlantic flights have all been on widebodies and it felt strange boarding a single-aisle jet for such a long route.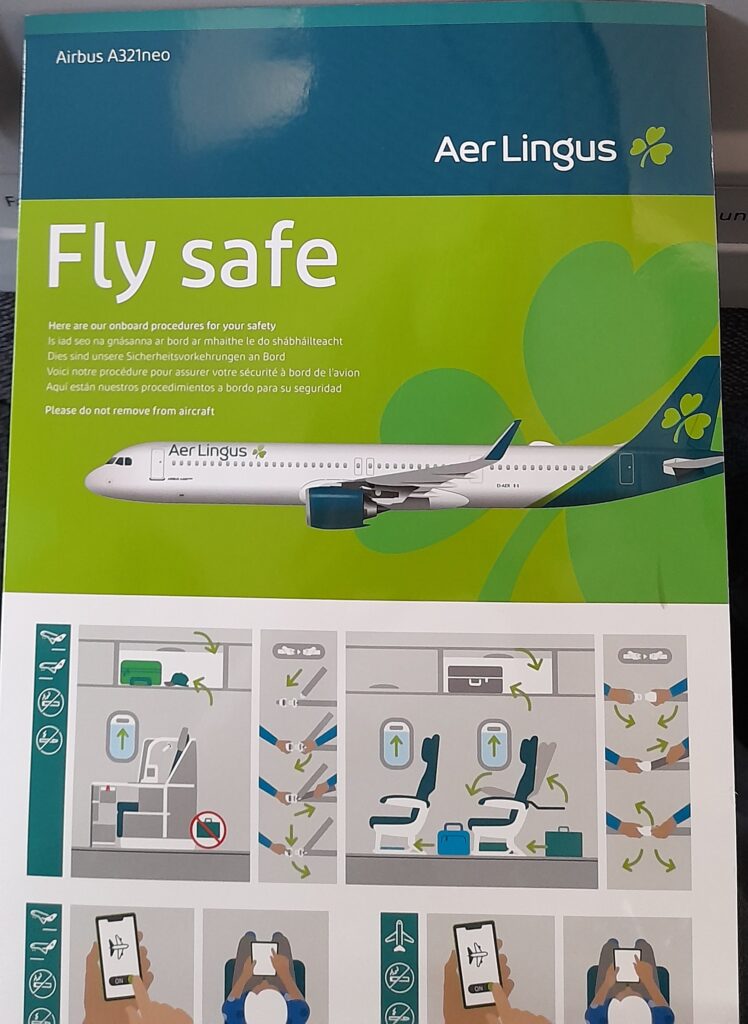 It was a full flight and we were seated on the back row, meaning that at busy times there was a long line in the aisle next to us for what seemed to be too few toilets. However, the cabin crew were all incredibly friendly and seemed genuinely pleased to finally have passengers on board again.
A miscommunication with the catering company resulted in a near two-hour delayed take-off, which meant we missed our connecting flight to Manchester and had to wait 12 hours in the airport for the next one. Aer Lingus provided €20 ($23) each for refreshments, which did not go very far toward covering breakfast, lunch and dinner at airport prices.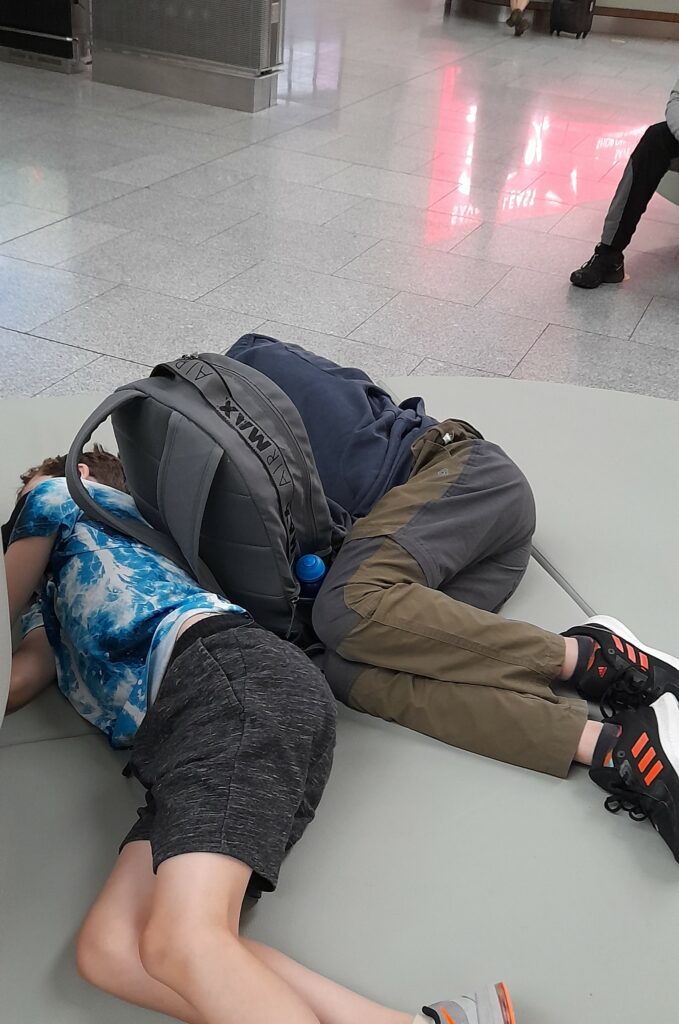 Despite the expense of testing, the stress of meeting the entry requirements of three different governments and the unwelcome delay, leaving us masked and in transit for 24 hours, it was worth it to be reunited with family after more than two years apart. I know there are many international families who haven't yet been able to do that, and I feel very fortunate to have had the opportunity. There are some things you just can't put a price on.
Related Articles:
All images credited to the author, Kerry Reals