Over the last year, inflight connectivity service revenues dropped by almost one-third totaling $970 million, as nationwide lockdowns, grounded flights and closed borders hit civil aviation, and created a level of inaccessibility to new IFC installations, Euroconsult suggests in its 2021 assessment of the market.
Recovery of the inflight entertainment and connectivity sector will obviously depend on both the pace of recovery of the aviation industry and the long-term impacts of the COVID-19 crisis, it notes.
But based on two scenarios — high case and low case — the Euroconsult analysis "forecasts that the total number of connected aircraft will reach between 16,000 and 20,000 by the end of this decade", says the global strategy consulting and market intelligence firm in a statement.
This number is lower in relation to previous forecasts, as a further result of the coronavirus pandemic. Even so, the high end of the forecast represents a potential doubling of the number of connected aircraft by 2030.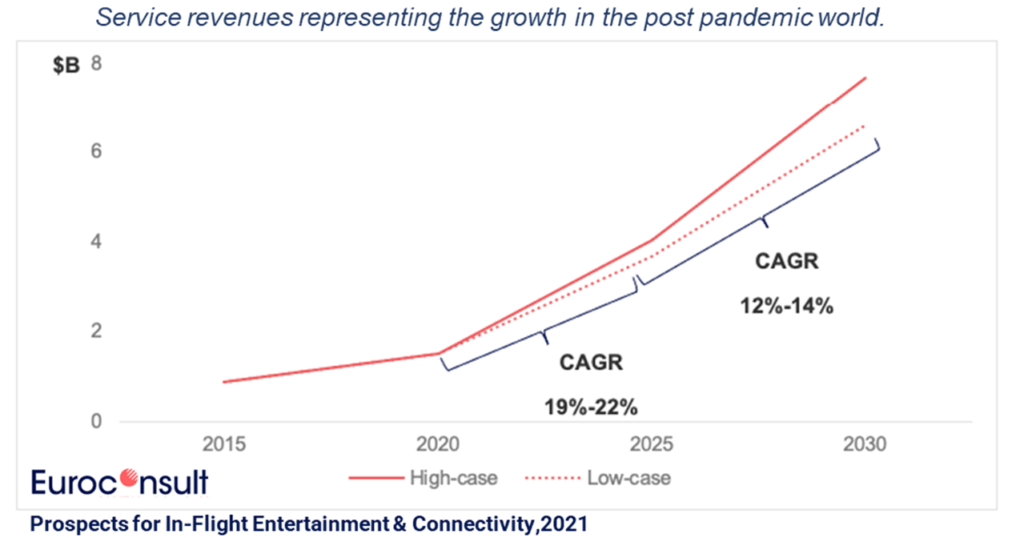 The release of Euroconsult's report comes at a time when one could roundly argue that IFC has never been more important to passengers of airlines and business aircraft operators. After all, Internet access on the ground is now considered an essential service by many. The need to be connected doesn't end when one steps on board an aircraft.
From your author's particular vantage point, some regions appear poised to rebound faster than others. For instance, in the United States, recent recovery in commercial air passenger volumes drove strong Satellite Services revenue growth year-over-year for Viasat's fiscal first quarter 2022, and sequentially in IFC service revenue.
"Aircraft in service grew over 80% YoY, reflecting both new activations and the return of inactive aircraft to service. We expect passenger traffic trends combined with the ramp of Delta Air Lines in-service aircraft to contribute to continued revenue growth for the remainder of FY2022," says Viasat.
Inflight connectivity services also positively impacted Intelsat's Network Services revenue for the 2021 second quarter ended 30 June. Network Services benefited, among other things, from new mobility business from "the recovery in North American airline travel resulting in higher inflight connectivity revenues", says Intelsat CEO Stephen Spengler in a statement.
Euroconsult's report, meanwhile, also assesses multiple other effects that the COVID-19 pandemic introduced to the market, including consolidation and the Chapter 11 filings that led to a reorganization of the landscape — Intelsat's acquisition of Gogo Commercial Aviation; the restructuring of Global Eagle, now Anuvu, which exited Chapter 11 with the aid of private funding; and the restructuring of LEO satellite operator OneWeb. It states:
The 2021 edition shows that around 9,000 aircraft across 115 airlines are currently equipped with inflight connectivity (IFC) terminals — a reduction of 2.5% compared to the previous year.

Over 80% of these aircraft were connected through satellite connectivity, with the remainder connected through air-to-ground. The rate of new installations was much lower this year as a result of regional lockdowns, leading to difficulty in accessing aircraft.
Unlike previous reports, says Euroconsult, this new 9th edition considers regional aircraft and turboprops in the connectivity analysis, as well mobile-satellite service (MSS) solutions.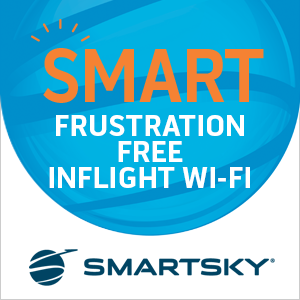 It also provides an update on the introduction of non-geostationary orbit satellite (NGSO) systems, covering the likes of the SpaceX-operated Starlink constellation, Telesat and OneWeb, as well as the capacity availability for aviation first in the Ku-band and then Ka-band.
Headquartered in France, Euroconsult boasts 600 clients in over 50 countries, and offices in the US, Canada, Japan, Singapore, and Australia. This 9th edition of its so-called "Prospects for In-flight Entertainment & Connectivity" is available for purchase on the firm's online Digital Platform.
Related Articles:
Featured image credited to istock.com/Biletskiy_Evgeniy