Continuity of design between home hub and outstation lounges seems to pose a surprising amount of challenges for airlines. Maintaining a brand vision, consistency of form, colour-material-finish palette, and overall look-and-feel doesn't sound like it should be a problem in a globalised world, but two perfectly nice new Air France lounges in Paris and Montréal ask the question: why do they feel so different?
First to Paris Charles de Gaulle's terminal 2F, in the "Schengen" zone, which is essentially "Domestic EU", where Air France's new Jouin Manku-designed lounge seats some 570 passengers across its two levels, as well as housing a Clarins Traveller spa area, showers, and changing rooms.
Here the story is really one of light, starting with the illuminated Air France ribbon motif being shadowed down from the sculpture area beyond reception onto the red carpet, as well as natural light from above, and indeed the lit stairway is very effective.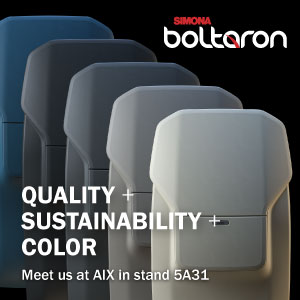 The overall effect is very pleasing, with the signature CDG T2 tubular shape — replicated in this built-on addition — allowing natural light to stream in while also offering views out onto the airport.
The colours are smashing too, featuring the bleu-blanc-rouge of the Air France brand that could be a boring pastiche of the national flag, but in pleasingly muted tones.
There is an almost sandy blue on the bar seating (one of the few examples of this type that actually looks comfortable), a deeper warm red on the armchairs in the dining area, as well as other appealingly differentiated seating areas throughout.
On a particularly positive note for the battery-anxious shorthaul traveller, I spot charging stations embedded into the sofas.
There are also some interesting looking side tables in one of the serving areas (the coppery one containing many loaves of bread next to a very poorly photoshopped man).
Across the Atlantic in Montréal, the Air France lounge serves an entirely different purpose: to prepare travellers for overnight flights to Paris, and it is here that a new, redesigned space awaits travellers.
That overnight focus is exemplified in the new "Night Service" area that will début this autumn, for passengers on the later evening flight, which currently departs at around 22h30, some three hours after the earlier evening flight.
This dining zone offers precisely the same meal as on board, except in the lounge, allowing passengers to hit the proverbial hay immediately after takeoff.
Much of the rest of the lounge — which is operated "in association with" the Plaza Premium lounge operator group — is also suitable for dining, and indeed a decently sized buffet is provided (!)
A variety of dining spaces are also on offer, with group options for families around a U-shaped sofa bench, tables for two nearby, and a longer table (where I believe I spy some charging point options) just beyond on the way to the bar.
The colours here are almost entirely blue, with the exception of an accent sofa, and they're overall a little brighter and a little less muted than the new Paris lounge. A bit of that muted burgundy wouldn't have gone amiss given the number of airlines with blue in their branding, and I wonder if there is too much of that same multiple-blue tilework behind the buffet, under the bar and on the back wall.
It will be interesting to see how these colourways work in person, particularly given the interplay between the large amount of light flooding through the double-height upstairs windows and the fact that this is an evening-focussed lounge space.
"Flying Blue Ultimate customers have access to a more private space, with large sofas and seats to feel at home," says the airline, and this is an upgraded space with some wonderful touches: panelling on the walls, a wide variety of blue sofas, and a charming steamer-trunk-inspired (or possibly converted) table.
Overall, it looks just fine, but from a design perspective it's frustrating that there's no consistency with Paris or the wider brand: the shape, style, colours, textures and materials of this lounge just don't match the new Jouin Manku-designed space in CDG.
That's curious for many reasons but particularly because Jouin Manku is a Canadian-French multinational design firm. Could none of the furniture used in Paris have been sourced in Montréal? Could none of the more muted palette, none of the warmer metals, none of the lines — not even the Air France ribbon device — have been brought through?
For most passengers, this will be the first Air France-designed space they will enter at the outstation that is Montréal. While this lounge is perfectly nice, is it good enough?
Related Articles:
All images credited to Air France