Aviation has seen many changes to the way it operates as the result of COVID-19. In the passenger experience arena, one of the biggest trends is around "touchless travel", which has become something of a catch all to encompass self-service, hands-free accessibility and surface hygiene improvements. The trend has both accelerated existing work and spun in other areas of focus, and in doing so it has brought many benefits — but as COVID focus fades in increasingly vaccinated parts of the world, valuable momentum must be maintained.
The first segment of the trend is the work that, before the pandemic, tended to be discussed as "self-service", whether that was around shared use checkin kiosks, grab-and-go lounge products or anything in between.
Prior to the pandemic, aviation was selling the adoption of this technology in terms of efficiency and fast-tracking, although there was a whiff of the sort of tactics supermarkets used when introducing self-service checkouts and reducing cashiers to lengthen lines, making the self-service more attractive.
A key remaining barrier was adoption of self-service, barcode-scanning, phone-as-token technology — whether for the checkin process, automated boarding or IFE control pairing — by a sufficient number of passengers. But over the last eighteen months we have become used to it elsewhere in our lives. In the same way that it now feels entirely normal to use videocalling software, scanning a code is now fully mainstream and comfortable for many passengers.
And it's beyond the level of using them to scan in to a venue, upload a COVID test or register a vaccine certificate. We're now using QR codes to choose food at a restaurant, have drinks at a bar delivered to our tables, or even to preorder and then scan our orders at a drive-thru.
In aviation, this automated, passenger-controlled digitalisation of the passenger journey has been accelerating quickly, but at the moment it is often presented as part of airlines' packages of COVID measures, notably including surface hygiene measures like aircraft cleaning and spraying, linking it almost inextricably in many minds with coronavirus pandemic protocols.
This set of surface hygiene measures is, itself, interlinked with the third segment of the trend, hands-free accessibility. During the pandemic, touchless options for doors, hand sanitisers, soap dispensers and so on have become much more common in our everyday world.
These are not, however, always a success in reliability and robustness. Who among us has not walked into a supermarket or other large store and tried one, then another, then another alcohol gel machine, wiggling hands underneath each in turn as they fail to dispense?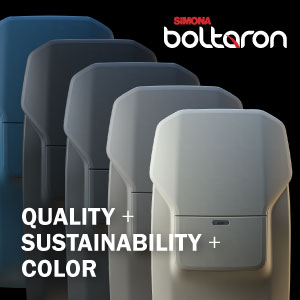 Cabin interiors suppliers, including notably Diehl Aviation, have been working hard to secure robustness and certification, while ANA is installing a hands-free lav door mechanism from Jamco on 21 aircraft.
"The hands-free lavatory will be installed on 11 Boeing 787-8 aircraft, two Boeing 787-9 aircraft, and eight Boeing 777-200," says the airline. The initial installation will be for aircraft serving domestic routes, while ANA hopes to introduce the system to all domestic and international aircraft in the future.
So far, this work has largely been a compact aviation equivalent to the kick-to-open or elbow-handle options seen in some public facilities: a positive note both for people concerned about hand hygiene and for those for whom small and fiddly aviation door hardware is hard to use. But more can be done here, and it will be important for aviation not to slow down these innovations as the industry emerges from COVID.
In the same way that the growing trend in remote work is removing barriers to employment for many people who encountered accessibility issues in workplaces previously unwilling to make accommodations, aviation must maintain its focus on increasing accessibility for all.
Related Articles:
Featured image credited to Jamco