While some airports in the United States have direct rail access of varying usefulness, most do not and that leaves many passengers in a bit of a transportation pickle. After joining Breeze Airways for its inaugural flights from Tampa to Charleston and onward to Hartford, Connecticut, I needed to get home to New York City.
Planning the route from Hartford to NYC presented a few options, the best of which included Amtrak, Metro North, and the New York City Subway.
Bradley International Airport is located in Windsor Locks, Connecticut, about halfway between the cities of Hartford and Springfield. A regional rail line runs close to, but not through the airport. The closest train station to the airport is Windsor Locks, served by two rail agencies, Amtrak and CTrail. Passengers must do their homework to figure out the difference between the two. It's more confusing than it should be.
The airport does not offer any sort of shuttle service to the Windsor Locks train station so a taxi ride is a must.
There is, however, a semi-express "Bradley Flyer" bus that operates to downtown Hartford. Unfortunately, that bus operates just once an hour and the timing of the bus is tragically not linked to the train schedule. I missed the 3:45 pm bus by about a minute, but it wouldn't have mattered as the bus was scheduled to arrive in Hartford just one minute before the train's departure, and there's no way Amtrak waits for a local bus connection.
At the small Windsor Locks station, both Amtrak and the relatively new entrant CTrail offer commuter rail service called Hartford Line. Amtrak also operates the Northeast Regional, Valley Flyer, and Vermonter trains through the station with less frequency. The station is spartan, more akin to a bus stop than a train station, but there are other Amtrak stations with far less.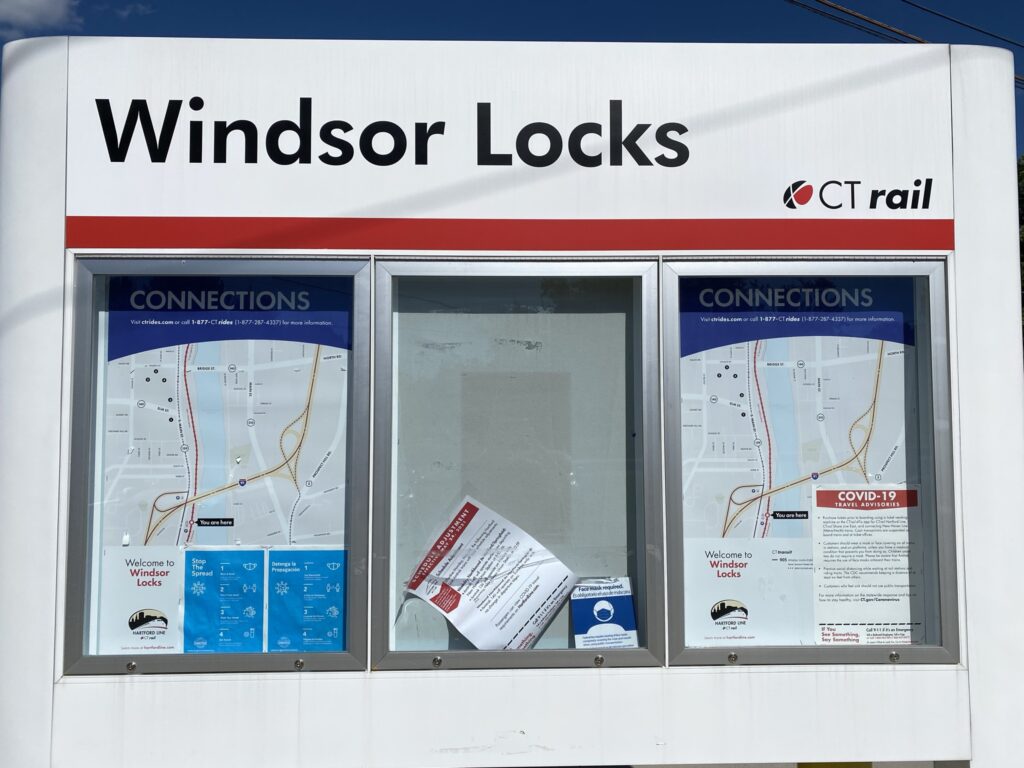 Passengers riding Amtrak Hartford Line trains can opt to purchase a ticket through CTrail via an app or ticket vending machine at the station, but can also purchase directly through Amtrak. While Amtrak accepts CTrail tickets on most trains, some services require a direct Amtrak booking. It's a bit of a mess.
I purchased a CTrail ticket through to New York's Grand Central Terminal, which includes fare payment for a Metro North Railroad connection at New Haven. I could have booked Amtrak through to New York Penn Station, but the increased cost was hard to justify.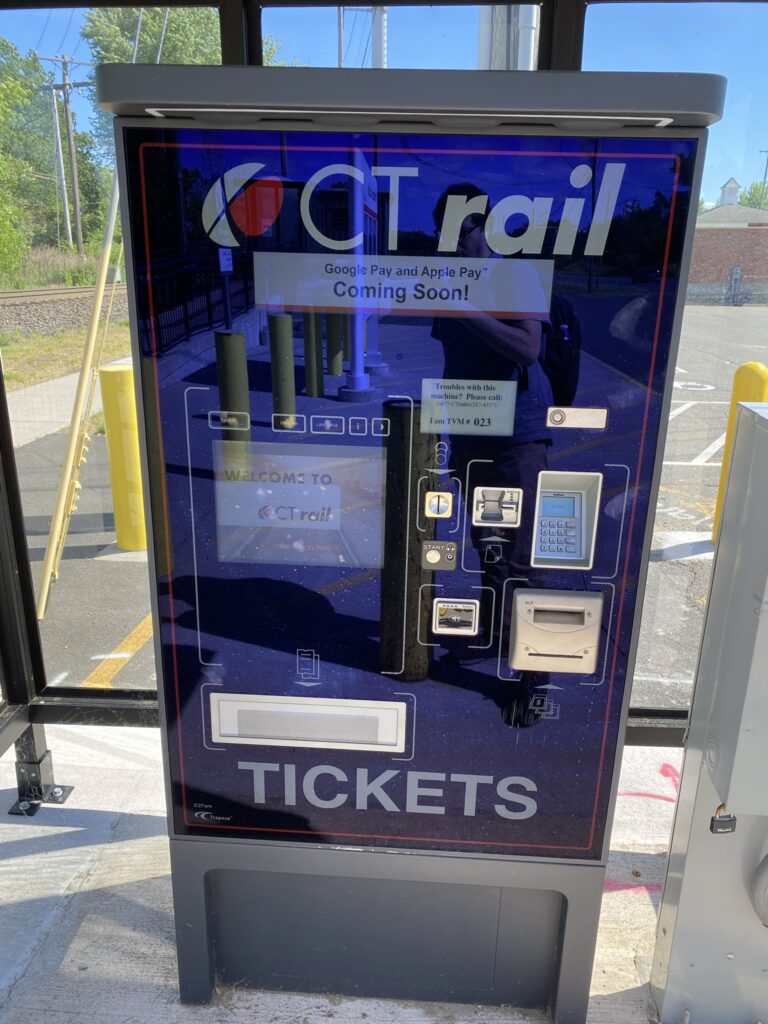 The Amtrak train arrived into the Windsor Locks station a few minutes behind schedule and overshot the low level platform by a few feet, requiring the engineer to back up a bit. The train was made up of a diesel locomotive pushing two Amfleet cars and one converted ex-Metroliner cab car.
The ride to New Haven is about an hour long, with the train featuring the typical extra roomy Amtrak seats, power outlets at all seats and Wi-Fi that unfortunately did not work.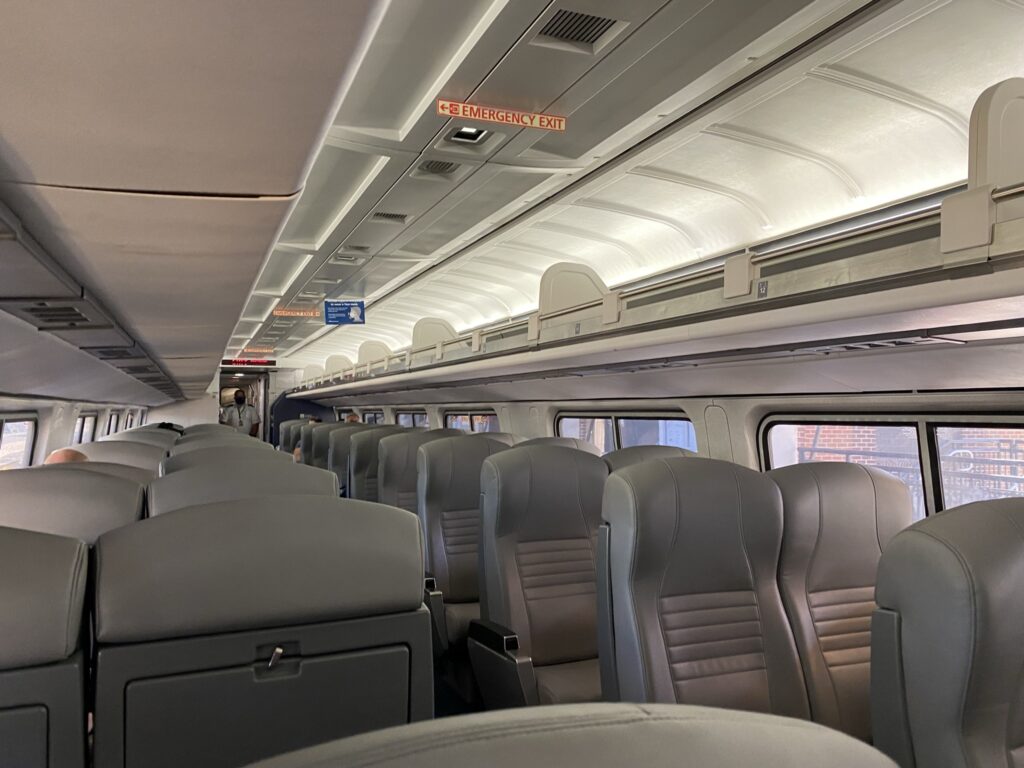 I had about a 15-minute connection between trains at New Haven and that gave me a bit of time to take a look at the absolutely magnificent station architecture. Restored to its former glory in the 1980s, the building is a work of art that is not to be missed.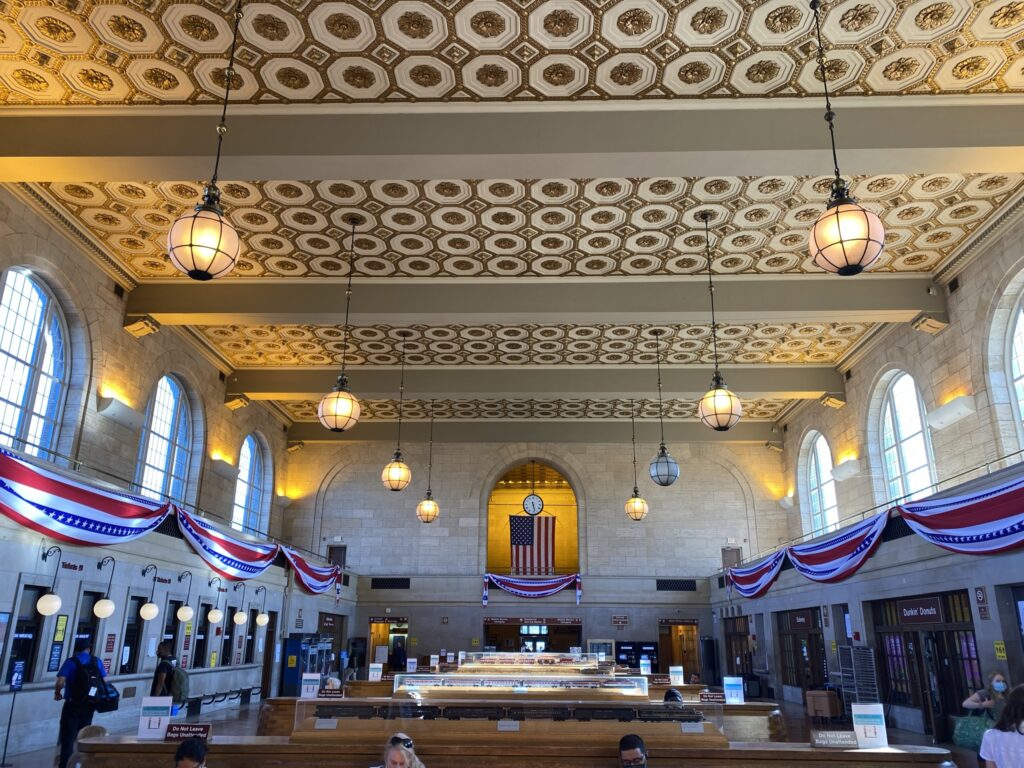 The station offers a few small shops, but since the Subway sandwich shop closed at 5 pm, I was stuck with a $5 slice of Sbarro pizza. Better than nothing, but not great.
The connection to Metro North was easy, with the conductor accepting my CTrail ticket without hesitation. The New Haven branch is operated by Kawasaki-built M8 electric railcars, which were first introduced about a decade ago.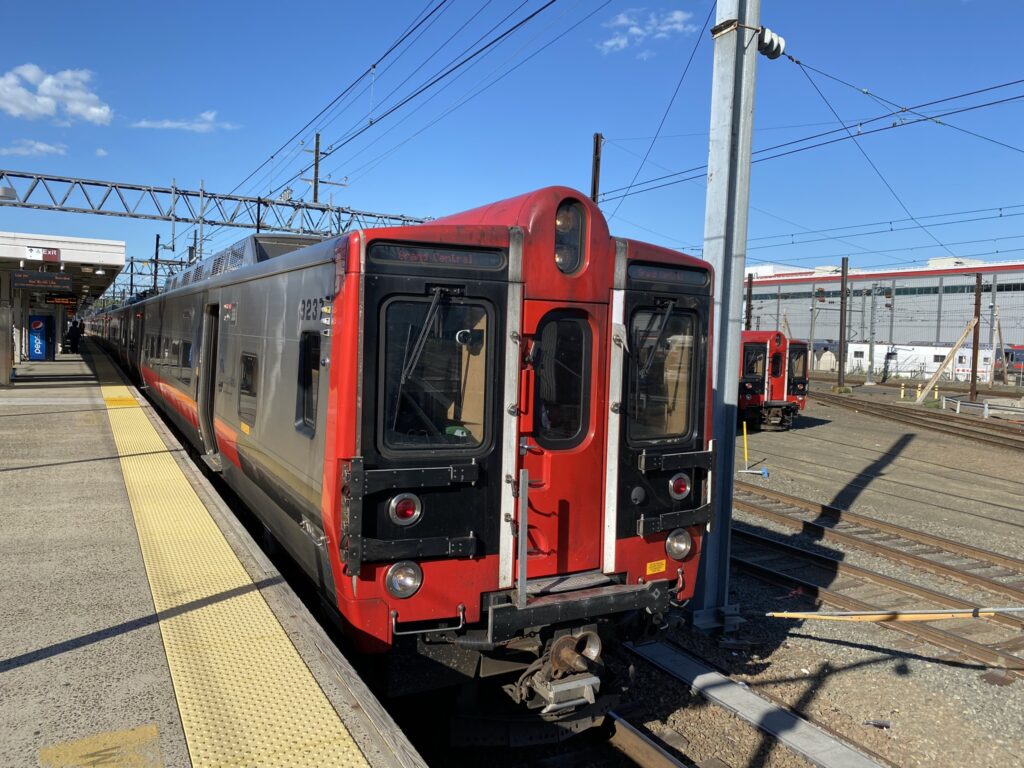 The seats are typical commuter rail fare with a somewhat tight 3-2 seat layout, but with lighter than usual loads I had three seats to myself.
All sets of seats have two power outlets but the trains do not offer Wi-Fi.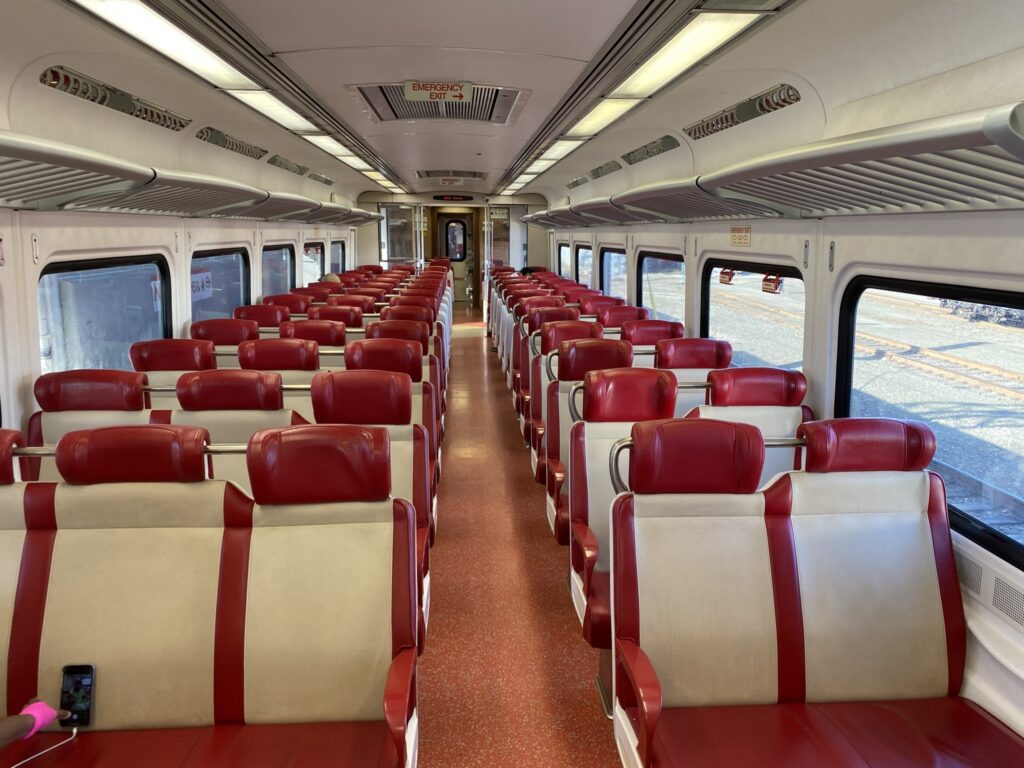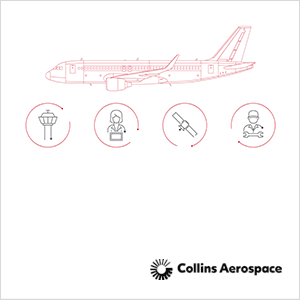 The ride to New York is slow, taking over two hours on the semi-express route. This section of the Northeast Corridor is in desperate need of infrastructure upgrades to speed up trips.
I arrived at Grand Central Terminal almost exactly four hours after departing Bradley International Airport.
At 105 miles as the crow flies, I averaged a speed of just over 25 MPH on this journey including time spent waiting for and connecting between trains, and I still had to take two subway lines to actually get home.
This trip was quintessential rail travel in the United States: slow, inefficient, more expensive than it should be, and ripe for improvement so it can more adequately compete with air travel.
Related Articles:
All images credited to the author, Jason Rabinowitz