For a notionally full-service airline, moving from an onboard food and beverage offering included in the price of the ticket to a buy-on-board model is fraught with complexity. Passengers want decent food, that's good value, and at the same time don't want to feel like they're suddenly paying through the nose for something that an airline used to include in the price of their ticket.
And so to Germany, where Lufthansa has revealed its new Onboard Delights menu, replacing what was in some ways a relatively generous inclusive offer, in partnership with Retail inMotion and GateGourmet.
The Onboard Delights — a branding reminiscent of the automat-style "Delights to Go" frequent flyer takeaway snack option — will be offered on flights longer than 60 minutes, with flights shorter than 30 minutes being offered a chocolate and those under 60 being given a free bottle of mineral water as well.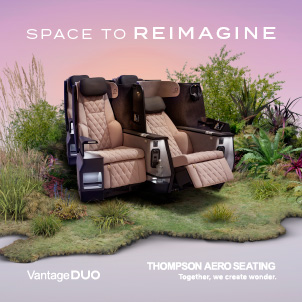 Sandwiches, salad bowls and fruit/muesli pots are cobranded with German fast-fresh outlet dean&david, while coffee and pralines from Munich coffeehouse institution Aloïs Dallmayr are a super local touch.
It's very interesting to see a strong Munich flavour here, given the German airline's recent focus on its MUC secondary hub alongside its traditional home of Frankfurt.
Back to the menu, several German wines are featured: a sparkling Riesling Sekt, a white dry Riesling, a white dry Weißburgunder Chardonnay, and a light red Spätburgunder Pinot Noir, priced at either €7 or €9, alongside a French rosé from southern France and a Spanish Rioja red.
Beer, meanwhile, is regular or alcohol-free Warsteiner, as previously served onboard, and a Wolfscraft lager. Spirits, canned soft drinks and ambient snacks are on offer; you'll find standard global fare like Jack Daniels, Coke, and Kettle Chips, with a few local favourites including Haribo and apfelschörle.
It's good to see a strong emphasis on environmental and social responsibility in suppliers: bottles of ChariTea green tea, Lemonaid organic and fair trade lemonade, mineral waters and an organic nut bar from Share, the organic Wolfscraft beer, paper bowls for the dean&david products, and with Dallmayr "a special Ethiopian coffee whereby the proceeds are linked to support various humanitarian projects in the Dano region."
So far, so good, but then we come to price.
The sandwiches on offer are expensive at €5.50, and are very small, with their size unfortunately allowing direct comparisons to the previous inclusive offering, Lufthansa's famous (or infamous) half-sandwich.
Competitors like British Airways offer a full sandwich for less than the price of the new Lufthansa half-sandwich, and indeed the fully fresh versions of the half-sandwich in dean&david's central Munich outlet are €3.75.
On the direct comparison note, retaining the Warsteiner brand seems like a bit of an own goal, because this is the same decent beer that Lufthansa used to hand out for free, but is now charging €3.50. Yes, there's the Wolfscraft organic beer at €4.50, but Lufthansa is now asking €9 for a half-sandwich and beer that is very comparable to what was given out previously.
Similarly, pricing-wise, Dallmayr is a great co-brand, but €3 for an airplane coffee and €9 for four pralines might be seen as excessive, though it's not quite Swiss' $10 turkey sandwich and $17 charcuterie.
There is, however, a lot to like in the rest of the offering: it's well thought through, offers real local flavour and shows sustainability and social responsibility promise.
Related Articles:
Featured image credited to Lufthansa