Panasonic Avionics has conducted "full streaming" onboard Internet trials with undisclosed airlines after upgrading its customers' aircraft to its third-generation (Gen-3) Ku-band satellite communications network.
The recent trials "are producing truly impressive results", said Panasonic Avionics VP of connectivity solutions Jeff Sare in an interview with Runway Girl Network.
Being able to support a satcom-based streaming class of Internet service for passengers requires high-throughput connectivity hardware and ample satellite capacity. In recent years, Panasonic Avionics grappled with a choke point in its network – that of a legacy modem which could not take full advantage of the spot beams on high throughput satellites (HTS).
Migration to the Gen-3 network has involved installing a new Newtec modem on aircraft fitted with Panasonic's eXConnect-branded Ku IFC solution. Panasonic, which counts Aer Lingus, Emirates, Etihad Airways, American Airlines and United Airlines among its customers, is set to complete the upgrade of the 2,544 aircraft installed with its Ku connectivity service to Gen-3 within the next month.
Sare explained the upgrade process to RGN: "It wasn't a difficult upgrade from a technical perspective, it was effectively changing a server and a software load on an airplane. The bigger part was the upgrade of all of our teleports and making sure the infrastructure was there to support all our airplanes.
"We pushed forward and with a minor exception for one customer on a dedicated piece of the older network that was isolated already. [Outside of that] we have shut down the Gen-1 network and everyone is working on our Gen-3 network. It's all good news. It has provided us with tremendous efficiency gains and probably more important, tremendous reliability gains so we're feeling very good about our network right now, hence some of those streaming trials I referred to."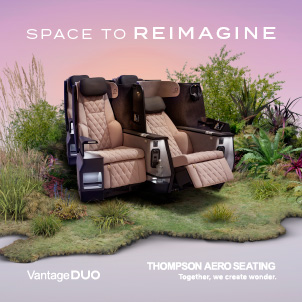 Panasonic's Gen-3 network supports faster Internet, as well as improved video streaming, VoIP applications, 4G phone services, and greater bandwidth for crew applications. Live TV picture quality and broader channel choice are also supported by the network.
Panasonic's IPTV service, which features Sport 24 and Sport 24 Extra channels – and is showcasing the Super Bowl today – was part of the airline trials. Sare said data from the tests will be shared with the market in the coming months.
Panasonic also reported last week that it is now availing of capacity on the "extreme throughput" APSTAR-6D satellite from APT Mobile Satcom (APSATCOM).
The satellite, which Panasonic helped to design, has entered service over the Asia-Pacific region, including covering "a big chunk" of the gap in Ku coverage over the Pacific.
"It better manages the peaks, it better manages the valleys," said Sare of the satellite.
Panasonic also has Ku HTS partnerships in place with Intelsat, SES, Eutelsat, and others. Sare said it is now viable for Panasonic to "put a full streaming service out not only in terms of capacity and capabilities but also in terms of cost".
Related Articles:
Featured image credited to istock.com/hapabapa