Inflight entertainment and connectivity giant Panasonic Avionics is pulling out of the maritime, energy and enterprise satellite communications business. Less than six years after acquiring ITC Global, the Lake Forest, California-based firm today announced it is selling 100% of the unit to Marlink Group, which is backed by private equity firm Apax Partners (France).
The move is part of Panasonic Avionics' "long-term strategy" to focus on supporting the aviation market rather than diversifying across sector verticals, a Panasonic Avionics spokesman tells Runway Girl Network.
"ITC Global brings an unparalleled expertise in managed, high-value, high-performance satellite network solutions to the fast-growing Marlink Group. The company's strong reputation in the energy, enterprise and maritime passenger markets will enable the Group to further expand its leadership position in these highly demanding market segments," says ITC Global in a statement shared by Panasonic Avionics.
"In addition, the Marlink Group will leverage the complementarity of ITC Global to diversify and strengthen its commercial operations in the US, UK and Australia further geographically."
Panasonic's dance with non-aero satcom
When Panasonic Avionics bought ITC Global in 2015, its position in the mobile Internet market took a big step forward. Executives explained that the merger would allow ITC Global customers to take advantage of the anchor tenant deals that Panasonic Avionics has signed for Ku-band high throughput satellite capacity, with the expectation that costs would come down on a per-bit basis across verticals.
Panasonic Avionics – with ITC Global under its wing – was suddenly competing with Inmarsat in the maritime sector, as well as in aviation.
But in the fall of 2018, Panasonic and Inmarsat saw a thawing in their relationship in aviation, when the long-time rivals agreed a 10-year strategic collaboration that gave Panasonic the ability to offer Inmarsat's Global Xpress (GX) Ka-band connectivity to airlines, while continuing to invest in its own Ku-band network for the aero sector.
In March 2019, a consortium led by UK-based Apax Partners, US-based Warburg Pincus and two Canadian pension funds bid $3.4 billion to acquire Inmarsat. The deal was completed in December of that year, and Inmarsat was delisted from the London Stock Exchange.
In January 2020, a collaborative approach was pursued in maritime connectivity by Panasonic's ITC Global subsidiary and Inmarsat. ITC Global agreed to add Inmarsat Fleet Xpress – the maritime version of GX – to its portfolio.
ITC Global 's then VP of marketing and product management, Alix Wright, shared some clarity with Runway Girl Network around the deal, saying last year that the strategic collaboration would enable ITC Global to incorporate the Fleet Xpress solution into ITC Global's existing comprehensive range of C- and Ku-band connectivity services.
"In addition, the collaboration enables Inmarsat to gain access to next-generation, high-throughput connectivity via the Panasonic network, which is the world's largest HTS Ku-band network in the world," Wright said at the time. Panasonic Avionics added that ITC Global would remain fully committed to a global mobility network.
Now Panasonic Avionics is preparing for a diminished role in mobile connectivity.
Focusing on aviation
The IFEC company expects to close its sale of ITC Global to Apax-backed Marlink Group in the first quarter of this year.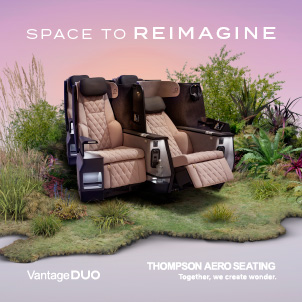 The decision raises the question of whether or not Panasonic Avionics intends to stay the course in the Ku-band inflight connectivity business, which powers a large portion of the world's legacy fleet, and which has been the focus of speculation in the past.
Pressed by RGN for clarity today, a Panasonic Avionics spokesman says: "ITC Global has been a valued part of the Panasonic Avionics family since 2015. However, our long term strategy of focusing on aviation rather than diversifying across sector verticals has made it increasingly less integral to our core operations.
"We are pleased about this sale to Marlink Group with whom we believe ITC Global shares the same vision and will seamlessly integrate."
Featured image credited to istock.com/shironoso