Aeroplay Entertainment, a Singapore-based boutique content service provider with a lab facility in Mumbai, is on the march, having recently added Air India and Malaysia Airlines to its growing list of airline customers.
The company entered the CSP space four years ago, and counts Jazeera Airways in Kuwait, Air Arabia in the UAE, and Air Arabia (Maroc) in Morocco as clients. But its parent, Maxposure Media Group, has been working with airlines on various content marketing solutions since 2006, and with Air India on other projects since 2011, says Aeroplay business development manager Siddhi Saraswat.
She tells Runway Girl Network that Aeroplay replaced the "Global Eagle-Fairdeal Studios consortium" on the Air India CSP contract, and began delivering on it for the October-November cycle. Fairdeal, which provides Indian IFE content, is part of Global Eagle.
Under its new CSP arrangement with Air India, Aeroplay is providing a complete inventory of movies and television shows from around the world in various international and regional languages for the carrier's IFE systems. Available to its customers year-round, 24/7, Aeroplay's locality creates multiple cross selling opportunities, says Saraswat. "For example, for Air India, Aeroplay also provides content integration services, advertising services, etc."
Prakash Johari, CEO and managing director of Aeroplay in a statement says: "We are extremely honored that Air India has given us the chance to work as its IFE content service provider. We have had a long relationship with Air India, having been associated with it in other medium of communication, and this will help us to better understand the responsibilities of the national carrier of India. Guided by Air India, my team and I are absolutely positive of delivering an enhanced IFE experience to the passengers of the airline."
Asked by RGN how Aeroplay sees inflight entertainment and connectivity evolving during the coronavirus pandemic and beyond, the Aeroplay executive says: "Aeroplay see airlines switching to CSPs who can reduce their spends without compromising customer experiences using smart content strategies and reducing technical costs. Another trend we see is that wireless streaming solutions will enable more airlines to offer inflight entertainment to their customer so overall [we see] IFEC market expansion over next few years."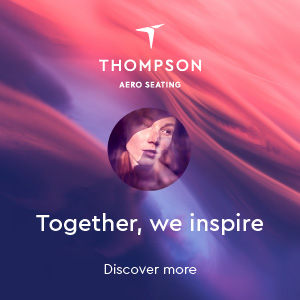 Major Hollywood studios have traditionally adhered to a windows-of-release structure for movies. After the lucrative theater run, airlines can license films to broadcast on studio-approved IFE systems before they're made available by studios to the home viewing audience. But this structure is under serious threat as studios simultaneously release blockbusters to theaters and OTT platforms during the pandemic.
"Hollywood Movies have a global appeal and it continues to be a very important part of every airline's content strategy," says Saraswat. "Due to pandemic, there have been some delays in releases in 2020 but the slate of all major studios for 2021 theatrical release are ready and expected to be busy."
The windows of release are changing for India's Bollywood content as well, with Saraswat noting that Bollywood is quickly evolving to reduce the time of release from theatrical and OTT platforms to being available on airline IFE systems, with some movies released on airlines first "even before theaters or OTT platforms in 2020".
She adds: "Airline IFE is a prestigious platform and with more airlines offering IFE (thanks to wireless streaming), the revenue from this segment is expected to increase for Bollywood studios & distributors."
Related Articles:
Featured image credited to Neelam Mathews