Intelsat is still setting its sights on offering a global Ku-band inflight connectivity service for the business aviation community, and says a collaboration with Gogo Business Aviation is possible.
The Tysons Corner, Virginia-headquartered satellite operator, which is restructuring under Chapter 11 bankruptcy protection, in 2018 launched a new managed end-to-end service called FlexExec for business aviation, and revealed that Satcom Direct would serve as master distributor. But in April 2019, its Intelsat 29e high throughput satellite covering the high-trafficked North Atlantic experienced an in-orbit failure, which slowed the FlexExec program.
"We haven't given up on that, that's still going," Intelsat SVP, mobility Mark Rasmussen told Runway Girl Network.
"We do have aircraft flying in our global Ku business aviation network today. It's working great, we're doing some things on the terminal side to make it even better," he revealed to RGN, adding that Intelsat hopes to be able to provide an update at the end of the year or early next.
Could Intelsat, which is acquiring Gogo's commercial aviation IFC business for $400 million, work with the soon-to-be separate Gogo Business Aviation on a global Ku-band solution for business jets?
"It's possible, I would love that," said Rasmussen candidly, noting that the lines of communication "are open there. We know them well, they are good people. This might be a nice complement to their rather North American-centric focused business aviation service, the ability to take them global…"
A few years ago, Gogo announced it would be a global provider of high throughput Ku connectivity to the business aviation community, offering "nominal speeds of 25 Mbps". The solution was to feature a tail-mount antenna system for Gulfstreams, Dassault jets, and other business jet types.
To date, however, Gogo's Ku IFC for business aviation has been tailored for VVIP aircraft types (such as BBJs and ACJs), using the 2Ku antenna hardware commonly seen on aircraft flown by Gogo's commercial airline customers. Gogo had five VVIP aircraft flying with 2Ku and a couple more were being installed as of last month. A tail-mount antenna solution for smaller business jets is not yet available, Gogo confirmed at the time.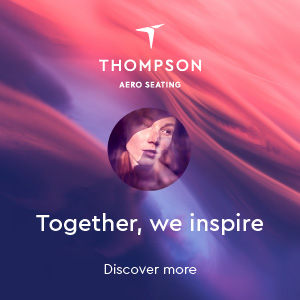 It would be interesting to see Intelsat and Gogo Business collaborate on a global Ku tail-mount solution. When Intelsat announced the launch of the FlexExec service, it vowed at the time that FlexExec would not share satellite capacity with airlines. Intelsat is about to have direct relations with many airlines through its acquisition of Gogo's commercial aviation division.
However, there are other near global Ku options in the market for business jet operators and their exacting passengers. Collins Aerospace and satellite operator SES are offering a new Ku-band IFC solution – branded LuxStream – for business aviation. The service, which was launched in the fall of 2019, is billed as offering speeds of 25 Mbps down in the United States, and 15 Mbps globally.
Business jet operators can also avail themselves of Viasat's near-global Ku-band connectivity for large business jets, in addition to Viasat Ka and hybrid Ku-Ka (with various distribution partners); as well as Inmarsat's GX Ka-band satellite-powered Jet ConneX service through various value added resellers including Satcom Direct.
Related Articles: