French food services and facilities management company Sodexo, which provides total lounge management at airports around the world, likes to say, "we stay quietly and proudly behind the scenes." But the COVID-19 crisis has ushered in massive changes in processes, including requiring a far more visible approach to cleaning, a redesign to back-of-house activities, social distancing throughout the facilities, and the adoption of a more retail-style approach to food and beverage.
As CEO Airline Lounges, Sodexo North America, Charlotte Jensen leads a division that boasts a portfolio of over 120 lounges in North America, ranging from direct airline affiliated lounges – it works with two of the 'big three' US airlines – to third party clubs that are airline agnostic. Its services include providing food and beverage in the lounges, running the entire hospitality experience, and providing engineering services.
Sodexo North America also handles concierge services for certain clients and has a lot of growing facilities management capabilities. Oftentimes, its clients want to deliver a local experience so the company partners with celebrity chefs and well-known mixologists to enhance the guest experience and promote and support local businesses.
In a lengthy one-on-one interview with Runway Girl Network, Jensen explains how both lounge management and the passenger experience are quickly evolving amid the pandemic, and considers whether or not some services – like the traditional buffet and showers – will survive.
RGN: What changes have been implemented in lounges amid the COVID-19 pandemic?
Jensen: Globally outside of airlines, Sodexo has a huge presence in Asia, and in Wuhan, so we had some good intelligence which helped us make decisions with regards to how we were going to manage all of this. That gave us insight and the value proposition was "hey, we're seeing this in Asia, how do you want to digest that?" I think for sure our global footprint informed some of our decisions.
In the early days of the pandemic, we were able to support our clients that couldn't get access to hand sanitizer and chemicals in the lounges, so we're really proud of that, that logistically, we were able to support that.
As part of our safety protocol, Sodexo created the Six Foot Kitchen. It is a training program that was designed to ensure the safety of our kitchen staff and the foods that they handle integrating specific measures for COVID-19. This program aims to increase awareness and provide our clients and guests with the confidence that Sodexo continues to make food safety and other our top priorities.
RGN: Can you provide more details about the Six Foot Kitchen?
Jensen: The Six-Foot Kitchen is a complete redesign of how our kitchen staff handles themselves, so social distancing by 6ft is in play.
When you can't do 6ft distance, you have to figure out how to get your commissaries and suppliers to deliver more pre-packaged, so this is tied one-to-one with how much space we have).
There are six broad categories of really reinforcing and changing safety behaviors when back of house.
Personal hygiene (from a purely hygienic standpoint, we require team members to wash their hands every 20 minutes)
Specific PPE
How we clean contact surfaces
How we accept deliveries (that's a big part, in some cases we get twice per day)
How we store
How we produce the food.
This is a global initiative for us, whether in schools, government facilities or hospitals. It's a toolkit that we've worked really hard to promote and ensure safety of back of house.
Our focus over the last few years has been training our team to interact with guests, and now we're training the opposite! So how do you read body language, and make a place where guests feel comfortable? How do you learn how to smile with a mask on?
We've looked at clear masks as well. But smiling with your eyes and being able to read the body language [of passengers] is important,
And how do we manage this beverage program? We are using plastic cups, and prepackaged food. It has dynamically changed. Disruption is a very clear word.
RGN: Are there any good alternatives to using plastic?
Jensen:  We are always looking to be more sustainable in everything we do at Sodexo.  Our sourcing of bamboo and our focus to move away from single use plastics is always top of mind. When you're in the middle of a pandemic and looking to deliver in an entirely new model, its not always easy to source sustainably, but we are now able to more clearly see the changing needs and are pivoting accordingly.
We've explored compostable alternatives as well and are continuing conversations with our client partners around sustainability priorities and opportunities for composting at airport sites
RGN: Will the traditional open-style buffet ultimately survive?
Jensen: I think in the short-term you're not going to see that. I can't imagine that model, and I loved it too, I can't imagine that coming back anytime soon.
RGN: How are you using the buffet infrastructure at lounges?
Jensen: We're still using the physical buffet in some cases because the infrastructure is there, and it's cost prohibitive to change that up. So, the buffet itself is a structure in the club. It is still being put to use – both the cold plates and heating elements – but all of the food is prepackaged on the buffet. As we go forward, you'll see more of this sort of retail display and deli counters.
But at the same time, we're doing a "grab and go" pre-packaged offer. We're coming into more of a retail world, if you will. 74% of our consumers that we've queried will not eat at a [traditional open] buffet again, at least in the short-term, so we've really had to pivot.
I had a call with one of our third-party lounge partners about that and they have a lot of new lounges they're opening and a lot of new construction and what we talked about was more of a deli counter.
One of our global partners has an amazing infrastructure of a deli counter like at the grocery store and you pick the baguette and salami, and a couple of salads and our team plates it for you. I could see that concept becoming more prevalent – walk up to the deli, it's done for you and it's handed to you.
Let's pretend there is no financial restraints – I think that model could be used in other clubs.
Now a lot of people can't do 'a la carte' so we're always looking at logistics, and then combined with that, you have third-party supply chains delivering to mega hubs twice a day, right to the clubs, because [the lounges] simply have no storage to put anything.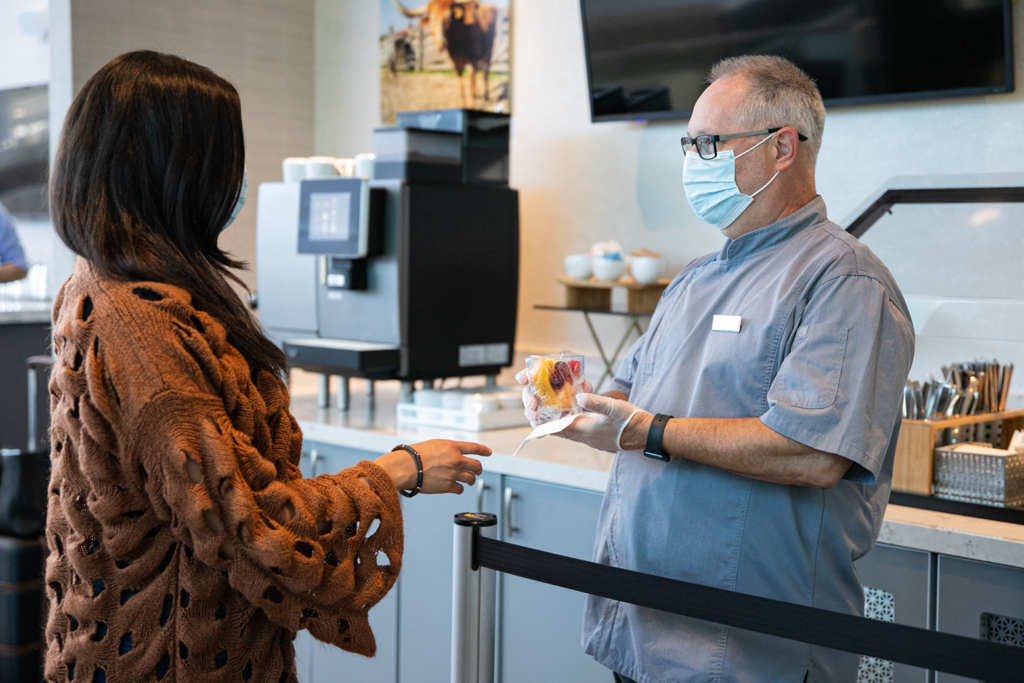 RGN: Is prepackaged food as good as the pre-pandemic protocol of letting people build their own meals?Jensen: Suppliers are very creative, and we've got wonderful suppliers. Obviously, our clients' cost parameters have changed. In some cases, the food is being 100% prepackaged. In many and most cases, we're getting 70%, and we're putting it all together in the back as opposed to before – leaving all the ingredients out and having people do it themselves. That's why the new safety regulations in our kitchens are so important because we are still producing a lot of our food.
RGN: Are showers off the table forever in lounges? Will showers survive?
Jensen: God, I hope it's not off the table, I certainly enjoy a good in-transit shower. Honestly, I don't know. We're going with the flow. So much is changing on an hourly almost basis in certain markets.
But our new normal is going to be very, very different. Some clients are more conservative than others, as you can imagine. And some people are a little more apt to be more aggressive than others, and the showers is a good example of it.
One of the things we've done in the lounges is beef up our labor, because we've had to, because visibility of cleaning and sanitizing is really important.
But I don't' know. I don't think anybody does.
RGN: Have your clients invested in touchless technology, such as touchless entry?
Jensen: Some clients have invested in that. We do have a lot of lounges that have the sensors and the doors open of their own free will, but again it's an infrastructure change. I think that's absolutely in the plan for 2021 for a lot of our clients, but some have already started to make those retrofits. And where we can't do it, we have hand sanitizer by every touchpoint in the lounges that are open, whether free standing or wall mounted.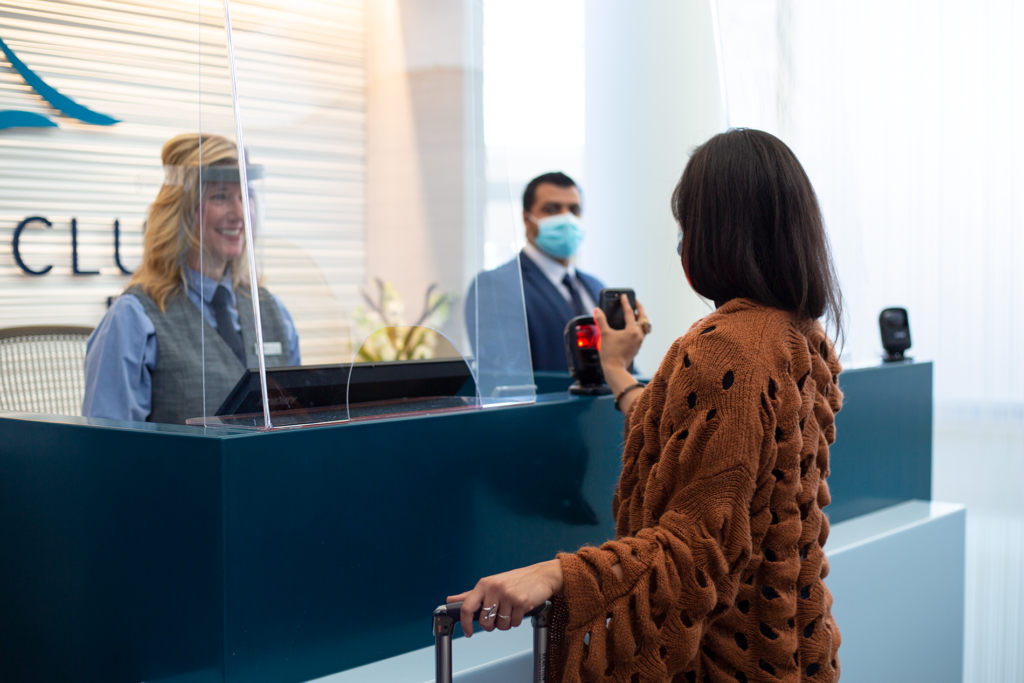 RGN: What is the passenger volume like?
Jensen: Obviously, we're seeing a reduced number of passengers, but actually the passenger counts are more promising than we anticipated [in the lounges that are open], and more than what we had planned on.
We're open in Tier 1 hubs – Atlanta, Chicago, Newark, LAX, JFK, SFO, DFW LaGuardia, and Seattle. They have facilities because they are hub markets, so the clients – whether airlines or a third-party – have the infrastructure. In all those hubs we have full restaurant-style kitchens.
In the markets where we don't have the space with 6ft distance, we're not open. In some of the places that have micro-kitchens, they tend to be in Tier 2 or 3 cities, which aren't open right now. A lot of our lounges remain closed.
RGN: How do you maintain high standards while balancing costs amid the pandemic?
Jensen: For of our clients, safety has always been the number one driver. We absolutely have never wavered on safety. And it's key to our success. Safety is paramount to profit. So, we have a huge healthcare group and we've worked very closely with them to come up with what the right protocol is.
Safety has been 100% on everybody's mind. As we're balancing costs, we're looking at other ways to balance costs, but cutting back on cleaning is not an option. And none of our clients have asked us to do so. So, we're adding labor to the cleaning piece of it, and then trying to get more creative back of house to offset labor costs.
The physical changes in the lounges have been immense. In terms of physical distancing, some are removing furniture, others are taping off chairs.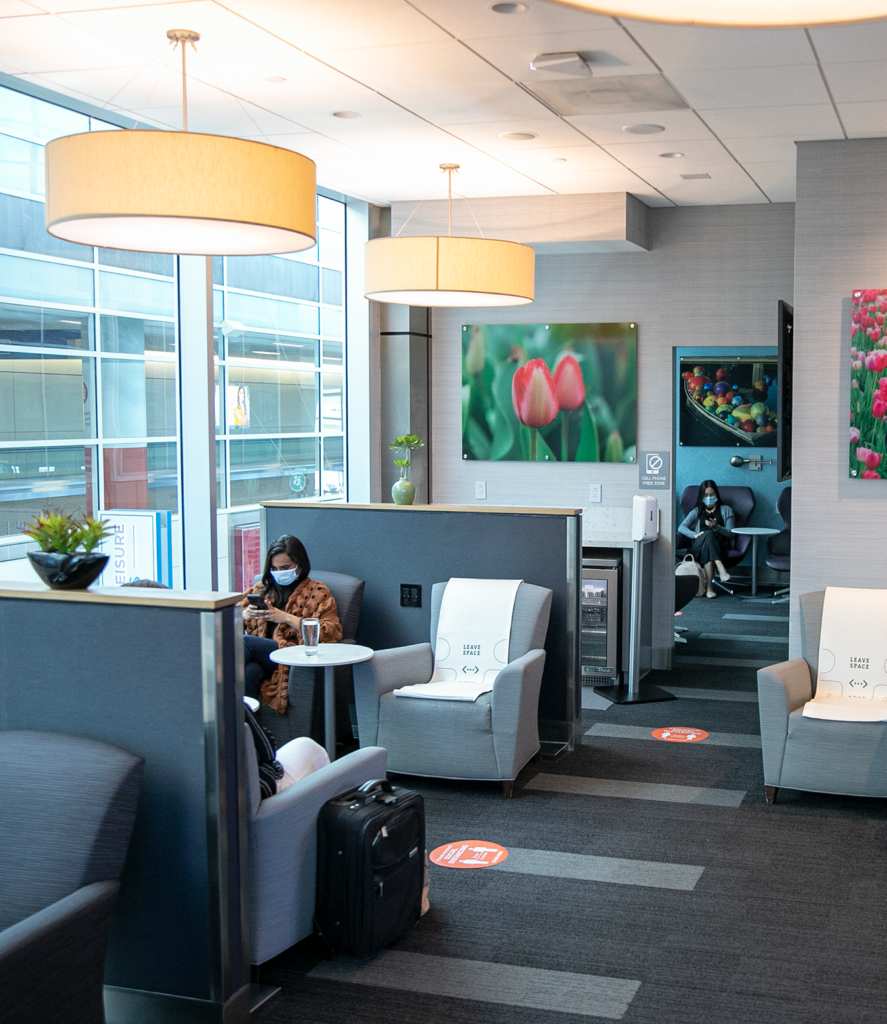 RGN: In your personal opinion, what are the keys to building traveler loyalty amid the COVID-19 crisis? Jensen: Our data tells us that our consumers want to feel safe, so I think for me, as a traveler, and with status on a couple of big airlines, I think transparency and flexibility. This is really unparalleled. We don't know how this is going to go. The more we communicate with our partners and clients is the only way we'll get through this and build this loyalty. Airlines are doing everything they can to keep their top tier fliers loyal, but the business traveler hasn't come back yet to pre-COVID numbers.
What Sodexo has done is partner with Bureau Veritas, the world leader in certification so what we're working on is a medical advisory council that would introduce a hygiene verification label specifically for us and for our partners so it's a further next step, if you will, to the visibility of the cleaning and all the things that we've talked about.  Some of the big airlines have launched their own cleaning protocol, and branded it, that is something that is top of mind for us as well.
RGN: What is the future of airline lounges, and more broadly when will the industry recover?
Jensen: One thing that I think is important to talk a little bit about, is how long for recovery. If we only had a crystal ball, but we did a lot of modeling and that continues every minute of the day. We're seeing the recovery sooner than anticipated in guest count and flight banks that airlines are putting up. We were obviously very conservative, but the uptick in passenger and the uptick in flights is coming sooner than anticipated
A lot of airlines are doubling flights [as of August 1] out of certain markets, it's still a small number. But all indicators metrics in the right direction.
We're opening clubs faster and sooner than anticipated so I think we're seeing this regrowth a lot faster. That puts us in the 2022 market for recovery versus 2023/24 mark.
At the same time, some of our clients are thinking about not opening lounges back up. As you talk about becoming a smaller industry, it is going to look different and we've already been notified from a couple of clients that a couple of markets will never reopen.
I think barring the fact that some of the clubs will never reopen, I think the experience is going to be very different, the industry will be smaller, the airlines will be smaller, but when you look at percentages of travel in a smaller footprint, we are looking at 2022, maybe end of 2022, but don't think 2024 [for recovery].
It's not apples to apples because the volume will never be as great as pre-COVID 2019. But the percentage of clubs open, the revenue from airlines, as they build and pivot, their number one priority is getting planes in the air, so that piece is happening faster than anticipated which gives me hope.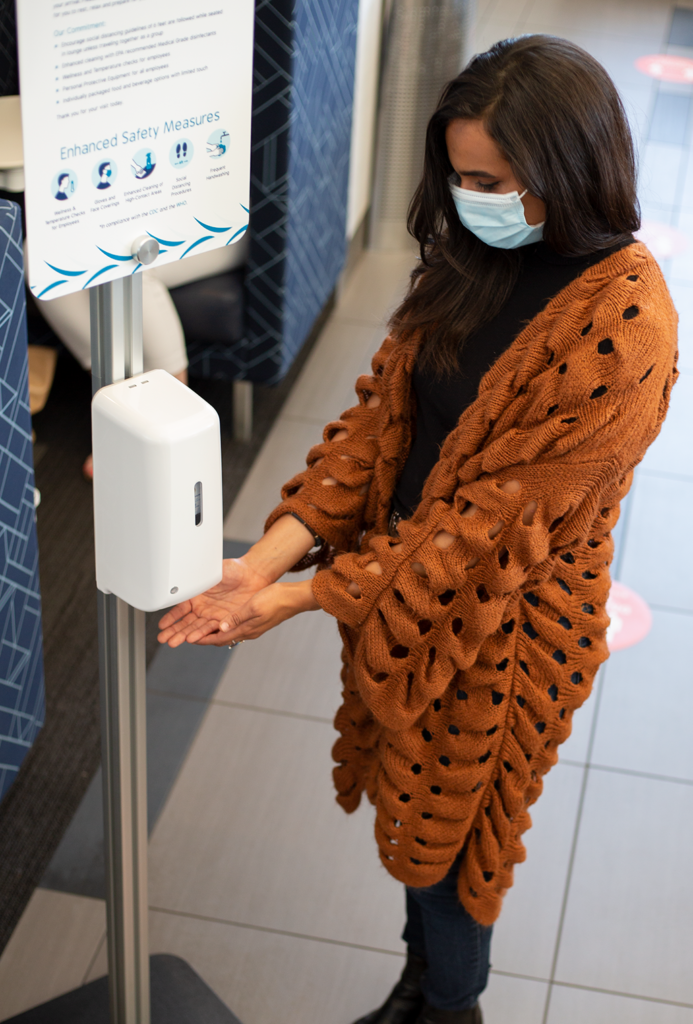 RGN: Are passengers willingly wearing masks in the clubs?
Jensen: Generally, people are prepared to wear a mask on the plane, and as a result in the club. You get the one-offs (who don't want to comply).
Depending on the state, the hotspot, the politics behind it as you mentioned, it's a mixed bag, but we have our parameters and we follow that. If [a state's] guidelines are below our Sodexo standards,  we default to our standards.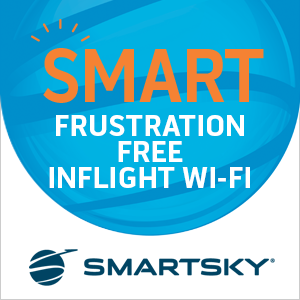 RGN: Explain the Inflight aspect of your business?
Jensen: That is run in partnership with our colleagues in the corporate services division because they have the infrastructure piece.
So, it's a full-blown commissary solution where we're executing 24/7 in some cases, usually off- site mostly because of sheer scale.
Oftentimes, we're delivering ourselves and sometimes a third party delivers to the aircraft for inflight catering. It's a lot of first class [catering], that's the only place you get a full meal anyways (pre-COVID)
We are very much focused on that, so we continue to grow our Inflight segment, and our end-to-end customer experience.
All images credited to Sodexo