Safran's aircraft interiors business saw revenues drop roughly 35% in the first half of the year, as large jetliner programs suffered deferrals and cancellations, and single-aisle types required reduced shipsets.
The French multinational corporation in a statement today said interiors were "strongly hit by widebody and discretionary sales exposure in a context of increased deferrals and cancellations of deliveries".
Original equipment sales were impacted by lower volumes for galleys on the Airbus A320, A330 and Boeing 737 MAX, the latter of which has been grounded since March 2019. And volumes were depressed for galley inserts and lavatories on the Airbus A220 and A350 programs.
Moreover, all classes of aircraft seats were impacted by the COVID-19 crisis, said Safran, as were the firm's connected cabin and custom cabin interior activities at its Safran Passenger Solutions business.
Even so, Safran continued to win new deals for aircraft interiors during the six-month period ended 30 June. It said it secured a new contract to provide premium economy and economy class seats for a European airline's new Airbus A350. And two major Asian airlines chose Safran trolleys – one for its A320 fleet and the other for its Boeing 787-10 fleet.
Additionally, Safran Passenger Solutions was selected for "multiple A350 IFE linefit contracts" and a follow-on Boeing 777 IFE retrofit contract during the first half of the year. Notably, the group was also awarded two railway contracts for water and waste systems, with deliveries starting at the end 2020 and 2021.
In recent months, Safran has taken proactive measures to preserve liquidity, and it implemented a series of cost-cutting measures. Its business activities – which in addition to interiors span aircraft propulsion; and equipment, defense and aerosystems – held up relatively well in the first quarter of the year. But the COVID-19 crisis brought real pain in the second quarter.
On an organic basis, revenue decreased by 29% year-over-year from all divisions during the first half (H1) of the year, Safran reported today.
LEAP sees a cut
Together with GE, Safran builds the LEAP engines for the 737 MAX, Airbus A320neo and Comac C919 aircraft via their CFM International joint venture. For H1, CFM delivered 450 LEAP units compared with 861 units in the year-earlier period.
Safran now expects the number of LEAP deliveries to be around 800 in 2020 – down 200 from its May forecast. This estimate is based on a return-to-service of the MAX in the fourth quarter, and considers an overall decrease in aircraft deliveries.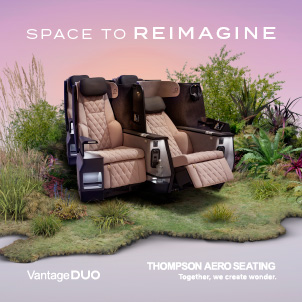 Going forward, Safran now expects full-year 2020 to see an adjusted revenue decrease of about 35% over 2019.
"As we have announced on several occasions, this crisis had a very strong impact on our businesses in the second quarter. I still want to pay tribute to all our teams who reacted quickly and strongly to deploy the adaptation plan decided end of March," said CEO Philippe Petitcolin.
"Even though the assumptions for the second half of the year remain uncertain, our target is a 10% operating margin in 2020 and a positive free cash flow again in the second half. This implies a gradual recovery of air traffic."
For aircraft interiors specifically, Safran is "assuming a very low level of retrofit activities for airlines in H2" and a further decrease in sales over H1, it said. But it also expects recurring operating income to significantly improve in the second half due to cost savings and restructuring.
Meanwhile, industry is seeing reduced production rates on widebody programs. Airbus noted this week that current market conditions has led to a slight adjustment in the A350 rate from six to five aircraft per month "for now". Safran will have likely factored in this guidance when delivering its 2020 outlook.
Further out, Boeing said its 787 production rate will be reduced to six per month in 2021 (as compared to its historic high of 14 per month). The 777/777X combined production rate will be gradually reduced from five to two per month in 2021, with 777X first delivery now targeted for 2022, representing roughly a one-year delay to the program.
Image at top credited to John Walton