PriestmanGoode has unveiled a new 'Pure Skies' cabin concept based on the principle that health and hygiene will continue to be a major concern for passengers in the future, and that new designs should address cabin separation without forfeiting cabin density, as well as provide easy-to-clean and antimicrobial surfaces.
"We've looked ahead to imagine future scenarios and taken into account new passenger behaviors driven by the global pandemic to ensure our designs can be implemented within a few years and will meet user and airline requirements for many years ahead," said PriestmanGoode co-founding director Nigel Goode.
The design firm's Pure Skies concept covers two distinct cabin classes. PriestmanGoode believes the notion of class to denote an area of the cabin seems outdated so the business class configuration is called "Pure Skies Rooms" with curtains used for separation; and the economy class configuration is called "Pure Skies Zones" and can feature a staggered layout for separation and plexiglass screens installed at every other row.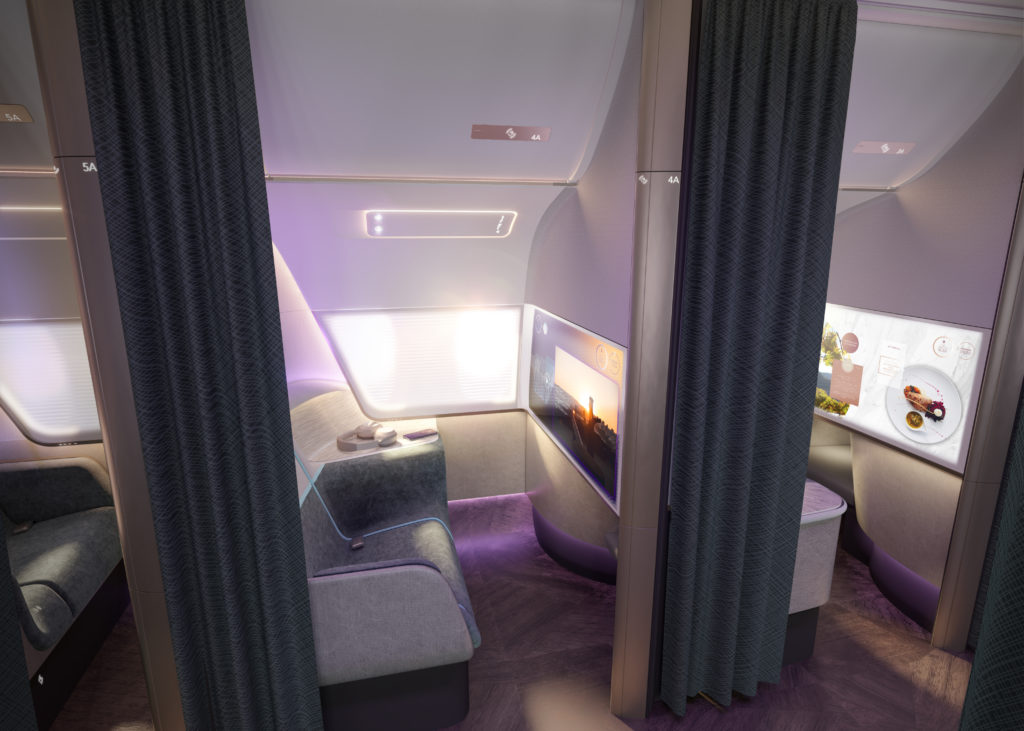 Pure Skies Rooms simplifies cleaning with minimal split lines and seam-welded fabrics. It offers personal lighting and temperature control, a gesture-controlled IFE system that is fully synched with passengers' own devices, personal overhead stowage containing bedding, and a personal wardrobe.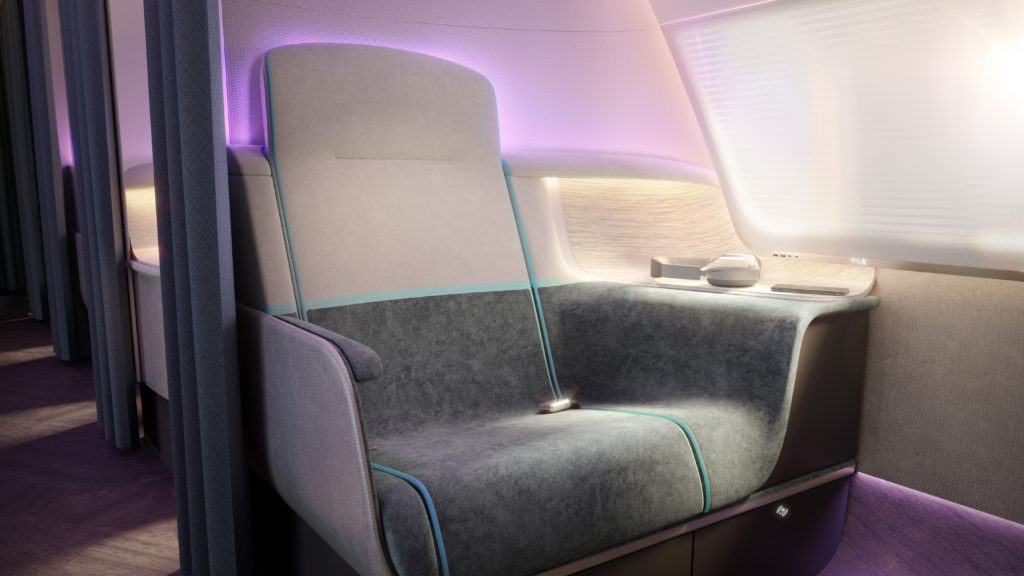 Meanwhile, the Pure Skies Zones' design for coach simplifies cabin sanitation. Seatbacks have no gaps, thereby eliminating dirt traps. It removes mounted IFE screens, favoring entertainment distributed to passenger-owned devices. And the recline mechanism is contained within the fabric skin of the seat, avoiding split lines and hard-to-clean gaps.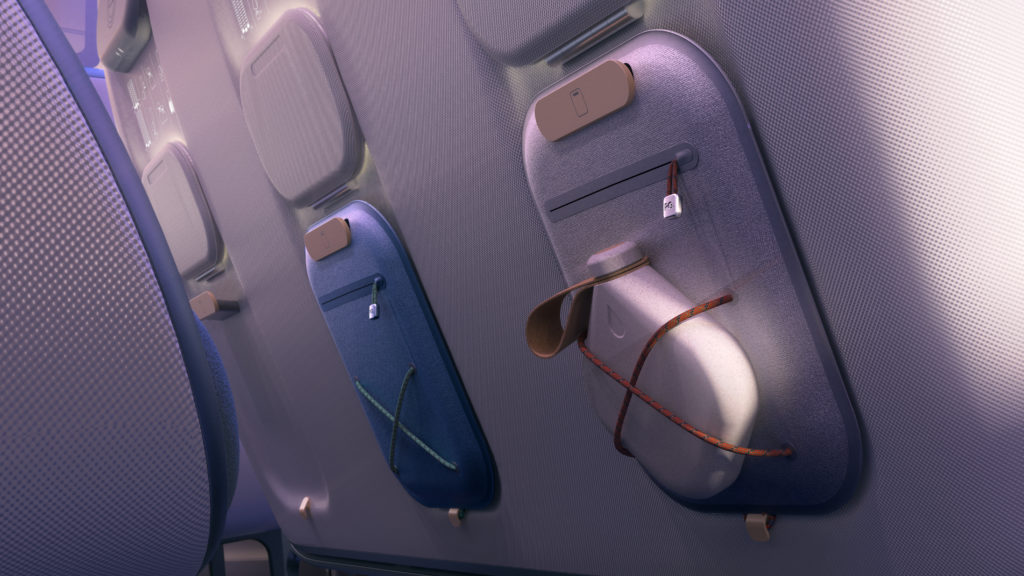 Notably, a 2+1 staggered seat layout can increase the feeling of personal space, while allowing some passengers to sit together as a couple.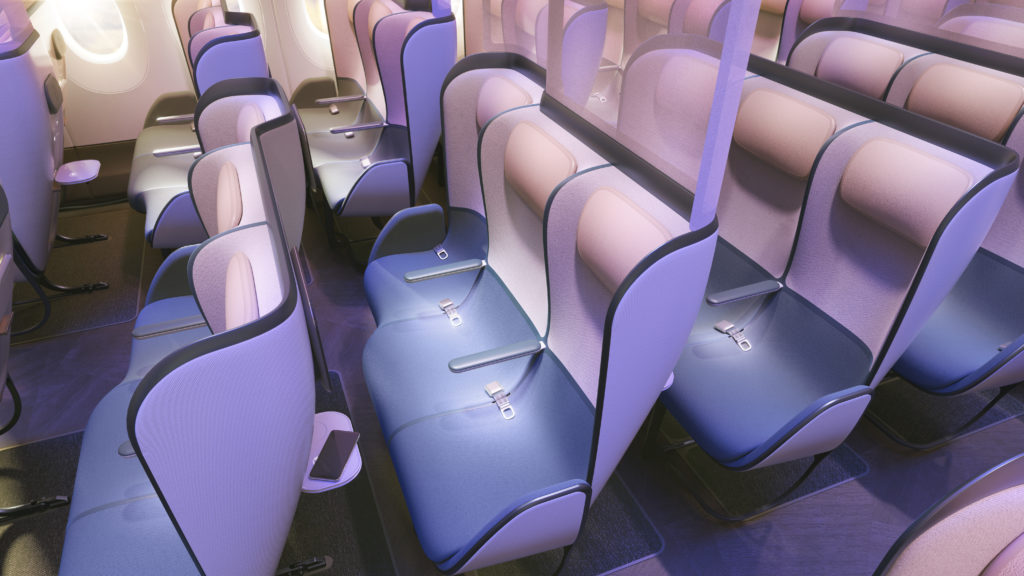 PriestmanGoode's head of CMF, Maria Kafel-Bentkowska, explained that hygiene was built into the design by reimagining the seat cover construction.
"We've eliminated all but the essential seat breaks needed for functionality. Other split lines have been treated with heat welded tape that eliminates places for the virus to hide. However as the virus is invisible, we've taken into consideration passengers' needs for reassurance while boarding," said Kafel-Bentkowska in reference to COVID-19.
She continued: "We have introduced the idea of UVC light and heat cleaning to the cabin. And, by using existing technologies such as photochromic and thermochromic inks that would react to the new cleaning methods, a message of reassurance can be seen on the fabric surface while boarding but then disappears once the passenger is settled. Turning the invisible visible and creating a graphic interface to communicate a message of reassurance supports the airlines' brand messages around hygiene and safety,"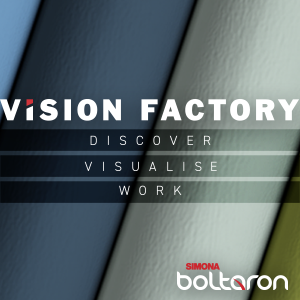 PriestmanGoode also believes that a blended product could be offered in economy, whereby the staggered seat version could be sold with greater seat pitch and a fixed-screen option, at a higher airfare.
"As a team our mantra has been to 'build back better'. We have also found ways to include flexible features that differentiate the service and enable tailored products and tiered pricing options for airlines. This is about providing flexibility and protecting the industry for the future, with ideas that fly," said PriestmanGoode director Luke Hawes.
Jo Rowan, associate director of strategy, added: "We have designed a clearly defined product offering which provides benefits on many levels. We've also enabled a more enhanced offering where the upgrades are clearly apparent as part of an unbundled structure that consumers are increasingly aware of – the 'get what you pay for mindset'. It's a highly democratic product and service proposition."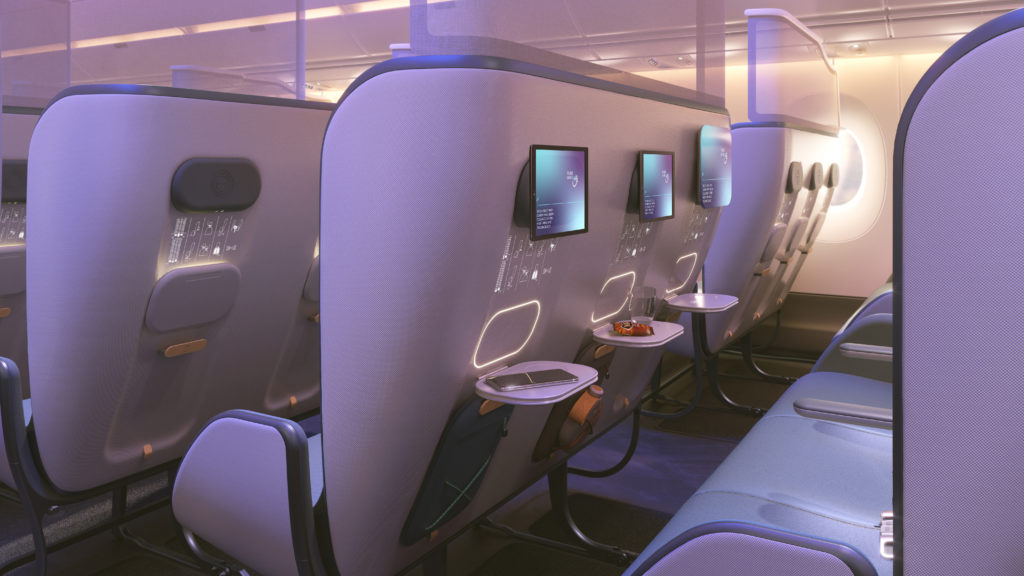 All images credited to PriestmanGoode
Related Articles: