As the aviation industry seeks to restart after COVID-19-driven suspensions, airlines are looking hard at what the passenger experience might look like, with attempts to minimize the risks of spreading SARS-CoV-2 coronavirus currently very much on the menu.
And so to Bluebox, the wireless inflight entertainment hardware provider, which is working in a new partnership with onboard retailing specialist Retail inMotion (RiM), itself part of catering giant LSG, to remove quite literal touchpoints from onboard purchasing via offline touchless payments.
With the physical menu card and inflight magazine currently viewed as fomite hotspots, the idea is instead that browsing, ordering and card payment happens on passengers' own devices via a RiM app installed on the Bluebox Wow wireless IFE box, and that the crew in the galley are then notified for a contact-minimized order dropoff.
While Bluebox already had what business development director David Brown characterizes to Runway Girl Network as a "basic" touchless payment system, it's decision to integrate with the advanced capabilities of RiM's system — and the LSG company's expertise — allows a much greater range of benefits, particularly around limited-contact food delivery on board, at-airport replenishment and management information.
"It's something we've picked up on fairly recently," Brown tells RGN. "Airlines, as part of the recovery program, were realizing there was an issue for cabin crew safety in terms of trying to minimize the contact between passengers and cabin crew. It was fairly obvious that a major touchpoint is the current traditional way of taking the trolley up the aisle, asking people if they want to buy food or drink, especially for the low-cost carriers. It's an important revenue generator for them."
Notably, the new system is also completely offline. "Wow is an offline system on board, and that's one of the tricky bits: to have the PCI compliance in an offline mode. We'd already achieved that with our Wow box. RiM's whole module and their software is also PCI compliant, so the architecture of both companies' products fits nicely," says Brown.
Functionally, Brown explains that the Wow wireless IFE box is modular, using a Docker container system that he sums up as "the latest technical way of different software elements being able to communicate easily with each other. We work to the same standards, and our box accepts third-party apps that have been done to the dockerisation standard, and RiM have done their software in a way that fits into that kind of architectural standard."
This software-hardware agnosticity, Brown says, is part of Bluebox's special sauce. "We've always seen Wow as a platform with our base software. We've provided the framework for, normally, the IFE system. It's more a sort of 'buy versus build'. We as a software company don't necessarily see the need to build everything ourselves, and the way we designed the Wow software was specifically to be able to take third-party apps: games, for example."
The move was driven by two primary airline customers, the announcement of which has been delayed by the COVID crisis and the names of which Brown was unable to share publicly.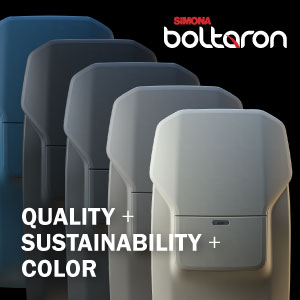 "Both of them came to us with the same issue, round about the same time," Brown notes, saying that it was "confirmed by other low-cost airlines as well: that it is something they're all looking at as they come back into service. It's clearly something that gets raised when looking at the processes and making them COVID-safe."
Airlines, it seems, are accelerating their plans to offer touchless payments: prior to the COVID crisis Brown suggests that the perspective was that it was "a 'nice to have' or a phase 2 development".
The partnership between Bluebox and RiM is non-exclusive and independent of other arrangements: using dockerised hardware and software means it is relatively straightforward for any third party to write apps to interface with the Bluebox system — indeed, it's something that Bluebox itself encourages.
Related Articles:
Featured image credited to istock.com/ozgurdonmaz