As cash-strapped businesses look for efficiency in their travel budgets, the global economy affects leisure passengers' willingness and ability to spend up to travel in business class comfort, and concerns about economy class seat spacing remain a wild card, premium economy seems set to experience a strong renaissance.
That renaissance will come, however, at a time when the rollout of new seats has slowed as a result of the COVID-19 pandemic, with Emirates' premium economy launch delayed, among others. And its renaissance asks some significant questions in product design — and the way that airlines market premium economy and other kinds of recliner products.
At Delta Air Lines, for instance, "we are extending our seating caps: through Sept. 30, Delta will ensure more space for customers on all aircraft by capping seating at 50% in First Class; 60% in Main Cabin, Delta Comfort+, and Delta Premium Select; and 75% in Delta One to reduce the total number of customers on board," the airline said. (First Class and Delta Premium select are the recliner products among Delta's product panoply.)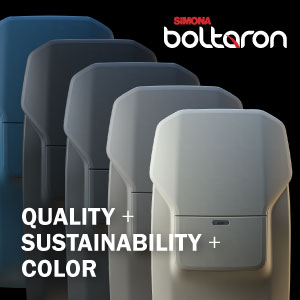 On principle, it feels out of the question that airlines would market any one kind of seat as safer and better protected than any other, whether between their own classes of service or in comparison with the products of other carriers. But it wouldn't be impossible.
So is there clear blue water between any of the three kinds of premium economy products on the market when it comes to space and distancing?
Let's start with the newest variety, like HAECO's Eclipse seat, a staggered-angled hybrid unveiled in February last year, much-suggested as Emirates' premium economy choice, and marketed as offering "unmatched privacy". With its stagger, it does, but is there a potential distancing benefit?
More research on the methods of disease spread, especially with masked passengers, seems to be needed, not least because one of the pillars of IATA's COVID-19 safety platform — whatever you make of it — is that seatbacks provide a barrier to disease transmission.
This is, of course, open to debate, and IATA hasn't released any of the data it keeps talking about for review.
On to the shell series of products. Notionally, one could imagine that a product with a head-height shell between seats, such as the Recaro product Air France uses for its premium economy, or the Collins Aerospace Air Rest seat, would do a better job with their full-height barrier than a seat with gaps between the headrest.
It will be interesting to see whether this is indeed the case — or if passengers perceive that it is the case, which in terms of persuading travelers that flying is safe is perhaps as important.
Moving on to the vast majority of premium economy products, the simple recliners with independent seatbacks, it may be that some seatmakers have an advantage here.
Most have no wraparound privacy shields, although it's useful to highlight Delta Air Lines' new domestic first class seating from Recaro, which does come with additional privacy wings, although it must be noted that the passenger experience devil may well be in the accessibility details for these seats, given early feedback from passengers with reduced mobility and accessibility needs.
But passenger experience designers may be able to leverage the trend towards zones of flexible customization here: if they have considered the option of adding a privacy wing, and certified the seat to allow for a certain amount of additional weight around the head area, it may well be possible to relatively simply change the shape of the wing to add shielding for other reasons.
Might we end up with something like this design from a Japanese bus service?
Related Articles: